ABC Level 1 Certificate in Small Animal Care
Course Details
---
Qualification

Certificate

Subject Area

Animal Care

Level

1

Age Group

16 - 18
Locations

Northenden Campus
(Full Time - 22 weeks)

Leaflet Code

L8480
Course Gallery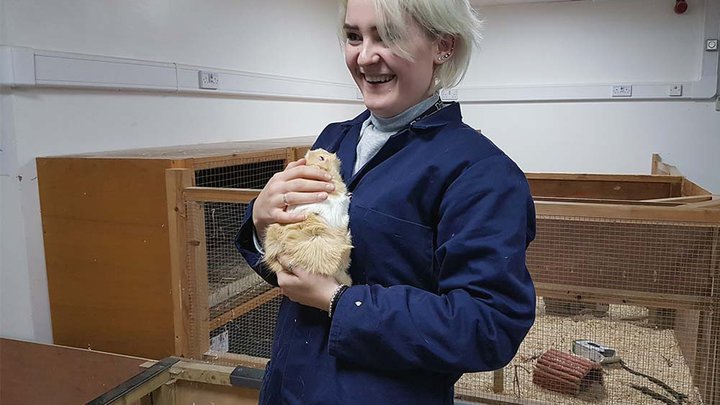 Our Entry Level course will see you taking part in a range of practical and work-related skill sessions. You'll learn the basics of handling, feeding, transporting and caring for small animals like rabbits, rats, mice and guinea pigs. You'll also learn about the cultivation of plants and vegetables and be able to put your skills into practice in our Geodome – a revolutionary indoor growing system and 'living classroom'. By the end of the course, you'll have gained plenty of practical skills and a better understanding of the animal care sector.
You will learn:
• How to assist with the care of animals
• Principles of the care of animals
• How to maintain the safety of self and others in the workplace
• Principles of the movement and handling of small animals
• How to assist with feedstuff for small animals
• How to assist with maintaining the health and wellbeing of animals.

This qualification is assessed via Internal assessments, which are set and marked by teachers.
These cover a variety of assigned tasks which include:
• Being organised
• Developing a personal progression plan
• Practical observations
• Presentations
• Projects.
Upon successful completion, you'll have the qualification and experience you need to progress to further learning at a higher level in Animal Care, such as our BTEC Level 2 Extended Certificate/Diploma in Animal Care Management. The development of transferable skills means that learners can also choose a study programme from alternative sectors:
• Zoos
• Vet services
• Petting zoos and parks
• Pet shops
• Volunteering organisations.
Careers page
You will need working boots and a boiler suit for practical lessons, the cost for these will be approximately £60. College Bursary funding is available.
If you need help with affording college, there are a number of different finance and funding options available to you. You might be eligible for special bursary support or extra help from the government. Have a look at our fees, finance & funding page to find out all the information you need.
Fees, finance and funding page
Do you have a burning question about this course, or would you like to know more about the qualification you'll receive and how it will help your career?
Our course enquiries team is on hand to help you understand any details and answer any questions – whether it's about applying for the course or finding out about finance. Just get in touch here!
Make an enquiry

In one of The Manchester College's 19 Centres of Excellence you'll develop the skills and gain the qualifications that you need to take the next steps towards your dream career.
Learn more
Get Started...
Use our online form to complete your application.
Remember: you can start now, and save it for completing later.
Animal Care
Interact with an incredible range of animals, both domestic and exotic, discover how and why animals behave like they do, and follow your passion for these wonderful creatures with a career in animal care – all from right here in Manchester at our Northenden campus.