C# Intermediate
Short Course
Computing & Digital
Course Details
---
Qualification

Short Course

Subject Area

Computing & Digital

Level

Not Applicable

Age Group

19+
Locations

Openshaw Campus
(Evening Only - 6 weeks)

Leaflet Code

L8952
Course Gallery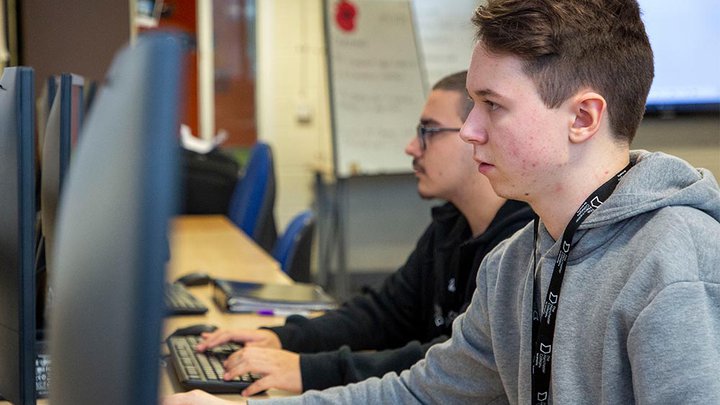 Our C# Intermediate qualification is ideal for anyone that has completed an introductory C# qualification and would like to take their programming skills to the next level.
You'll learn more about subjects such as Interfaces, Namespaces, Advanced Decision Statements, Reflection, Collections, Indexers, Generics, Lambda Expressions, Types, Linq, Design Patterns, Events, Asynchronous Programming and Multi-threading.
Once completed, you'll be prepared to progress on to study more advanced Microsoft C# qualifications.
There are no formal requirements for this course, however, you are required to have completed an introductory C# qualification or have suitable experience using C#.
You'll also require access to a computer and a camera suitable for online learning and a suitable spec to undertake lab work related to programming. You'll be required to download Visual Studio Community Edition and Microsoft Teams – both are free to download and it is advised that they are installed and tested prior to commencing the course.

Applicants will be assessed using a range of online and in class exercises and homework
Upon successful completion of this qualification, learners will be able to progress to Advanced C# courses and Microsoft certified qualifications.
Careers page
The cost for this course is £200.
If you need help with affording college, there are a number of different finance and funding options available to you. You might be eligible for special bursary support or extra help from the government. Have a look at our fees, finance & funding page to find out all the information you need.
Fees, finance and funding page
Do you have a burning question about this course, or would you like to know more about the qualification you'll receive and how it will help your career?
Our course enquiries team is on hand to help you understand any details and answer any questions – whether it's about applying for the course or finding out about finance. Just get in touch here!

Make an enquiry
Get Started...
Use our online form to complete your application.
Remember: you can start now, and save it for completing later.
Computing & Digital
In 2022, there's expected to by 22,000 jobs in Computing & IT in Greater Manchester. Do you want to be leading the way?