Education and Professional Development
BA (Hons)
Teacher Education
Course Details
---
Qualification

BA (Hons)

Subject Area

Teacher Education

Level

6

Age Group
Locations

Shena Simon Campus
(Part Time Non Released - 2 years)

Leaflet Code

L6619
Course Gallery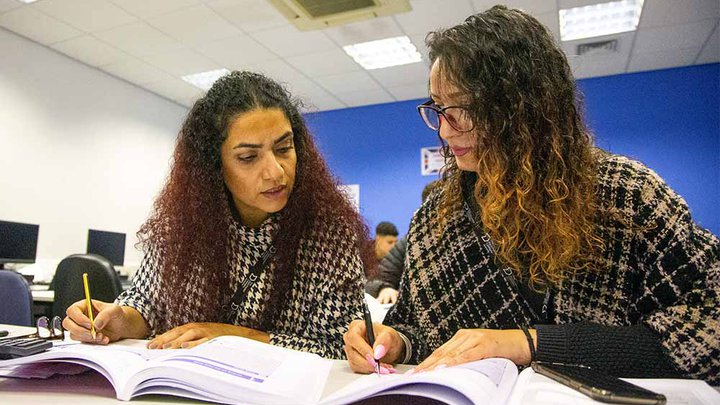 Our course is aimed at the professional development needs of teachers or trainers in Further, Higher, Adult and Secondary Education and those who work in related areas such as health, careers, uniformed services and private training organisations.
It uses a blended learning model of delivery to enhance practitioners' knowledge and skills in three broad areas; critical reflection, policy and practice, and research and academic scholarship.
The course is underpinned by a commitment to professional development and lifelong learning, which draws upon a range of differing perspectives, academic disciplines and sustainable practices applied to the practitioners' context. The purpose of the degree is to develop reflexive practitioners who shape and influence policy and its implementation within a changing professional context, while responding to the needs of learners, employers and organisations.
This course is particularly suitable for those wishing to progress from a Certificate in Education to a degree. It normally takes two years to attain the degree and you can choose to complete either an unclassified ordinary degree or a degree with honours.
Mature applicants (aged 21 or over) who are able to demonstrate relevant skills or knowledge gained in employment or vocational activity will be considered and may be invited to interview.
You should have at least two years teaching or training experience and be in an educational or training role.
Following initial application, all applicants will be required to construct a personal statement. The statement provides candidates with additional entry credit for the two year programme and is, therefore, a compulsory element; admission to the course cannot be offered until the statement is received. Guidance as regards the statement completion will be issued on receipt of the initial application.
The course is taught both at the University of Huddersfield and The Manchester College. It is delivered using a 'blended learning' approach, which has five different elements; an induction day school in year one, three day schools in each year, online learning and networking, online and paper based assessment, a teaching and learning festival in each year and online and face to face support at the centre you have chosen to study with.
The induction day school, day schools and teaching and learning festivals will be held on Saturdays and will be based at the University of Huddersfield.
Modules are assessed through a range of assignments, investigative reports and presentations. All students receive personal tutorial support and guidance from the Centre Tutor at The Manchester College.
You need to achieve 300 credits for the ordinary degree and 360 for an Honours degree.
In the first module of the course you will evaluate your professional goals and areas of interest and use these to inform your experience on the BA programme. The remaining Year 1 modules provide opportunity for you to critique your practice, develop an intervention to use within your teaching, as well as to advance your knowledge of pedagogy and educational theory.
In Year 2 of your studies you will focus on a particular area of interest and challenge in your practice and address this through the design and application of a research study. The final module of the course provides opportunity for you to demonstrate your understanding of theories relating to reflective practice, as well as to reflect upon your own professional development over the process of the course.
Postgraduate, Masters and Doctorate qualifications in Education.
Many graduates of the BA have achieved promotion or moved into different areas of education and professional development following their studies. Some have gone on to further study in the field of education.
Careers page
There are two main costs you will have whilst studying and if you are a home student studying on a full-time course, you can apply for student finance to cover both of these:
 Your tuition fees for each year of your course.
 Help with your living costs e.g. rent, food, clothing, course materials, entertainment.
You can find more details, including the actual tuition fee charged on our Fees, Funding and Finance Page.
Fees, finance and funding page
Our course enquiries team is on-hand to answer any questions you might have about this qualification, the application process, enrolment, or anything else about life at The Manchester College.
Make an enquiry
Get Started...
Use our online form to complete your application.
Remember: you can start now, and save it for completing later.
Teacher Education
With over 6000 jobs open every year in Greater Manchester, teachers, teaching assistants and trainers are always in demand in the area.