Professional Marketing/Digital Marketing
Certificate
Business and Professional
Course Details
---
Qualification

Certificate

Subject Area

Business and Professional

Level

4

Age Group

19+
Locations

Shena Simon Campus
(Evening Only - 12 weeks)

Leaflet Code

L8358
Course Gallery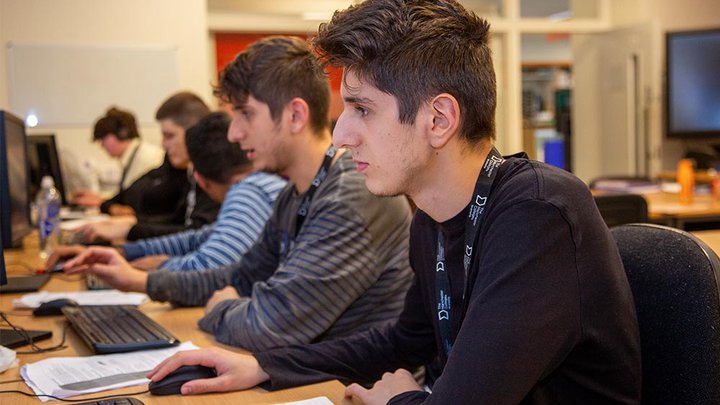 This course is designed for those who are already employed in a marketing support role, or have gained one year's work experience in this field, or a learner who has completed their L3 CIM Foundation Certificate course. This Level 4 Certificate is an ideal way to advance your skills and deepen your understanding of the discipline. If you are an aspiring professional marketer, it is the perfect way to equip yourself for the current global landscape.
The course will be delivered one evening per week (3 hours per week) to allow for those who cannot take time off work, and each module will run for 12 weeks. To qualify for the full qualification, you will be required to achieve 3 modules, one assessed by a written exam whilst the remaining two are assessed as assignments. You will enrol on each module at a time and do not have to complete the full qualification should your priority be to develop your knowledge of a particular topic.

You'll need to have a minimum of one year's experience in the industry or a relevant level 3 qualification to study the Certificate in Professional Marketing or Certificate in Professional Digital Marketing.
If English is not your first language, you will also need to provide evidence of achieving one of the following English Language qualifications within the last two years: IELTS Academic Module with overall score of 6.5 (each component pass mark must be 6.0 or above) or Cambridge Certificate of Advanced English grade B or above. CIM will consider other equivalent alternatives.

There are three assessment points in the year; December, March and June.
Module 1: Applied Marketing - exam based module (mandatory). You will explore the marketing environment, customer behaviour in the digital age, market research and the marketing planning process. This will include the marketing mix and a tactical planning framework to aid marketing effectiveness.
Module 2: Planning Campaigns – assignment (mandatory). You will learn the campaign planning process including how to analyse an organisation's current position. You will also learn how to set campaign objectives, implement a campaign then measure and evaluate its success to aid continuous improvement in the fast-changing world of marketing.
Module 3: Choice of either Customer Insights or Digital Marketing Techniques (both assignment).
Customer Insights (to complete your Professional Marketing qualification). This module gives you an understanding of the contemporary customer's complex needs and wants, their behaviour as consumers and how this sets their expectations. You will learn how to gain the insight required to understand those needs and map the journey to ultimately improve their experience.
Digital Marketing Techniques (to complete your Professional Digital Marketing qualification). This module focuses on the importance of the ever-evolving, dynamic digital landscape. You will develop skills to improve digital marketing performance and explore the challenges and opportunities within the digital environment. You will also use a range of tools to plan how to enhance an organisation's effectiveness in the digital age

We also offer the L6 CIM Diploma in Professional Marketing the following year at the same campus
Careers page
CIM Membership = £65 (paid to CIM)
The current fees for this Level 4 Professional Marketing Certificate are £690 per module. This is broken down as tuition fees of £550 and the assessment fee of £140 for each unit.

Fees, finance and funding page
Do you have a burning question about this course, or would you like to know more about the qualification you'll receive and how it will help your career?
Our course enquiries team is on hand to help you understand any details and answer any questions – whether it's about applying for the course or finding out about finance. Just get in touch here!

Make an enquiry
Get Started...
Use our online form to complete your application.
Remember: you can start now, and save it for completing later.
Business and Professional
Business, Accountancy and Finance & Insurance are the three highest growing industries in Manchester.