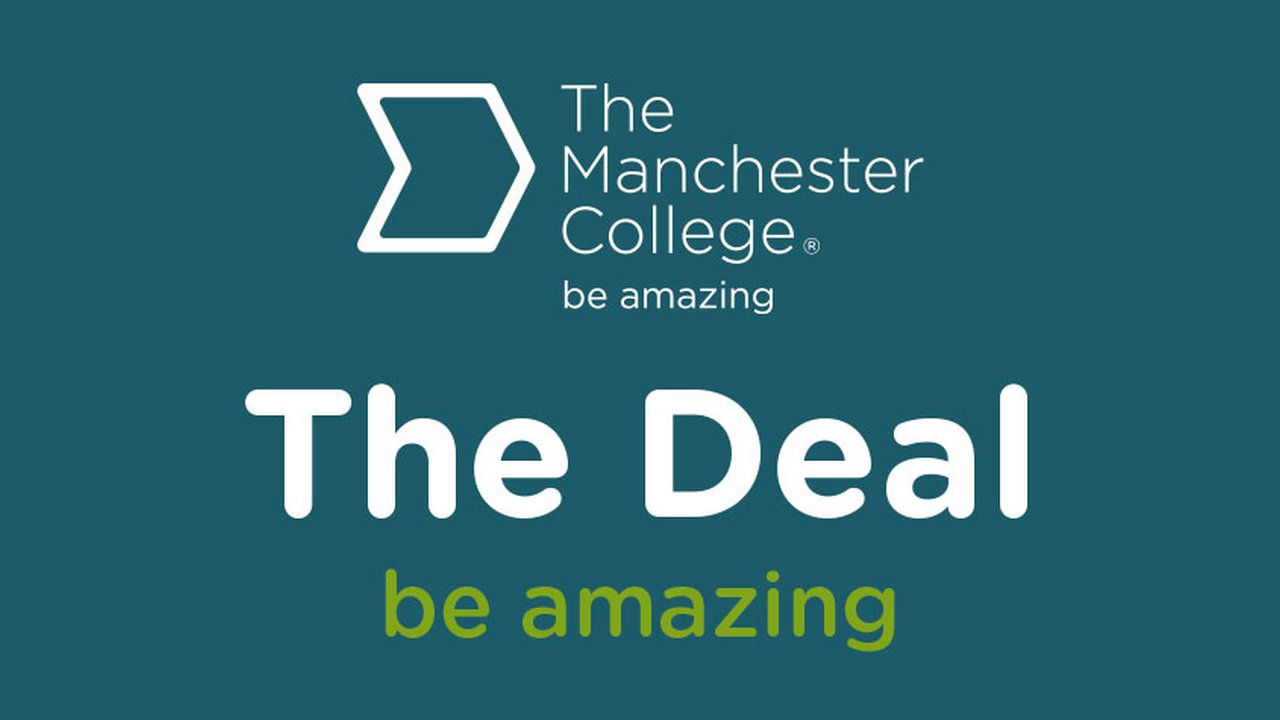 The Deal behaviours and Teamwork: Employability skills for today's (and tomorrow's) world
When you joined The Manchester College, you were asked to sign up to The Deal; a commitment to professional standards and behaviour to help you thrive during your studies.
The Deal incorporates 7 behaviours which are also essential for improving your employability skills. Adopting and living the values described can prepare you for interviews, work experience, paid work and generally stand you in good stead for life after study. 
All 7 behaviours – professional, respectful, ambitious, committed, responsible, collaborative and pro-active – are also some of the essential skills required to function within a team and be an excellent team player; something that employers tell us is a top quality they look for when recruiting new staff. 
So, let's look at the Deal in the context of Teamwork.
Professional
Professionalism begins at College, where we expect you to show up on time, wear ID and generally be ready to start the day. The same is true of any activity involving a team; prepare as much as you can for tasks and projects and find out in advance what will be expected of you. This preparedness is all part of cultivating a professional image and attitude and will stand you in good stead in class, as well as on a work experience placement. 
Respectful 
Be that person in the team who remembers to say "thank you" and is inclusive and kind to others. This respectful behaviour is an essential part of good communication skills, as it's about appreciating others' opinions and listening without working on your own response, but with an open attitude to what others are saying. 
Ambitious
In the context of teams, this is being ambitious for the team; aiming for excellence, identifying joint goals and pulling together to achieve them. Not settling for average. This is a culture which we live at College too – we want our students to achieve industry excellence and have the best possible futures. 
Committed
A team of committed individuals will always get things done and finished on time. This is about having energy and enthusiasm for the task or project and bouncing ideas off the other members of the team so that the work gets done properly. 
Responsible
It's good to be a team player but also look for opportunities to lead a team or an activity. This will show employers you have the potential to take responsibility for a task and are someone interested in developing themselves further. Show a can-do attitude i.e. look for ways to make things happen and set about implementing them. Employers want positive people who get things done and are role models for others.  
Pro-active 
Always plan in advance for appointments and tasks. This will help you stay organised and avoid knee-jerk reactions when unexpected things happen. Make sure you have a clear outline of the task at hand and that everyone in the team knows what's expected of them. 
Collaborative
Practise being collaborative in your learning environment by sharing ideas and working in a team whenever you can. Take the same approach to problem-solving and ask others what they think so that you can work towards a solution together.
It can take longer to accomplish a task if you work purely on your own. Employers look for team players - people who are ready to contribute and share – as teams built on collaboration are more effective.
All 7 Deal behaviours are essential for effective teamwork, both at College and in the world of work. Why not talk about them at interviews and in personal statements, making them relevant to your time at College and any work experience you have done. It's a good idea to do your own personal audit of these 7 behaviours, so you can confidently speak about each one. Note down an example of how you fulfil them so that you will then have a list you can add to as you develop your employability skills further.
If you need any support with this, speak to your Employability & Partnership Coordinator on workexperience@tmc.ac.uk Employability Hour tutor or Careers & Welfare advisor careers&welfare@tmc.ac.uk