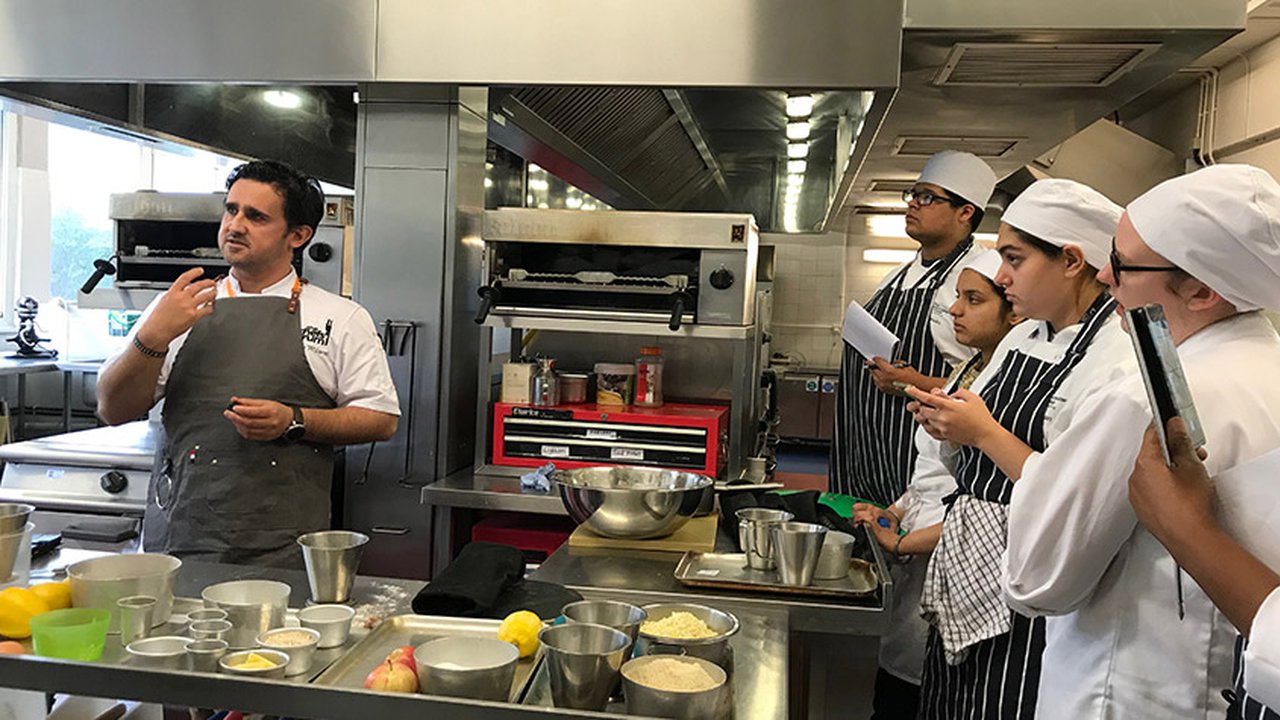 Chefs Forum Academy with James Wilson
In partnership with The Chefs Forum, student's learning on the Level 2 Technical Culinary Skills have participated in a fantastic workshop with James Wilson, a Freelance Chef and Nutritionist specialising in Private Dining and Celebrity Events.
Before starting his own business, James spent many years working in in some of the best kitchens across the globe including Scotland, New Zealand, Dubai, Singapore and China.
James's long standing and varied career is a shining example for the students of the endless opportunities available within the industry. He commented, "I used to be all about getting the Michelin [star] but went traveling through a sponsorship with a friend and I have to say the experiences whilst out there changed my pallet and a lot of other things about my style and preferences."
During his visit at The Bistro East on our Openshaw campus, James showed students how to make one of the dishes from his Winter menu: Autumnal donuts with white chocolate, whisky caramel, pickled blackberries and classic toffee apples.
The workshop was the latest instalment of the weekly 'Academy sessions' that the College hosts throughout the year. The sessions aim to improve the training that the industry's future workforce receive and enable experienced chefs to pass on valuable knowledge and skills.
James said, "In this industry if you don't put the effort in you won't get the reward but if you do the reward is massive! The Chefs Forum and the general idea of us all learning from each other is so important. I have 20 years of experience to pass on. It's just nice to be able to give back."
Sam Ryan, Level 2 Technical Skills student, said "James has travelled all over the world and worked with so many famous chefs. It's crazy to think that we are technically learning from those people indirectly through him too."
"We get so much from these sessions with the Chefs Forum, it's an invaluable opportunity to work with chefs that so many people would kill to work for and get their opinion and see their way of doing things."
To date students have worked with Sam Fazackerley from Rosso's, Nathaniel Farrell from The Crowne Plaza, Duncan Dickinson Owner of Herb & Spice Catering, Dave Lythall from Alton Towers and Doug Crampton from James Martin.
Over the next few weeks students will be visited by Chef Kevin Kirkland from Huddersfield University, James Yates from Arley House and Stuart Fox from Hilton Hotels.