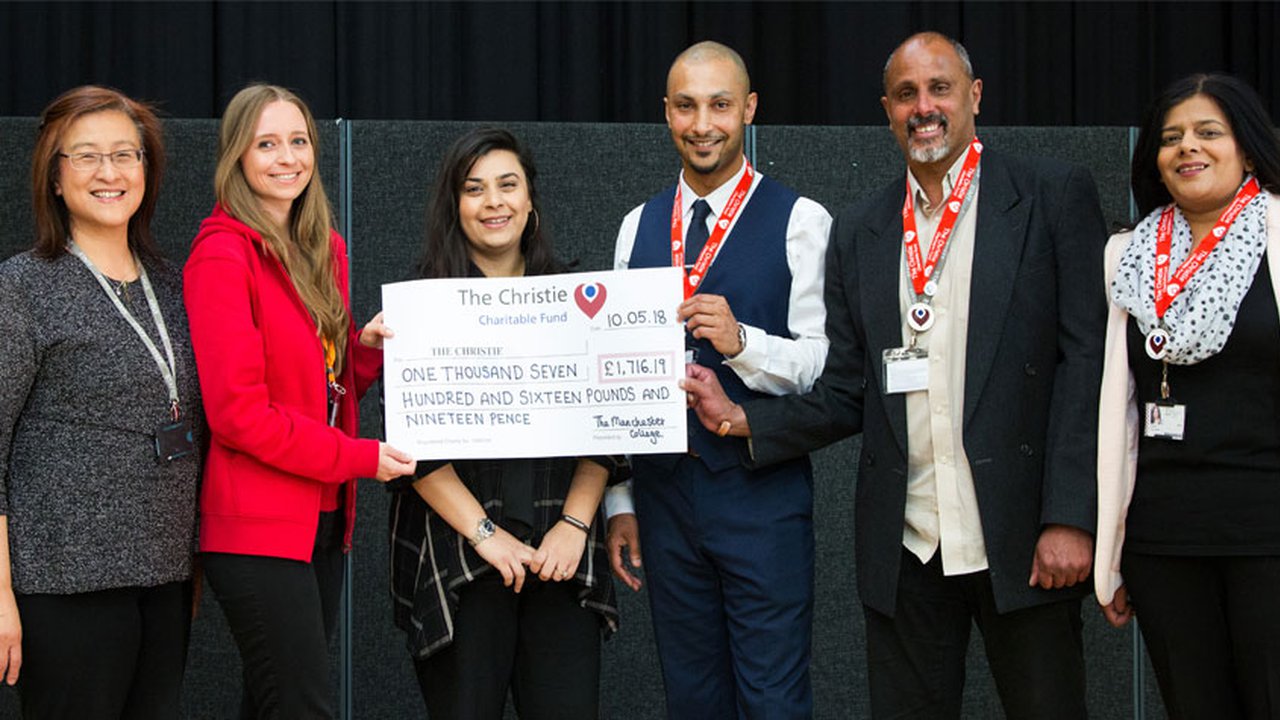 Fundraising football tournament scores big for The Christie
Football fans from The Manchester College used their global soccer skills to raise over £1,700 for The Christie NHS Foundation Trust.
The English for Speakers of Other Languages (ESOL) Football World Cup saw over 50 students and colleagues take part in the fourth annual five-a-side tournament.
Students representing teams from across the world showed off their fancy footwork at The Factory Youth Zone in Manchester, with Portugal lifting the 2018 trophy after a thrilling 4-3 win against Uruguay.
Hair and Beauty students provided a range of treatments while the tournament took place, and Business students from the College's Nicholls campus also helped out with the fundraising.
Jennifer Kent from The Christie Charity attended the tournament, and later accepted a cheque for £1716.19 from ESOL tutor and event organiser, Haseeb Akhtar, during a presentation event.
The money will be used for the Teenage and Young Adult Activity Fund, which supports social events and activities for teenagers and young adults receiving treatment at the specialist cancer centre.
Haseeb said: "The world cup tournament was an amazing display of a profound generosity, in many cases from people who have made extremely difficult journeys to be here.
"There was a sense of togetherness spanning various curriculum areas and real pride among the ESOL cohort to be part of an event of this magnitude, where we all formed one cohesive unit to help young people suffering from cancer."
Jennifer said: "On behalf of The Christie Charity, I would like to say a massive thank you to Haseeb and The Manchester College for choosing to support our Teenage and Young Adult Unit Activity Fund.
"The Teenage and Young Adult Unit provides care for teenagers and young adults with cancer and its related illnesses. In addition to the first class treatment and care from our teenage cancer experts, we also recognise the importance for young patients to have access to specialist support as they undergo their treatment.
"Much of this support is funded by donations made to our Teenage and Young Adult Unit Activity Fund. This is a particularly special fund as it helps to provide leisure and social activities, music therapy and art therapy for our patients. Not only are these activities enjoyable but they also encourage our patients to build important friendships which can provide invaluable support for them at an incredibly difficult time in their lives."
ESOL students come to the UK from countries all over the world and the tournament is one way to create a sense of togetherness, to learn outside of the classroom, and to build their English language and communication skills.