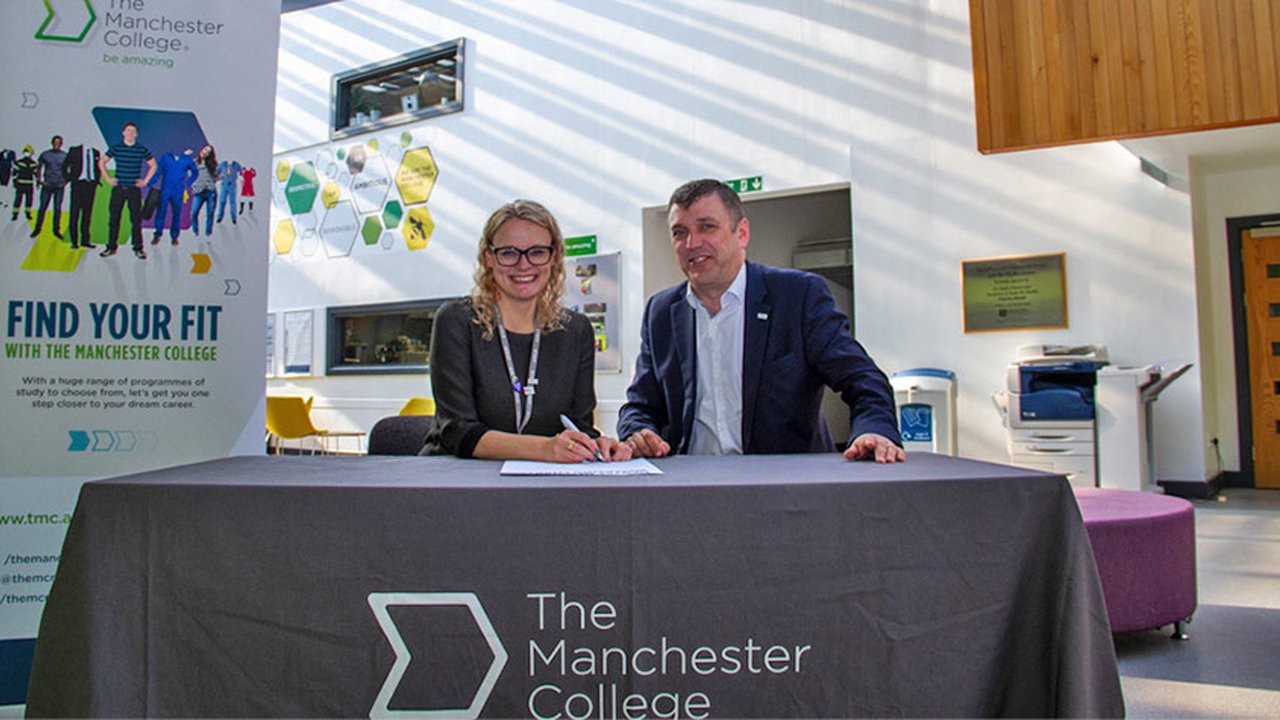 The Manchester College charts commitment to Mental Health and Wellbeing
The Manchester College has reaffirmed its commitment to supporting the mental health and wellbeing of its students and staff by signing the Association of College's (AoC) Mental Health and Wellbeing Charter.
The 11 point charter, which was created in conjunction with mental health experts, includes commitments to provide appropriate mental health training for staff, challenge mental health stigma and provide targeted individual mental health support where appropriate.  
Lisa O'Loughlin, Principal, said: "We're incredibly proud to officially sign the AoC's national Mental Health and Wellbeing Charter.
We have a whole-team, holistic approach to staff and student support at The Manchester College, including teams of highly trained and dedicated professionals, specialising in extra support in, for example, mental health and wellbeing, safeguarding and culturally-specific awareness training."
The College, which is the number one FE College for achievement in Greater Manchester, has been recognised by Lord Agnew, Parliamentary Under-Secretary of State for the School System and commended in its most recent Ofsted report (2019) for its "effective" support of students, and works with over 50 separate external agencies and organisations to meet the safeguarding and wellbeing needs of students and, where appropriate, their children and wider families.
It is currently implementing Mental Health First Aid training for its support teams and is on-track to becoming a 'trauma-informed' college. Lisa added: "This work is a great example of how partnership working can maximise the positive impact for students and staff.
"We are incredibly grateful for the support of the Greater Manchester Health and Social Care Partnership and the AoC, by working together we can support the mental wellbeing of more staff and students than we would ever do individually.'
The AoC's national mental health lead, Richard Caulfield, said: "Every single day colleges like The Manchester College provide a world class education and transform the lives of millions of people. This includes providing support for both staff and student wellbeing at the right time, in the right place.
One in ten young people experience a mental health problem each year, and one in five experience a common mental illness such as anxiety or depression at any one time. The charter provides a great opportunity to publically state your commitment to the mental health agenda and celebrate the brilliant things that go on in our sector to support our students and colleagues."
To learn more about The Manchester College visit our website homepage and to sign the Charter, visit the AoC's website. 
Pictured: Lisa O'Loughlin and Richard Caulfield