Adult and Professional Courses

Kick start, change or progress your career with an Adult course at The Manchester College.
Enrol now to start this September! Find out more.
Our Courses
---
We offer adult and professional courses in a huge range of subject areas:
Financial Support
---
Finances and tuition fees don't need to be a barrier to learning or your success - we are here to support you.
Greater Manchester Skills Fund
Study for free if you're aged 19 or over and this is your first or second Level 3 qualification, click here to explore eligible courses.
Free Courses for Jobs (formally the National Skills Fund)
Study for free if you're aged 19 or over and this is your first Level 3 qualification OR if you earn less than £18,525 or are unemployed regardless of whether you already have a Level 3 qualification, click here to explore eligible courses.
Advanced Learner Loan
If you're aged 19 or over and you're starting a Level 3 or Level 4 course with us, you can take advantage of this loan which can be used to pay some or all of the tuition fees for your course.
19+ Access to Industry Award
If you're aged 19-23, you may be eligible to access funding support through your legal entitlement to your first full Level 3 qualification.
 
Ready to enrol with us?
Enrol now to join our Centre of Excellence for Adult Education.
Enrol now
Have you already applied to study with us? Start your enrolment online now using the Apply Portal before you finalise your enrolment on campus.

Support
We can offer financial support to students who need help with affording college, including tuition fees and childcare costs through our Access to Industry Award.
Travel
You could be eligible for FREE travel to college and across Greater Manchester, find out if you are eligible for free bus travel through our travel bursary TMC Go.
Not applied yet?
Don't worry it's not too late, you can still apply and enrol online or visit us on campus to speak to our friendly team who are happy to help. 
Student Life
Find out more about what you can expect from college life, including enrichment activities you can take part in and our student support services.
Locations
Find out more about our five campuses across Greater Manchester, from how to get there to more information on the industry standard facilities you can expect to study in, including our brand-new City Campus Manchester.
Go further
We want to help you go further and achieve your personal and career goals.
Whether you want to embrace a new hobby, learn new skills or gain a qualification to boost your earning potential, we've got you. Hear what our learners have to say about returning to College as an Adult Learner.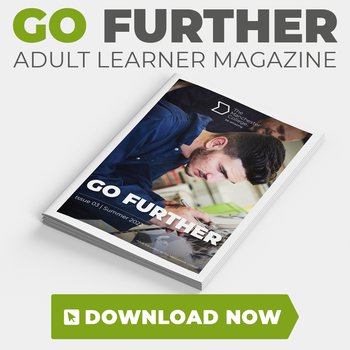 Adult Learner Magazine
Explore our courses, meet both our tutors and students and get the latest industry insights in our brand-new adult learner magazine.
Download Latest Issue
Talking TMC
Listen to our College podcasts! Hear from our guests on topics such as what to expect from The Manchester College, the courses we have on offer, reasons to study at the number one college in Greater Manchester and the support we offer in terms of career guidance, finance and funding.
Listen here

Adult Learner Open Events

Want to find out more? Join us at our next Adult Learner Open Event where you can meet our expert tutors, tour our amazing facilities and find out more about finance and funding options.
Find out more
GOT A QUESTION?
Get in touch
Make an enquiry
Whether you'd like to know more about a specific course, ask a question about applying, or find out about the college, we're here to help!
Click here to view our privacy notice and find out more about how we will use the information you have provided when applying for a course at The Manchester College.