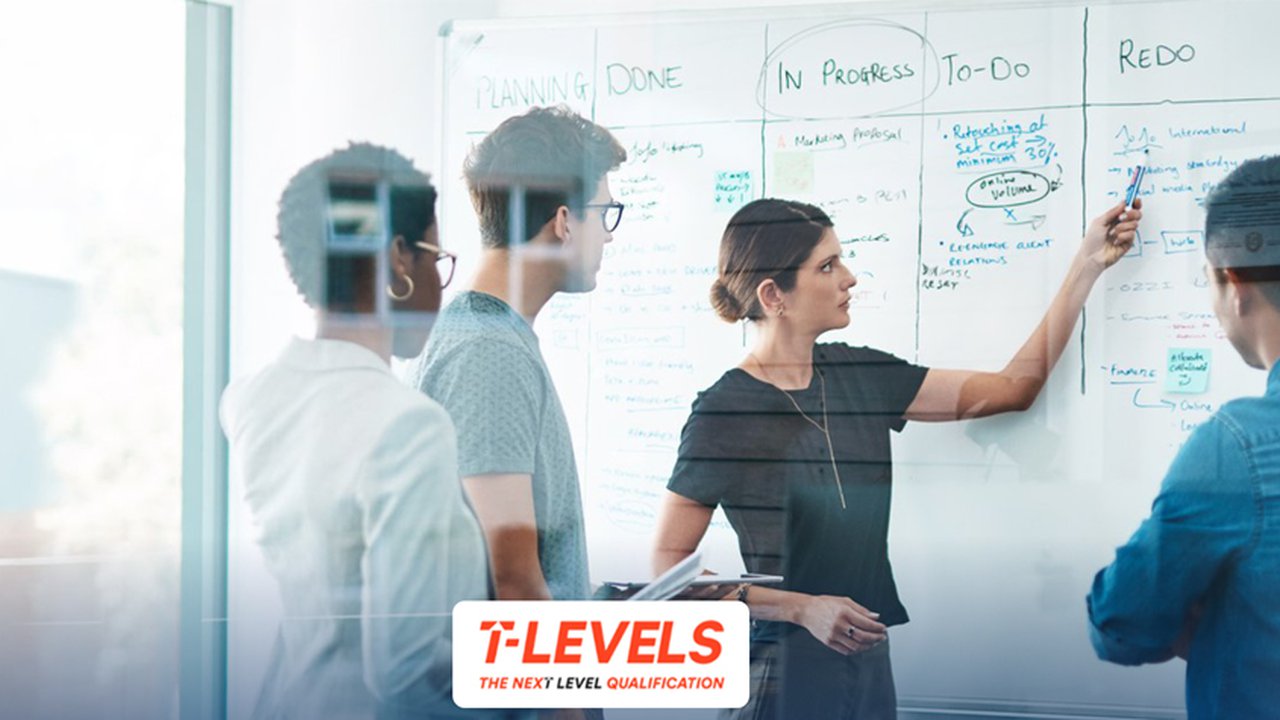 T Levels: Your progression options
T Levels are still quite new, and you may not be 100% sure on what they are or what your progression options are following completion. 
What are T Levels?
T Levels are a 2-year technical programme that are an alternative to A Levels, apprenticeships and vocational qualifications. They combine in class learning with a 45-day industry placement, meaning you get the opportunity to put into practice what you are learning through on-the-job experience. 
T Levels are based on the same standards as apprenticeships, which means employers have had an input into the structure of the programme in order to help bridge the skills gap industries are facing. You will spend 20% of the whole qualification time on placement. T Levels are more suited to students who know what industry they want to move into.
How are they structured?
T Levels are made up of the following compulsory elements:
A technical qualification which includes the core skills, theory and concepts related to the industry
Specialist occupational skills and knowledge of the industry
A 45-day industry placement with an employer
A minimum standard of English and maths, unless already achieved at GCSE
How are T Levels graded?
Students who complete a T Level will be given an overall grade of either pass, merit, distinction, or distinction*. They will receive a nationally recognised certificate which breakdowns their achievements.
To pass the T Level, students must successfully complete all compulsory elements by the end of the programme. If a student does not fully complete every element, they will receive a statement confirming what elements have been successfully completed.
So, what are your progression options?
T Levels will keep your options open as they will expose you to an industry and the broad range of careers it offers. There are multiple progression routes you could take following completion of your T Level programme.
T-levels are an excellent industry-backed qualification; they're hands-on from the beginning of the course and offer potential opportunities for early career progression as well as a route for those who decide to further their education.
- PARENT OF CURRENT STUDENT ON DESIGN, SURVEYING AND PLANNING FOR CONSTRUCTION T LEVEL
Employment
Entering employment after completing a T Level is one option. As you will have completed your industry placement, you will likely find you have a head start on the employability skills and experience that employers are looking for. This means you will have plenty of practical examples to use as part of your application and interview process when looking for work.
During your industry placement, you will no doubt get the opportunity to find out about any progression opportunities within the company you are placed with, such as any in-house apprenticeships or management trainee schemes. Several T Level students have secured positions in this way for when they have finished college. Speak to your placement mentor at the company and take every opportunity to network and make some professional contacts at the company whilst you are there.
T-levels are an excellent introduction to our industry and give students a comprehensive insight into a potential future career.
- NEIL CONLON, BUSINESS DEVELOPMENT MANAGER AT CONLON CONSTRUCTION
Apprenticeships
You could look at higher and degree level apprenticeships. As the T Levels were designed to the same standards as apprenticeships, which were developed in collaboration with employers, they meet the needs of industry. Again, you will have experience as well as a recognised qualification to highlight when applying for opportunities.
Higher Education
T Levels are equivalent to 3 A Levels when fully completed and so will generate UCAS tariff points. This table demonstrates how T Level grading compares to A Levels and how the UCAS tariff points match up.
| | | |
| --- | --- | --- |
| UCAS Tariff points | T Level overallgrade | A Level |
| 168 | Distinction* (A* on the core and distinction in the occupational specialism | AAA* |
| 144 | Distinction | AAA |
| 120 | Merit | BBB |
| 96 | Pass (C or above on the core) | CCC |
| 72 | Pass (D or E on the core) | DDD |
Universities have been getting used to the new T Level qualification and you can find a list of universities who have stated they will accept this qualification for entry onto at least one programme.  You can explore university course entry requirements at UCAS. 
What T Levels does The Manchester College offer?
We currently offer T Levels in Business Management & Finance, Construction, Digital, Education & Childcare, Engineering & Manufacturing, and Health & Healthcare Science. From September 2023, we will also be offering T Levels in a further four areas including Craft & Design, Hair & Beauty, Hospitality & Catering, and Media, Broadcast & Production. You can learn more about T Levels and the programmes offered at The Manchester College on our dedicated T Level website.
You can contact the Careers & Welfare team to book an appointment where we will be able to work with you to develop a career plan, which explores the range of opportunities and courses on offer including T Levels, so you can make informed decisions about your next steps. 
Contact us at careers&welfare@tmc.ac.uk for advice, or through our Twitter @CareersTMC or our Linked In page Careers TMC.