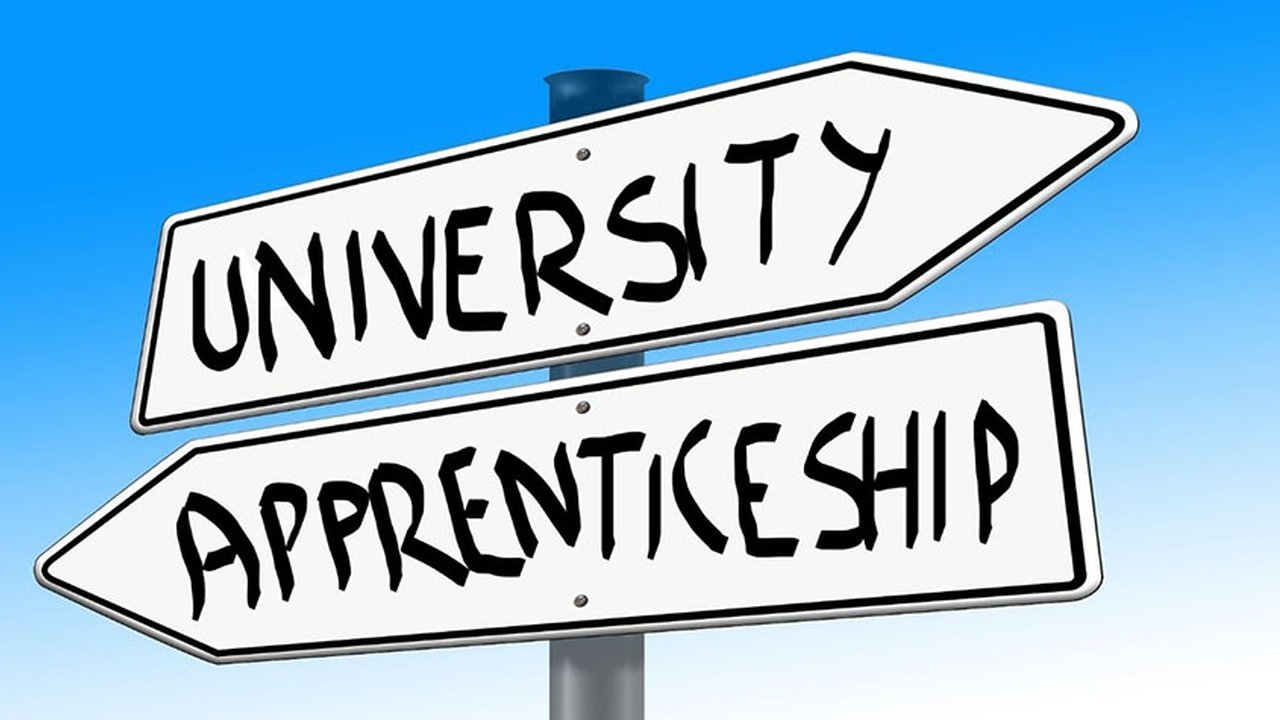 To degree, or not to degree? That is the question
A slight take on the famous Shakespeare quote, but nevertheless it's a question that many students ask themselves: "Do I need to go to university?"
Researching your Post-18 options can seem like an overwhelming task as there are a number of options. This blog will help you to understand some of the key points to consider when making decisions. We'll also give you some useful links, which will aid you in your research.
University
Some careers require higher-level learning as a minimum entry requirement into the profession. So, it's important to research your preferred career to see if a degree level qualification is a requirement. Here are some useful websites to help you: Start, National Careers Service and Prospects. There are more websites available for your research, including industry-specific ones, so it's wise to explore those as well.
Doing a Higher Education qualification such as a HNC, HND, Foundation degree or degree doesn't mean you have to go to university. Colleges also offer these higher-level qualifications, such as our own UCEN Manchester.
Having a higher-level qualification could help you earn a higher salary. Graduates generally earn more across their lifetime than non-graduates. However, this isn't automatically the case for everyone. It can depend on the subject studied. Some graduates feel they may have been better off financially if they hadn't gone to university. So when doing your research, take a look at graduate destinations: Luminate has lots of useful articles on graduates and what they do after uni.
University gives you the option to move away from home. Going to university has been a rite of passage for some students. After all, breaking away from home to live independently and gain life skills is just as important as the qualification you will get from university.
Degrees generally last 3 to 4 years. There are some exceptions where they can take longer depending on the career you are pursuing, such as medicine or architecture. Deciding where you want to live and study for this length of time is crucial in your research stage, so we would recommend attending university open days – lots are offering virtual tours!
Apprenticeships
Apprenticeships are a job. You need to apply and go through an application cycle with an employer, which could involve an interview or assessment centre. They can be advertised at any point in the year. This also means you'll earn a salary whilst completing the apprenticeship.
Apprenticeships are available in a wide range of industries from construction to media, business to healthcare. It's worth exploring the opportunities available in your local area. Total People are an apprenticeship provider that the college works closely with, and they offer a range of apprenticeship opportunities. Some additional starting points are the Find an Apprenticeship and Amazing Apprenticeships. 
These are far more competitive than university as there aren't as many opportunities as there are places at university. However, you don't have to pay tuition fees when doing an apprenticeship and as well as the qualification, you'll also gain lots of experience. Working with an employer, you'll spend 80% of your time doing the job and 20% learning. 
Apprenticeships can last from anywhere between 1 and 6 years. The length will depend on the level of apprenticeship, as well as the employer. For example, some level 3 apprenticeships can last 18-24 months, whereas a level 6 (degree) Solicitor apprenticeship will last 5 to 6 years. This is quite a commitment, so you need to be absolutely sure that the career you are pursuing is the right one for you.
Employment
Perhaps you decide that after finishing your college course, you want to enter the labour market and find your first job in your new career. This works best for those careers where you don't need a higher-level qualification, or for those who prefer to get started in their career first, and then build up their experience.
In these instances, it is crucial to understand your labour market. You need to know that there will be vacancies in the area for you to apply to, as well as understanding what employers want in terms of experience and skills from applicants.
The Careers & Welfare team can help you to develop your employability skills. We can help you to navigate the labour market and learn how to search and find opportunities, as not all job opportunities will be advertised. 
Gap Year
A gap year is useful if you want to do something with your time while you continue to weigh up your options. It can help to enhance your CV for employers, you can use it to gain work experience related to what you want to do in the future and enhance applications for jobs or university, or you could learn a new skill.
You need to be clear on why you want to take a gap year, and what you want to achieve from it. You need to plan and set yourself goals to achieve, otherwise you could end up wasting the year.
Some gap year adventures require finance. This means you need to have the funding up front in order to commit to the programme. If you decide to travel, you need to have the funds to do it, or work out a plan on how you can safely earn money whilst travelling. Planning your route, travel and accommodation is crucial, and certainly helps to develop transferable skills.
Here are some useful links to help you start researching your gap year opportunities UCAS and Prospects.
Research
Whatever you plan to do after finishing college, the important thing to remember is to research all the options open to you. Follow the Careers & Welfare team on LinkedIn or Twitter @CareersTMC. Or you can book an appointment to speak to one of our advisers either on campus or by telephone. We are here to help you find your future and start your journey to an amazing career!
Sources
Britton, J., Dearden, L., Van Der Erve, L. and Waltmann, B. (2020). The impact of undergraduate degrees on lifetime earnings. [Accessed 21/10/2020].
UCAS. (2018). UCAS. [Accessed 21/10/2020].