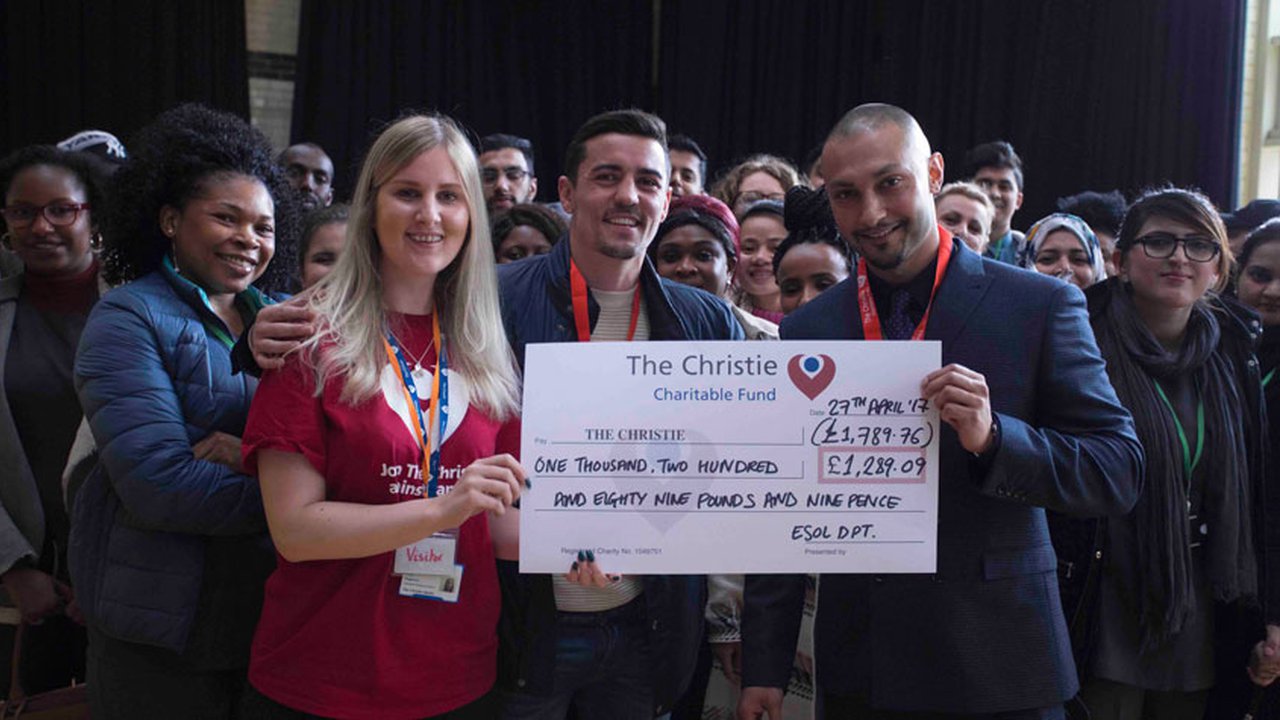 Anthony Crolla and our students offer their support for The Christie
Former WBA lightweight boxing champion, Anthony Crolla, joined forces with our students to raise almost £2,000 for the research room within The Christie's new high-energy proton beam therapy centre, which is due for completion in 2018.
More than 50 of our ESOL (English for Speakers of Other Languages) students took part in the 2017 'ESOL Football World Cup' in order to raise funds for The Christie.
Mr Crolla joined students at our Harpurhey campus to present The Christie NHS Foundation Trust with three cheques.
He said: "It's great to see young people getting involved in sport and fundraising. The students deserve a pat on the back for their efforts. I have visited The Christie before, spoken with patients and their families and seen first-hand the brilliant care they receive. It's a pleasure to get involved."
Ten teams competed in this year's football tournament, which took place at The Factory Youth Zone, Manchester. Brazil came out victorious after an afternoon of competitive football played in a fun and relaxed environment, with great sportsmanship shown by all participating.
Other students from across our College also got involved in the fundraising. Our Hair and Beauty students offered a range of treatments while the tournament was taking place, and our Business students organised a separate event at our Nicholls campus, with monies going to the same cause.
It's great to see young people getting involved in sport and fundraising. The students deserve a pat on the back for their efforts.
ESOL Tutor, Haseeb Akhtar, has organised the event for the last three years and explained: "Our students love football and I wanted to organise an event that would benefit both our students and The Christie. The success of last year's ESOL Football World Cup has raised the profile of the event and it was great to see other areas of our College getting involved.
"Our students learnt about the fantastic work the charity does and how donations benefit children who are battling cancer. I would like to say a huge thank you to Anthony for attending the presentation, the students were excited to meet him. I can't wait for next year's tournament and neither can our students."
Proton beam therapy is used to treat patients with some of the most complex forms of cancer, while reducing the potential long-term side effects associated with conventional radiotherapy, which is particularly important when treating children.
Once the centre is completed, the treatment will only be available at two facilities in the UK, one of which will be The Christie's.