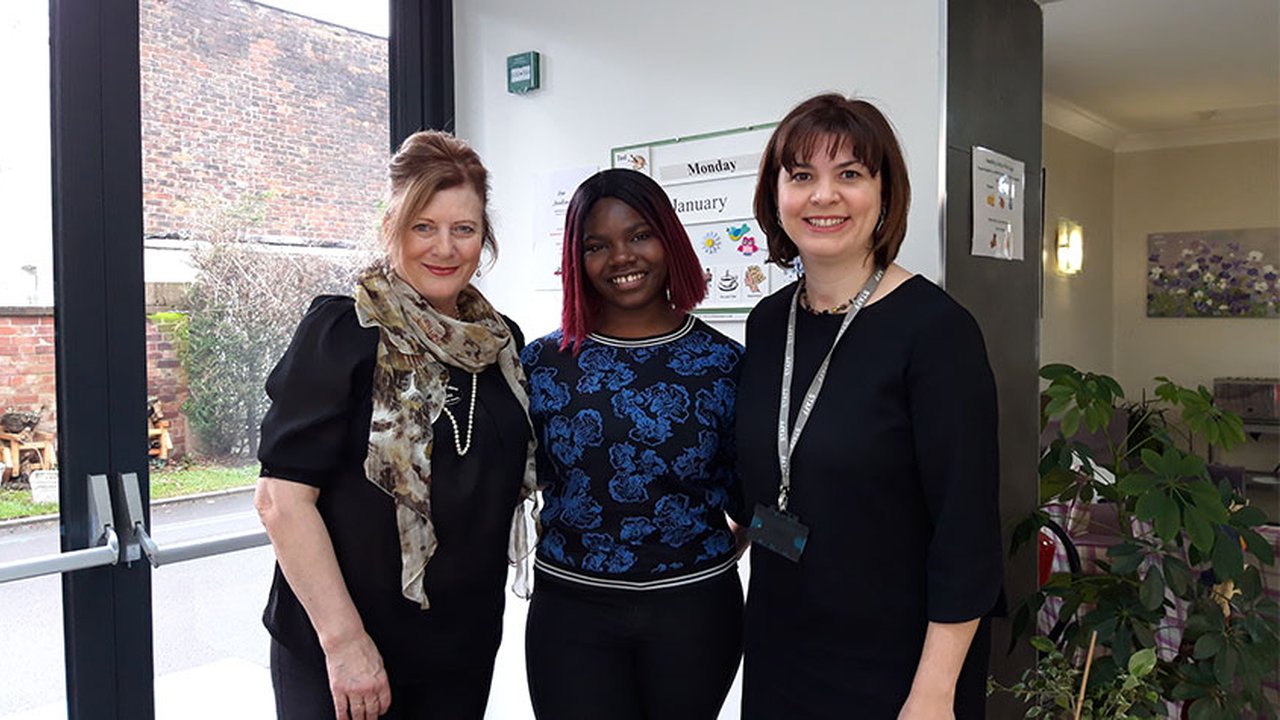 Asha Lee's industry work placement with Oak Lodge Care home
Successful Employability Partnerships, setting students up for positive destinations.
The Manchester College's Employability and Partnership Co-ordinators work to secure students with a minimum of 315 hours of enjoyable and relevant industry work placements that will support their academic studies and prepare them for the working world. 
Asha-Lee is currently working at Oak Lodge Care Home in Prestwich, where she is developing the skill for a future nursing career. 
Asha-Lee said: 
Ever since I was young, I've always wanted to do nursing and this placement has helped me to understand the different career choices available to me as I pursue this dream of mine.
Asha is demonstrating her drive and commitment as she travels each morning from Bradford, Yorkshire, to attend her work placement at Oak Lodge in Manchester. Around this commute she still manages her time to complete all her homework and keep a regular logbook of her activities and research.
Working closely with the nurses and catering staff at Oak Lodge, Asha has so far learnt about assisted feedings and liquid thickening, the importance of productivity for residents with dementia, infection control and fire and health safety.
Asha said:
Having this placement under my belt means I know exactly what to expect from the industry. I've learnt a lot about health and safety, nutrition and wellbeing and I am working with my Employability co-ordinator and industry mentor Dee to be the best I can be for the residents.
Dee Smith, Asha's Industry Mentor and Quality Assurance Lead, said: "We certainly struck lucky with Asha, she has definitely grown in confidence over time. Out of all my student placements Asha is by far the most independent learner. She works hard and uses her initiative where appropriate.
I've already recommended the students at The Manchester College for industry work placements to our sister residence, Hollybank Care Home.

Residents love having young people around and Asha Lee is always smiling. It's important that we encourage young people to take up work in this industry and to start learning important skills early on.
Industry placements, which equate to approximately 45 days of experience, have been introduced by the Department for Education to give 16-19-year-old students on technical and vocational courses the chance to put into practice the knowledge and practical skills they have gained from a college course. This is in preparation for the roll out of T-Levels in 2020 and beyond.
Fiona Richardson, Employability and Partnership Co-ordinator, said:
Work placements are incredibly important to our students, they help to develop soft skills such as communications, organisation and time keeping skills. It also looks fantastic on a CV, which makes all the difference when applying to universities or standing out to future employers.