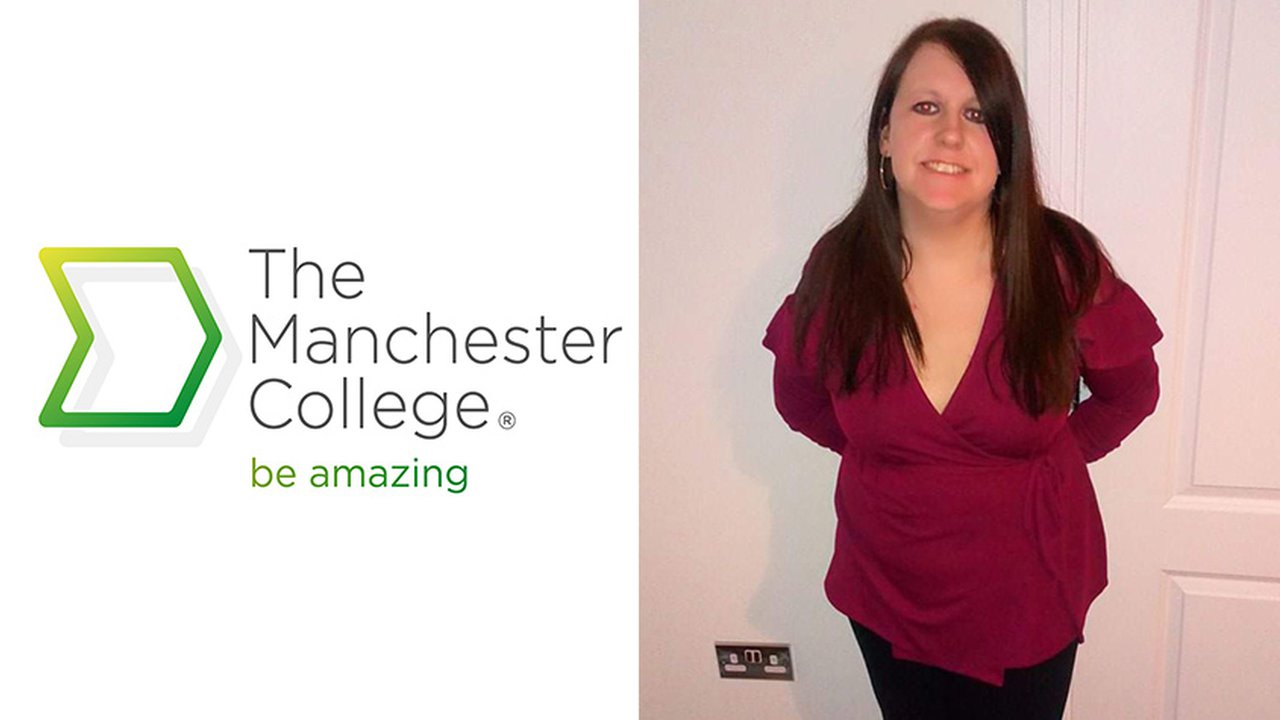 Ashleigh encourages adult learners to "Go for it" after Access to HE course
She's now set for her dream midwifery career after making a return to education.
Adult learner Ashleigh Wilson is encouraging potential adult learners to pursue their dream careers after completing an Access to Higher Education course in Nursing and Midwifery.
After realising she wasn't getting job satisfaction in her digital solutions role, Ashleigh returned to education last year aged 33. Now, she's preparing to study for a Midwifery degree at the University of Manchester.
"I had researched several distance learning courses, but I wanted to study at a college that fitted around my busy work/home life but also offered the college experience," Ashleigh explained.
"I had studied a few short courses previously via distance learning where it felt like you were left to it and didn't get the full support you would have had being a student attending college. The Manchester College not only offered the access course I was looking for, but they offered a blend of distance and on-campus learning."
While returning to education can be a daunting prospect, Ashleigh, a mother-of-one, says the support from her tutors and managing her time effectively made her experience overwhelmingly positive.
She said:
My tutors have been beyond fantastic and supportive.
"It has been no doubt challenging for students and the tutors to adapt to online learning with new software. Even being a distance learner, the college tutors are in regular contact via teams, phone or email. They guide you through and help you with identifying strengths and weaknesses and helping you to improve not only academically but as a person.
"Juggling my studies with my other commitments was difficult at first but the best thing to do is plan and organise yourself as best as possible and stick to it. Once you've got your first assignments done then it gets easier in terms of time management."
Although for now she's focusing on her upcoming degree, Ashleigh says she would like to go on to do a Masters and potentially work in management. Meanwhile, she has a simple message for other adults who are contemplating a return to education.
"Go for it!" she said. "I've surprised myself as I wasn't very confident but thought I'd give it a go as you only live once! I've enjoyed it thoroughly! The support for returning to education is brilliant and encouraging. You get regular feedback and guidance on how to improve where needed.
"For example, I've absolutely loved biology more than I thought I would have. I found science difficult at school but the tutor explained everything thoroughly so it was easier to understand and process. I also liked psychology and the different perspectives and approaches was definitely insightful."
You can find out more about our extensive range of Access to HE courses, delivered in partnership with our Higher Education partners UCEN Manchester, and apply today.