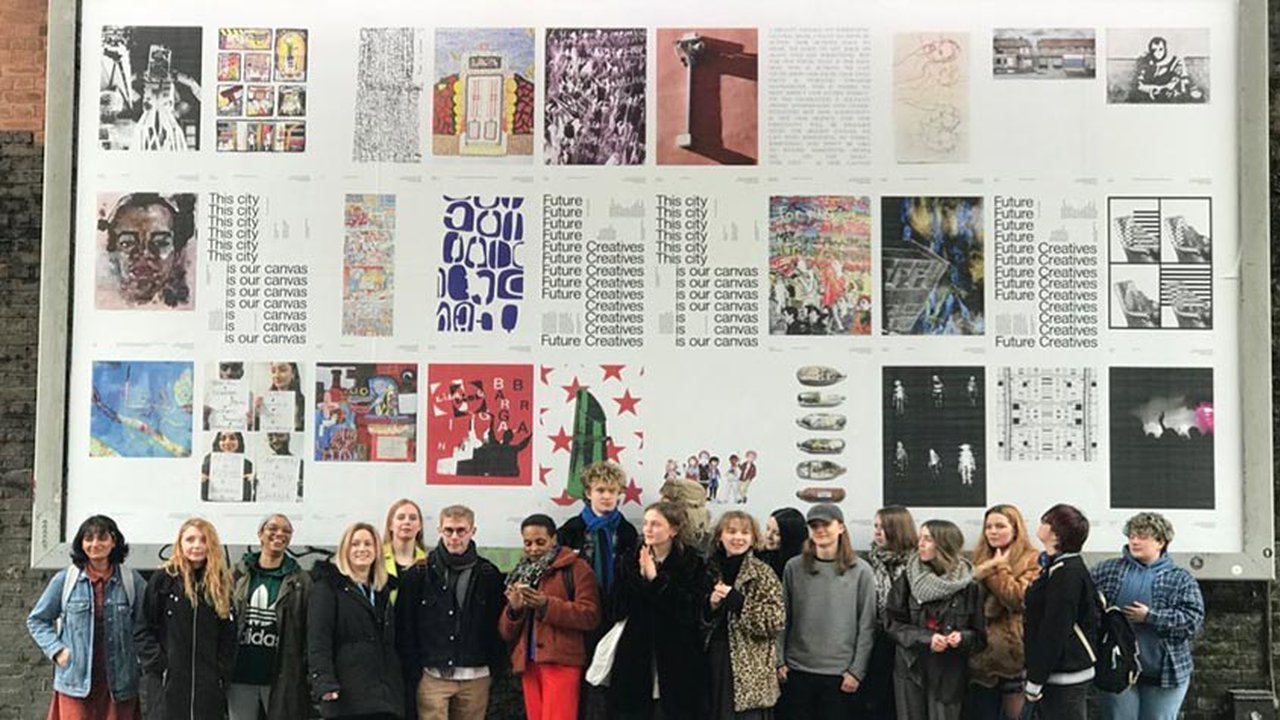 College students make a statement with 'This City is Ours' project
Students at The Manchester College partner with The Manchester Art Gallery and Craig Oldham to create a city-wide exhibition, including fly posters and city centre billboards.
Design and Visual Arts students at The Manchester College have been working in partnership with The Manchester Art Gallery on a series of fly posters which have been plastered around the city centre and on billboards in high footfall locations.
Working with artists, curators, designers and tutors the students were asked to identify the role that art plays in shaping and changing the Manchester community through a personal interpretation from the students.
The exhibition, entitled 'The City is our Canvas', is part of the Colleges Future Creatives program co-created by the Maria Foran, Head of Department, Visual Arts and the Design and Visual Arts team at The Manchester College, along with Emma Carroll, Senior Learning Manager Schools and Colleges
at the Manchester Art Gallery.
In total, 200 of College's students responded to the live brief and 26 were chosen to work with Jack Arts and Manchester-based designer, Craig Oldham during the project's final stages.
The final collection has been launched at Manchester Art Gallery and will be available for to the public until 15 March. The complete collection is also available for sale in the gallery gift shop starting from £4.50.
During the exhibit, Alister Hudson, Director at the Manchester Art Gallery said: "Manchester needs creative juices for it to flourish, I think this event is a fine example of finding ways to shape culture through imagery. This group of people have been working to re-establish that if you want to make your voice heard, you can do that through imagery as much as you can through words.
I want to thank you for giving this project so much energy as what that does is give this building so much energy. If you look around the gallery, this place feels more like an Art School for the City - it starts to feel like somewhere that's central civic thinking and just as much about people as it is about Art.
Maria Foran, Head of Department, Visual Arts said: "As The Manchester College looks forward to our exciting new build and our Arts Centre of Excellence, which will catapult the next generation of artists designers and makers of Manchester on through their education, it is the students that are helping to create the vision right now. Their input today, in sharing the culture of the city's future, is invaluable.
"Unified in its intention to be inclusive of all, The Manchester College's and The Manchester Art gallery's Future Creatives project enables the quietest of voices to be heard."
Kitty Coles-Schottlander, studying Level 3 Diploma in Art and Design, said: "This course is super valuable to me, as is this opportunity with the Future Creatives project. It's been a really good experience and it is just enjoyable to work with such reputable artists, creating such high-quality Art and to be a part of a close-knit community."
You can see the sixth annual Future Creatives collection at the following locations across Manchester:
126 OLDHAM ROAD, MANCHESTER
126 OLDHAM ROAD, MANCHESTER
21 CHAPEL STREET, MANCHESTER
21 CHAPEL STREET, MANCHESTER
21 CHAPEL STREET, MANCHESTER
260 WILMSLOW ROAD/FALLOWFIELD, MANCHESTER
67 HIGH STREET, MANCHESTER
67 HIGH STREET, MANCHESTER
BURTON ROAD, MANCHESTER
CARPENTERS LANE/TIB STREET, MANCHESTER
CHURCH STREET, MANCHESTER
CHURCH STREET, MANCHESTER
CHURCH STREET, MANCHESTER 
CHURCH STREET, MANCHESTER
DEANSGATE, MANCHESTER
FAIRFIELD STREET, MANCHESTER
To share the work on social media, use the hashtag #futurecreatives2020 and tag The Manchester College and Manchester Art Gallery.
Instagram: @themcrcollege | @mcrartgallery
Twitter: @themcrcollege | @mcrartgallery