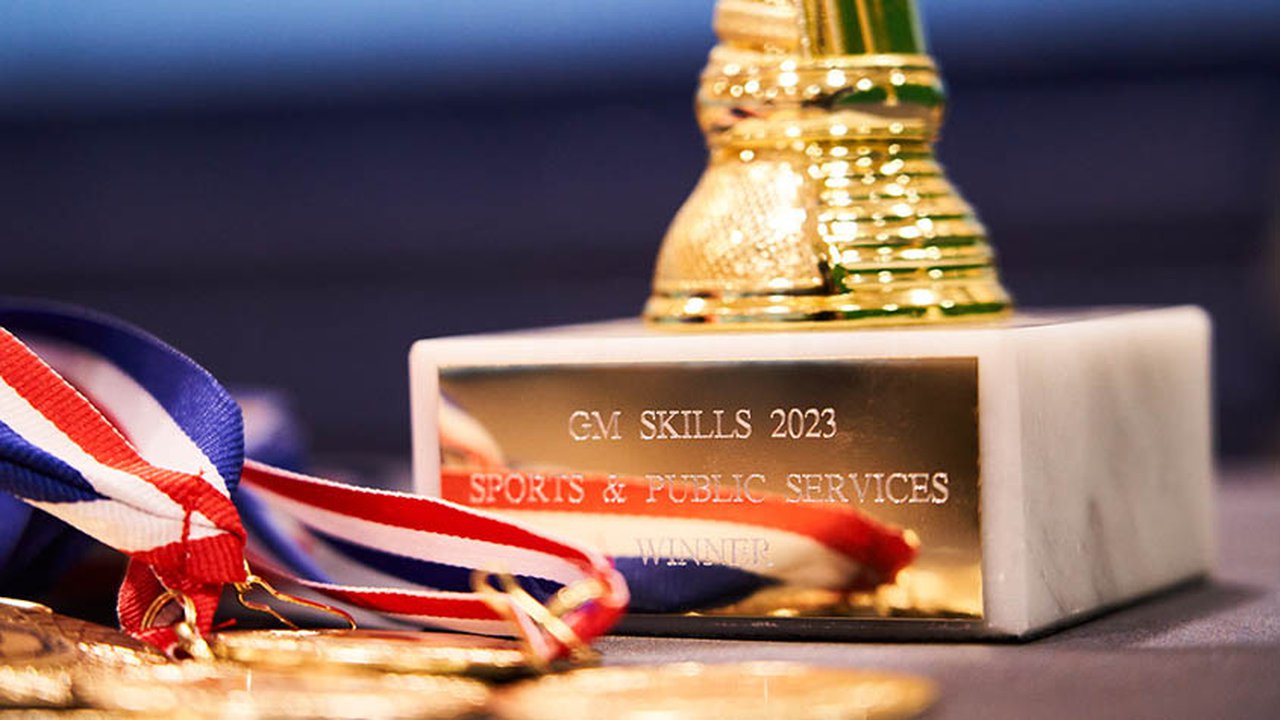 College wins multiple awards in 2023 GM Skills Competition
Students at The Manchester College are celebrating multiple podium finishes in this year's Greater Manchester Colleges' 'GM Skills Competitions'.
All Greater Manchester's nine further education colleges take part in, and host one of, the subject specific GM Skills Competitions where participants complete tasks and respond to briefs that challenge them to demonstrate their advanced skill level in their chosen sector.
In this year's competition students at The Manchester College demonstrated exceptional and advance skill levels to claim first overall prize in both the Performing Arts Competition and the Sport & Public Service Competition.
Students also claimed second place in the Computing Competition and third place in the Health & Social Care (Level 1) and Hospitality & Catering Competitions, demonstrating the advanced skills that College students develop across the breadth of its programmes.
Rachel Curry, Principal The Manchester College, commented: "The GM Skills Competition is a fantastic example of how the Greater Manchester Colleges' Group work together to provide students across the region with an aspirational event for them to showcase their abilities and further advance their technical skills.
"As such we are delighted to have earned so many prizes across a wide spectrum of our curriculum in this year's GM Skills Competition and are proud of the amazing achievements of our students, and all competing students, in demonstrating their industry standard skills.
Our students show outstanding commitment to their studies and work tirelessly to achieve their aspirational goals and these successes and recognition should give them further confidence as they continue to work toward gaining the skills that they will require for a future career.
In addition to the College's multiple overall podium finishes, its students also recorded success in specialist competition heats and some individual student successes. These include:
Daniela Ramos won first place in the Media Make-up Competition (Level 2) for her hair and make-up inspired by Queen Victoria while Leah Graham came second Media Makeup (Level 3) Competition with her take on Mary Queen of Scots including a range of special effects makeup
Caitlin Faulkner & Jessica Buckley claimed first prize in the Bread (Level 1) competition; Sara Aziz & Roselin Ruddy won first prize in the Patisserie (Level 3) Competition while Fraya Hampson & Ryan Nolan came second in the Food and Beverage (Level 3) Competition
Shelby Chandler came second in Acting (Level 2) while College band 'Girls on Girls' won the Music (Level 3) Competition
Finley Lambert came second in the Electrical & Electronic Engineering (Level 3) Competition
The Manchester College students' Slevana Delshad and Alysha Guerin who, competed in the Visual Arts competition said: "It was a great opportunity to see what other students from across the region could make in a very short space of time. It was a real challenge to come up with an idea, make it and install it into the gallery space. The day was really fast paced and fun and the outcomes were fantastic."
Rachel Curry added: "The GM Skills Competition provides a fantastic way for students to push their skills to the next level and is a further example of the opportunities our students have to prepare for a future career. Furthermore, it provides a platform to showcase the amazing work that Greater Manchester colleges do across the GM region to develop the technical skills that will support future growth in the local and regional economy. I'd like to offer warm congratulations to all the competitors and prize winners."
The GM Skill Competition aims to raise the profile of technical skills in Greater Manchester and offers students, trainees and apprentices a chance to challenge, benchmark and raise their skills levels. More details can be found here: GMCcollege Skills Competition | GMColleges (gmcg.ac.uk)