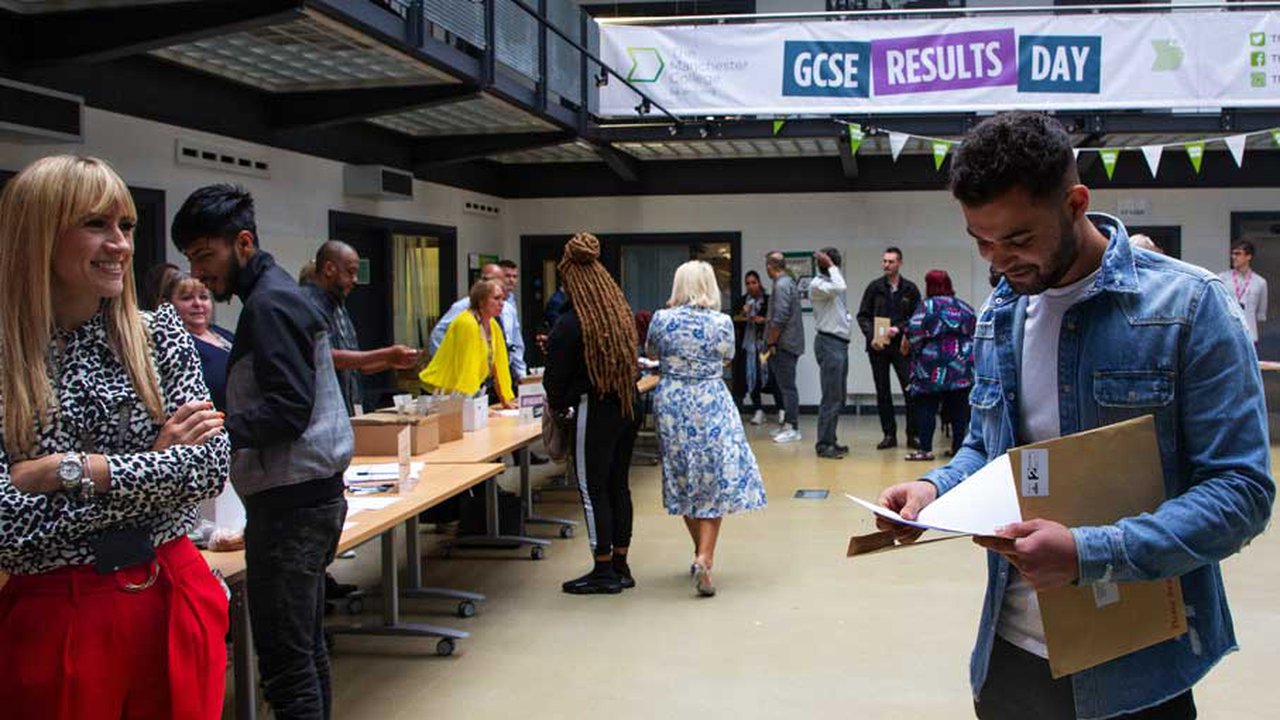 GCSE students at The Manchester College make the grade
Results day success after students achieve College's best ever GCSE grades
Students at The Manchester College are celebrating amazing achievements after receiving the College's best ever grades this GCSE results day, Thursday 22 August.
Students achieved record-breaking results for the College, with a fantastic 98 per cent pass rate in both English and maths. This is over a ten percentage point increase in both subjects compared to 2018.
This year saw:
A significant improvement in students achieving a strong high grade (9-4, the equivalent of A*-C) in maths. This with a six percentage point improvement on 2018, in-line with national rates
A continued achievement of a strong high grade (9-4, the equivalent of A*-C) in English, in-line with the national rates
High grade achievement levels for 16-18 resits in English and maths, which increased by three percentage points
The English GCSE pass rate for students aged 19+ was a fantastic 96 per cent.
Lisa O'Loughlin, College Principal, said: "We're delighted that our students have achieved such excellent results in what has been an amazing year of achievement for students and the College itself.  
Celebrating this fantastic record set of results is all the more important as English and maths GCSEs results are critical to ensuring students have the qualifications needed to succeed in the current competitive job market.
The 2018-19 academic year has seen fantastic achievement for The Manchester College as well. It was named number one in Greater Manchester for achievement, and also received a Good rating from Ofsted inspectors.
Amin Bay, 19, got a grade 7 in maths and 5 English and plans to progress onto the College's higher education partner UCEN Manchester to study an Access course in Dentistry.
Amin said: "I've improved my English and maths so much at The Manchester College. Now I've got my grades I'm going to apply an Access to Dentistry course. It's my dream to be a dentist, it's a career that you can take all over the world - everyone has teeth!
In addition to providing exam results and careers advice, student wellbeing was paramount with a quiet zone for students who need some space and a masseuse offering relaxing massages.
At The Manchester College, there are many routes to success, regardless of your background, age, experience and ability. To learn more and view our hundreds of courses, visit our course finder.
Visit UCEN Manchester for higher education, or Total People, the College's apprenticeship partner, for apprenticeships and work-based learning courses.