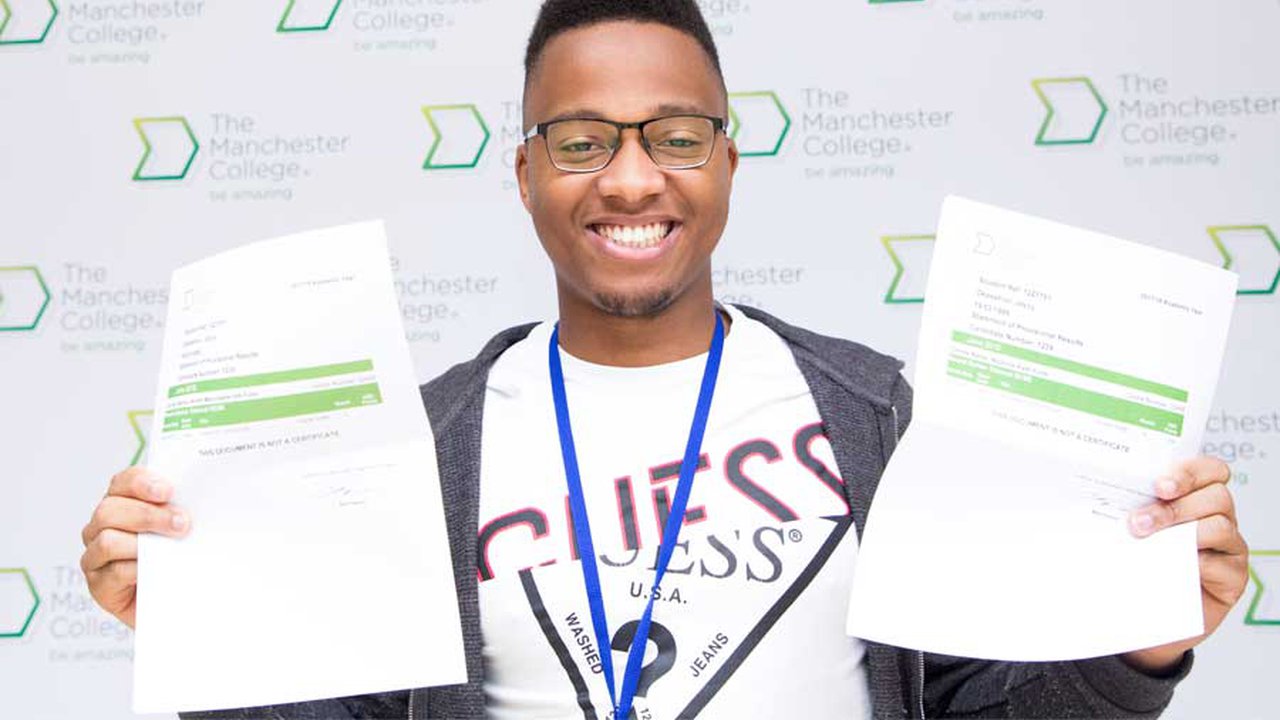 GCSE success stories from the class of 2018
It has been a triumphant year for GCSE students at The Manchester College. Here are a few uplifting success stories from our class of 2018…
Jaycy "excited about the future" after passing GCSEs on fifth attempt
Jaycy Okpeahior, 19, originally from Spain but living in Oldham, passed both his GCSE maths and English at his fifth attempt.
After moving to Manchester from Spain when he was 15, Jaycy first sat his GCSE's at secondary school but missed the grade in both English and maths. Since then he has been determined to get a pass in each subject and has resat each exams another four times, missing out by just one point in one of his resits, before finally making the grade this year.
Gaining a grade 5 in his English and a grade 4 in Maths GCSE means he can now start his Marketing degree at the University of Salford next month.
He said: "It feels so good to finally pass! It's such a satisfying feeling and it means I never have to take a maths exam ever again.
"I was determined to get my pass and to get them out of the way. The university of Salford, and in fact every university course I looked at, insisted that I have those passes to be accepted onto the course, so my career was dependant on these results.
"I'm so excited about the future now."
Se-Crete to success
Greek student Konstantinos Pavlokoudis, 28, is one of only an estimated two per cent in the country to achieve a 9 in English, which is his second language. The Crete native, who also bagged a 7 in maths, says "just studying hard" is the secret to his success.
"I was hoping to get an 8 in English, so to get a 9 has left me feeling very happy. I enjoyed studying both courses and they have been much more interesting than I thought.
"The College is great and I've really enjoyed studying here. It's not just the teaching staff who are great and supportive, it's everyone who works here."
Great eight for mum Emily
Emily Bewley was thrilled today after achieving a grade 8 in her English GCSE. The 30 year old Bury resident and mum to Brooke, 3, swapped a full-time career in project management for a new life in Law and bagged the grade she needed for her degree place at Manchester Metropolitan University.
Emily, who did not enjoy school the first time around, studied for her English GCSE alongside an Access to Higher Education (HE) course in Social and Community Work with the College's HE partner, UCEN Manchester.
She said: "I decided to quit my job and commit full-time to studying for a new career in criminal law and I'm so happy I've achieved what I need to start my degree.
"I'd 100 per cent recommend The Manchester College and UCEN Manchester. The tutors are awesome and so supportive. The biggest thing for me was that they totally understood my family commitments."
GCSE joy for Gorgui
A career in engineering is on the cards for The Manchester College student Gorgui Ousmane Ndao who secured a grade 7 in his maths GCSE.
The 34 year old, originally from Senegal but now living in Openshaw, has ambitions to work in the aerospace industry and is already planning his degree studies at universities in Manchester or Leeds.
For now, he has applied to study Level 3 Diploma in Engineering at the College's CityLabs campus alongside his GCSE English exam.
Gorgui said: "I've already attended two years at university in Senegal studying physics and chemistry but I see my future in the UK.
"I'm happy with my grade although I was aiming for an 8 or higher. I understand the subject but for me it takes time to understand the phrasing of the question.
"I've really enjoyed my time at The Manchester College. My tutors have been very helpful and made time to help me. It's definitely a good place to come."
The Wright stuff
Jess Wright got exactly what she wanted in this year's GCSE exams – a 4 in maths that opens up university courses to her.
 She said: "It's great to get a 4 with the grade boundaries being harder this year. At times I thought I might never get the grade I needed and never get into university, but this year I've really focused on maths and revision.
"It's been really good learning at The Manchester College, as the class sizes are a lot smaller than they were at school."
Pictured: Jaycy Okpeahior