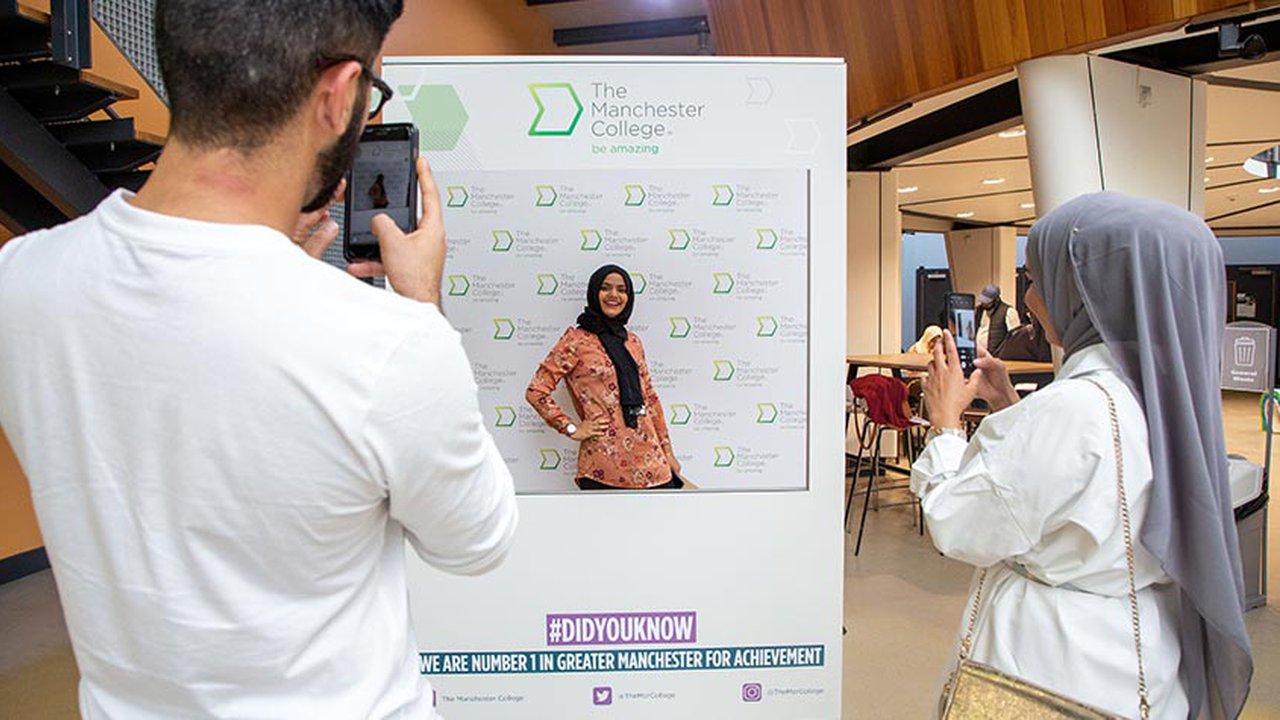 GCSE success stories from the class of 2019
It has been a successful year for The Manchester College's GCSE students, who have achieved the College's best ever results. Here are a few uplifting success stories from our class of 2019…
Ah, the Luck of the Irish
Paddy Mc'Burney proved you're never too old to follow your dreams, as he opened up his results at aged 33 to see he had achieved a grade 7 (A) in his English GCSE and a grade 4 (C) in his Maths.
When we asked how he felt today he said, "I am absolutely buzzing, if there's anyone out there thinking about going back and doing their GCSE's later in life, you just need determination and the guts to turn up and give it a go."
Paddy will be progressing with our Higher Education provider UCEN Manchester to study an access course in Nursing in September.
Supermum Mariatu gets the grade
It was celebrations all round for Mariatu Kabia after gaining her Grade 7 in Maths (equivalent to an A).
Mariatu was hugged by her nine-year-old daughter Salmata Kailie when she opened her results envelope. She will now take her next step towards her aim of starting a Nursing degree at the University of Salford.
Mariatu, worked as an electrician in her native Sierra Leone, said: "All I wanted to do in school was to be a nurse but my family were all engineers.
"It feels really good to get this result! I'm working as a carer at the minute but studying a nursing degree will give me a professional qualification and means I can work in a hospital environment."
Daughter Salmata said: "It feels really good that my mum has got this grade, I knew she was going to do it."    
Lancaster beckons for Lanxin
Lanxin Yan had been hoping for a C grade in his English GCSE, so was thrilled to gain a Grade 5 (the equivalent of a B).
The 19-year-old is now set to start a Computing degree at Lancaster University, with the aim of progressing to study a Masters degree and gaining employment within the software development industry.
He said: "I'm very pleased with my results today. You need your GCSE English and maths for everything these days and it is essential for your future career."
Turning life around
Samantha Zubby, along with her tutors, cried tears of joy this morning when she received her grade 7 in English which is the equivalent to an A!
It had been a long and trying year for Sam, who had worked hard despite all odds working against her. She said, "I cannot even tell you what this year's been like for me and what getting this grade means for me going forward. I genuinely wouldn't have been able to do it without my tutor Nicky."
When times were tough she admitted she considered giving it all up, but with the support of her English tutor Nicky Smith, she came out the other side making this result 'the cherry on top of the cake'.
Nicky had only lovely things to say about her shining pupil, she said, "Sam really utilised the support available which was so crucial to her development. I saw instantly she was just so naturally bright but lacked all self-belief.
"I just hope now that this will be the thing that make she realise her potential and to see the world is hers for the taking."
Faisa is in the fast lane towards a degree
Double congratulations were in order for Faisa Abdisalam on GCSE results day.
Not only did she achieve the Grade 6 (equivalent to a B) in English that she needed to start her degree in Medical Science at the University of Central Lancashire (UCLAN) next month, but she had also passed her driving test an hour before collecting her results!
The 18-year-old, who wants to be a paediatrician, said: "I was really nervous about coming here today but now I've done it! I'd already passed my BTEC Health and Social Care but needed a C grade to start my degree. This is a real weight off my shoulders, I'm ready for university."
One of 17 siblings, Faisa was accompanied by Bashir, one of her older brothers who is studying a Civil Engineering degree at UCLAN. He said: "This is a great day and we're really proud of Faisa."
Faisa's tutor Arfan Ahmed said: "It's incredibly important to get your GCSE in English and maths, especially if you want to go to university or apprenticeship.
"English and maths are the first things employers look for so it's really important to gain those qualifications."
Momna set to access a career in medicine
Momna Saleem is now one step closer to a career in medicine after passing her GCSE English with a Grade 6 (equivalent to a B).
The 20-year-old now plans to study an Access to Medicine qualification in September with higher education provider UCEN Manchester, with her ultimate aim to become a doctor.
She said: "Studying at The Manchester College has been really good, and I've been taught by high grade tutors.
"I've always been quite focused in my studies and I know that if you put your mind to something, you can achieve anything."