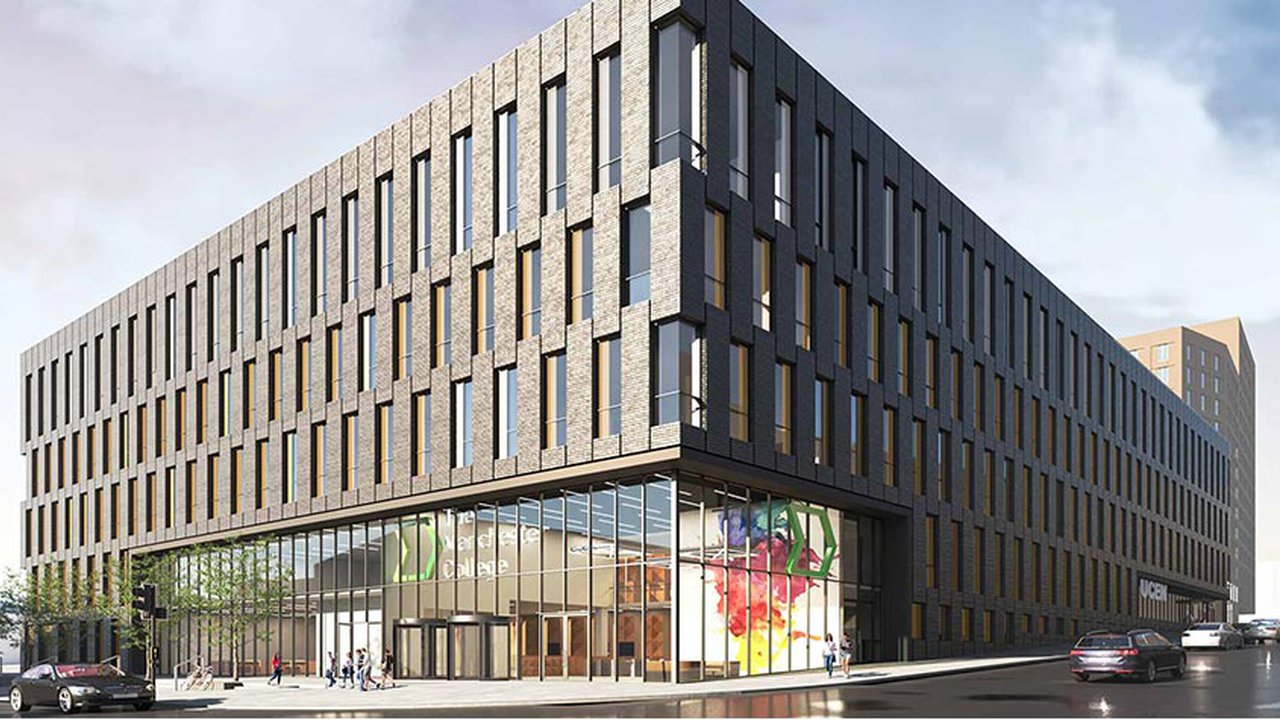 Green light for new The Manchester College city centre campus
LTE Group has received planning permission from Manchester City Council to build a state-of-the-art campus for Creative and Digital Industries, in Manchester city centre for The Manchester College and UCEN Manchester
The landmark four-storey development – due for completion from spring 2022 – is the centrepiece of the Group, College and UCEN Manchester's masterplan to create the next generation of industry excellence.
College Principal Lisa O'Loughlin said: "We are absolutely delighted to have received planning permission for our new city centre campus. This is one of the largest and most ambitious estates transformation projects ever undertaken by an FE college in the UK.
The approval marks the start of a major £140m new-build and refurbishment programme that will eventually see new centres of industry excellence across Manchester, delivering an exciting curriculum for our students.
The campus, located opposite the Arena and Manchester Victoria Station, is the first of a two-phase vision for the site, and will become home to the College's Centre of Excellence for Creative and Digital Industries, and UCEN Manchester's Arden School of Theatre and Manchester Film School.
It will boast two industry-standard theatres and two film studios as well as media, computing and editing suites, recording and photography studios, dance studios and rehearsal rooms and bespoke practical spaces for media make-up and special effects.
John Thornhill, Chief Executive of LTE Group, the College's parent organisation, said:
The planning approval now allows the greatest investment in Further Education (FE) and skills the UK has seen for more than 30 years, and it's happening right here in Manchester and Greater Manchester at The Manchester College and UCEN Manchester.
Phase two will see the creation of a Centre of Excellence for Business, Financial and Professional Services on the same site, following completion of the first and subject to the securing of additional funding.
Students will benefit from specialist facilities and a curriculum that is designed and delivered in partnership with leading employers, enabling them to access highly-skilled careers in key growth sectors of the region's economy.
Lisa added: "In simple terms, we are providing outstanding facilities to train and educate our students, and equip them to be work-ready for the employer demands of the region, raising their aspirations and empowering them to achieve their goals."
Leading architects Bond Bryan and SimpsonHaugh have been tasked with bringing the project to life. Matt Hutton, Director at Bond Bryan, said: "We are truly delighted to reveal our designs for The Manchester College and UCEN Manchester's new city centre project. We have been working - alongside our collaborative partners, SimpsonHaugh - on this design from inception and now look forward to delivering it, together with the team.
"Integrally social - with modern architectural planning and detailing - the site will be much more than 'just' an educational space: it will invite you to connect with fellow students and friends in curated areas - designed and built for people to socialise and work together".
David Green, Director at SimpsonHaugh, added: "We hope that this new development will set the tone for the redevelopment of the Great Ducie Street area as a whole, as a neighbourhood in which to study, work, live and play, and we look forward to delivering the project on site."
Construction is due to commence in spring 2020, with the campus fully operational by autumn 2022.