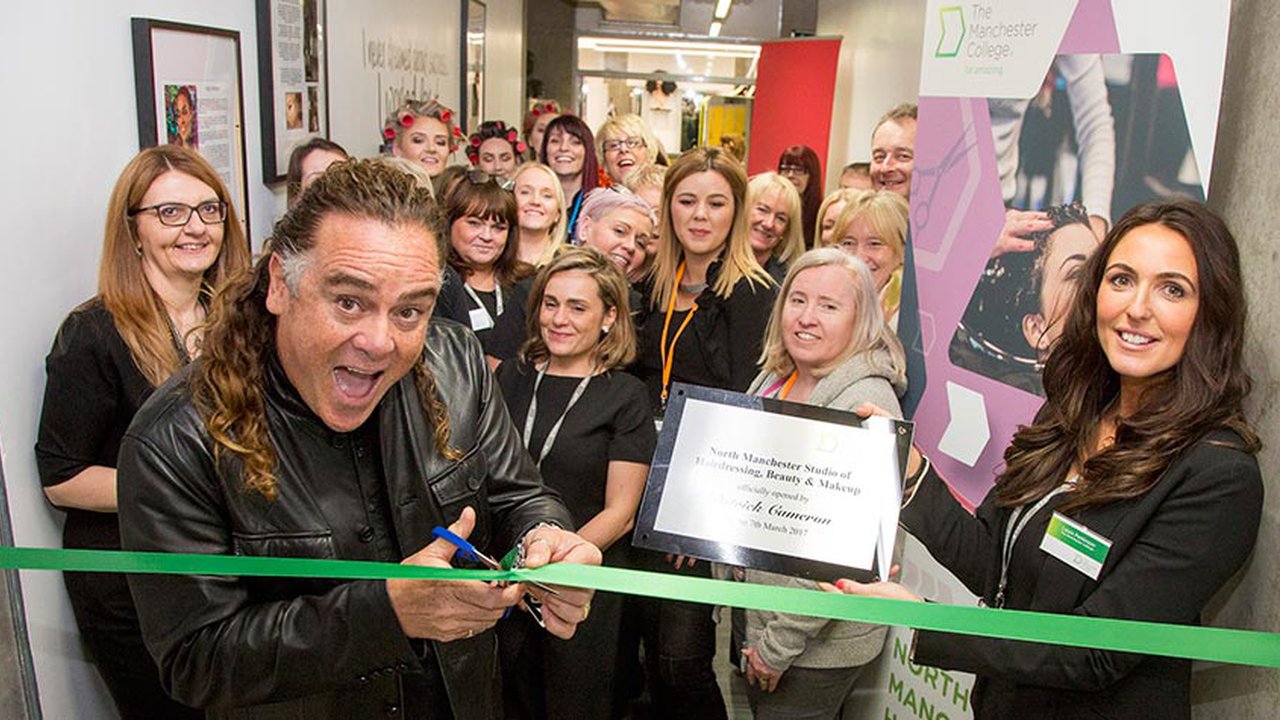 Internationally celebrated hairdresser opens new hair and beauty centre at Harpurhey campus
The Manchester College officially opened the Centre of Excellence for Hair and Beauty at the college's Harpurhey campus with star guest, inspirational celebrity hairdresser Patrick Cameron.
The college has invested in state of the art new hair and beauty facilities to create a Centre of Excellence in north Manchester, giving students the opportunity to perfect their skills in a specialised centre where they will be taught by experts from across the sector.
Liz Peters, assistant principal at The Manchester College, said: "We are delighted to welcome Patrick to the college. His passion in supporting and educating the stylists of tomorrow was clearly evident and our students thoroughly enjoyed meeting him and learning his tips of the trade.
"Our new Centre of Excellence will give our students direct links to the latest innovations and practices, allowing them to specialise in their chosen field or gain wider industry experience that will enhance their employability."
Patrick Cameron's creativity has inspired hairdressers around the globe and as part of his visit he treated students, staff and guests to a demonstration of the skills that have made him the world's leading long hair expert.
The Manchester College offers an incredible chance to start your future today – and that rocks!
Speaking at the college, Patrick said: "Education offers the building blocks to success. To become a truly great hairdresser you must learn your craft, and loving your job is the secret to success. The Manchester College offers an incredible chance to start your future today – and that rocks!"
Local businesses also attended the event, including the team from Kelly's Hair No 1 in Prestwich. Bernadette Healy from the salon on Bury New Road, said: "I really enjoyed attending the launch. Students are really lucky to have Patrick Cameron come in and speak, he is inspirational. I wish we had someone like Patrick come and speak to us when I was young as he made me realise how important it is to practise your skills in all areas and not just the area you are passionate about."
The salon at the campus on Rochdale Road is open to the public who can be guaranteed a relaxing and quality experience.