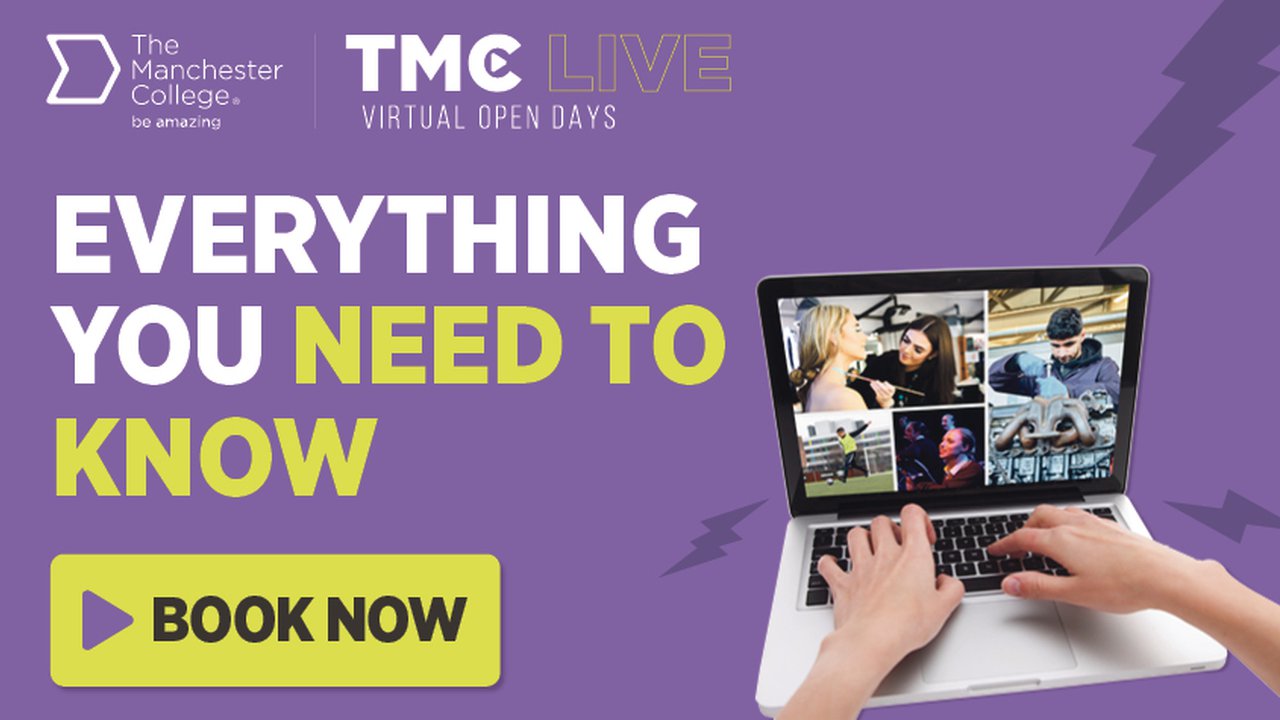 Introducing TMC Live
Sign up to our online open events today!
At this time of year we'd normally be inviting young people across Greater Manchester to our campuses but this year, in line with Covid-19 guidelines, we're bringing The Manchester College to you with TMC Live. 
TMC Live is series of online events where you and your parents, guardians or carers, can find out everything the College has to offer.
There are 24 sessions in total, each lasting 30 minutes, from Monday 12 October to Thursday 15 October between 5pm and 8pm each day. The sessions will cover all our curriculum areas, how to apply and much more. You can sign up to as many as you like and join via Microsoft Teams on your laptop, computer and mobile device. 
At TMC Live, you can find out more about our Industry Excellence Academies and Centres of Excellence, our 1000+ employer partners and the work experience opportunities available to you. You can also meet our expert tutors, current students and wonderful student support teams. 
It's an exciting time to join The Manchester College, as we're Building Industry Excellence across two sites. Over the summer, work began on our new city centre campus opposite the Manchester Arena and Victoria Station, as well as the expansion of our Openshaw campus. At TMC Live, you can find out about the industry-standard facilities that are being built and see what the new campus will look like. 
The Manchester College is proud to be offering four brand new T Level qualifications, a two-year programme that will provide you with a high-quality technical alternative to A Levels by combining classroom learning with a 45 day industry placement. In September 2021, we're launching T Levels in Construction, Computing & Digital Media, Education & Childcare and Healthcare Science.
Book your place at TMC Live to learn more about what a T Level in Digital qualification is, the topics you will cover and the partner employers you will be working with and hear from our expert digital tutors. 
Places are limited to visit our Eventbrite site and sign up to TMC Live today!