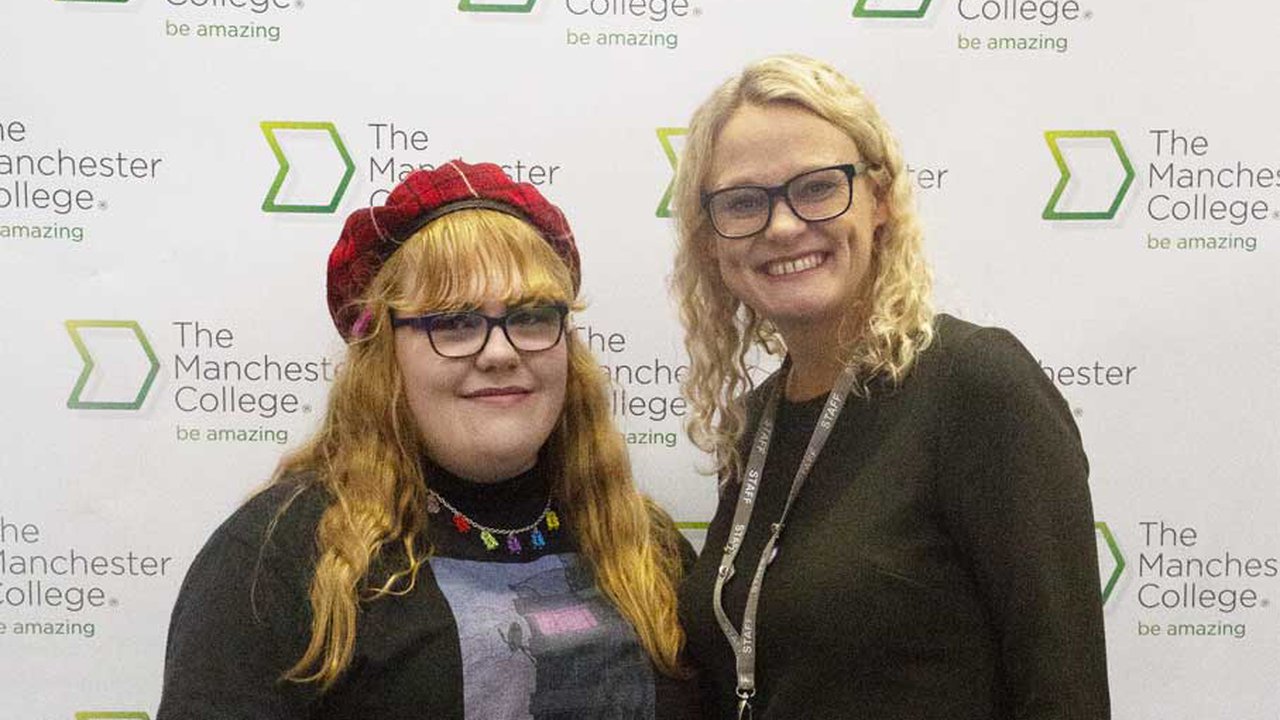 A Level success stories 2019
It's been a brilliant year for The Manchester College's A Level students. Check out a few heartwarming success stories from of our class of 2019...
It all adds up for determined Freshta
All the numbers have stacked up for determined Freshta Samadi who is off to Manchester Metropolitan University in September to study a degree in Accounting and Finance.
Freshta moved to Manchester six years ago from Afghanistan as a result of the ongoing conflict. While at The Manchester College, she embraced student life and took part in a number of events, including being guest speaker at the college's annual Employer Thank You Event.
After gaining an A grade in Accounting and C grades in both Sociology and Business, Freshta is looking forward to her new chapter in life.
She said: "I'm really happy to have got my place at university, I want to become a Management Accountant. The teachers at The Manchester College have been really good and I'll be sad to be leaving my tutor."
Sociology tutor Louise Walsh said: "I'm ecstatic for Freshta and really pleased for her to be going on to her chosen course at such a fantastic university.
"She has worked so hard throughout the year and has stayed determined and motivated."     
Alice in wonderland with her results
A Level student Alice Rycroft was celebrating after achieving two A's and one B in her English Literature, Sociology and Film Studies A Level's.
The 19-year-old from Stockport initially came to The Manchester College to study Musical Theatre but, with her heart set on becoming a fiction writer, switched to A Level's and achieved an unconditional university offer purely on the strength on her personal portfolio.
She said: "Everyone at The Manchester College has been so supportive, I couldn't have come to a better place. My tutors have been amazing at pushing me to my to achieve my full potential, they've been wonderful and I can't thank them enough."
Alice has high ambitions and is progressing onto a Creative Writing degree at the University of East Anglia, followed by a Masters and PHD: "I'm so excited, I can't wait."
If your interested in applying for The Manchester College you can find more information on our website or call us on 03333 222 444
Blooming hard work gets results for Morgan
Hard work and determination saw Morgan Bloom celebrating on A Level results day after securing three B grades.
The 19-year-old, from Openshaw, had been living in Perth Australia until her family moved back to Manchester two years ago.
Starting from scratch, Morgan had to sit her GCSE English and Maths before being able to start studying A Levels. But her hard work paid off and she will be starting a Psychology degree in September at Manchester Metropolitan University.
She said: "I want to teach psychology at A Level or become a psychologist. I'm the first of my siblings to go to university so that is special.
"Studying at The Manchester College has been good and the tutors are amazing, they are really supportive and they answer your questions. They were especially helpful when I came back from Australia."
Anisa sets the bar on results day
Student Anisa Aslam set the bar on A Level results day after gaining a pass in all three of her subjects and securing her place on a Law degree. 
The 18-year-old, who passed A Levels in Law, English Language and History, is heading to Manchester Metropolitan University this September. She will initially study an introductory foundation year before starting her three year law degree in earnest.
She said: "I always wanted to study Law and I definitely want a career as a solicitor or in civil law. I know I did my best in my exams.
"It's really exciting to do law as a degree and I'm really looking forward to uni life. My mum will be really happy that I'm going to university as my three older siblings have all gone."
Pathway to politics for star student Poppy
Star student Poppy Beswick is headed for the cut and thrust of politics after securing her place on a Politics degree at the University of Salford.
The 17-year-old from Wythenshawe won the Student of the Year award in this year's Student Excellence Awards at The Manchester College after interviewing former Trafford council leader Sean Anstee on stage at the Northern Power Futures Event in November 2018.
Now it is Poppy herself who looks set to make waves in the political arena as she prepares to start her degree in September.
She said: "I've always had an interest in politics since the Conservatives came into power when I was eight and I saw the effects of their policies on my community.
"I'm over the moon to get my place at Salford. I'm going to join lots of societies and get a good degree. I'm hoping to be a lecturer in politics or become a Labour MP."
Tears of Joy for Nia and her mum
Nia Park shed tears of joy as she nervously opened her A Level results with her mum by her side.
The Business and Sociology student was ecstatic to find out that she achieved a grade B in Sociology and C in Business, meaning she can now attend her first choice University in September.
Nia, a little lost for words said: "This is a huge surprise and huge relief – I'm very happy."
Nia's mother proudly commented: "This has been the highlight of the whole year receiving these results. She had a lot riding on this because she really wanted to go to her first choice Uni and now she can! It's been a long time coming and a few tears along the way, I'm so proud!"
Nia will be attending West London University to study Accounting and Finance in September.
The worlds her oyster for Nandini Ranjan
Nandini Ranjan has been studying A Level Economics, Phycology and Sociology at The Manchester College in the hopes to progress onto University in September.
Today she is over the moon the find she has passed with flying colours, achieving one A* and two C's.
Nandini will now go on to study Psychology at Aston University in Birmingham, she said: "I would recommend The Manchester College, and advice others to really look into a course before you make a decision, like what it entails.
I chose these subjects because I thought I would enjoy them but I think I'd advice people to think long term about what courses will benefit you into going into Uni etc. I have friends who chose to do BTEC courses and are in just as good a positon to attend Universities, so the options are endless really no matter what you want to do.
Nandini hopes to continue onto a Masters degree and one day be a Counsellor and feels confident that her course offers her a wide range of job prospects.
Pictured: Poppy Beswick with Principal Lisa O'Loughlin