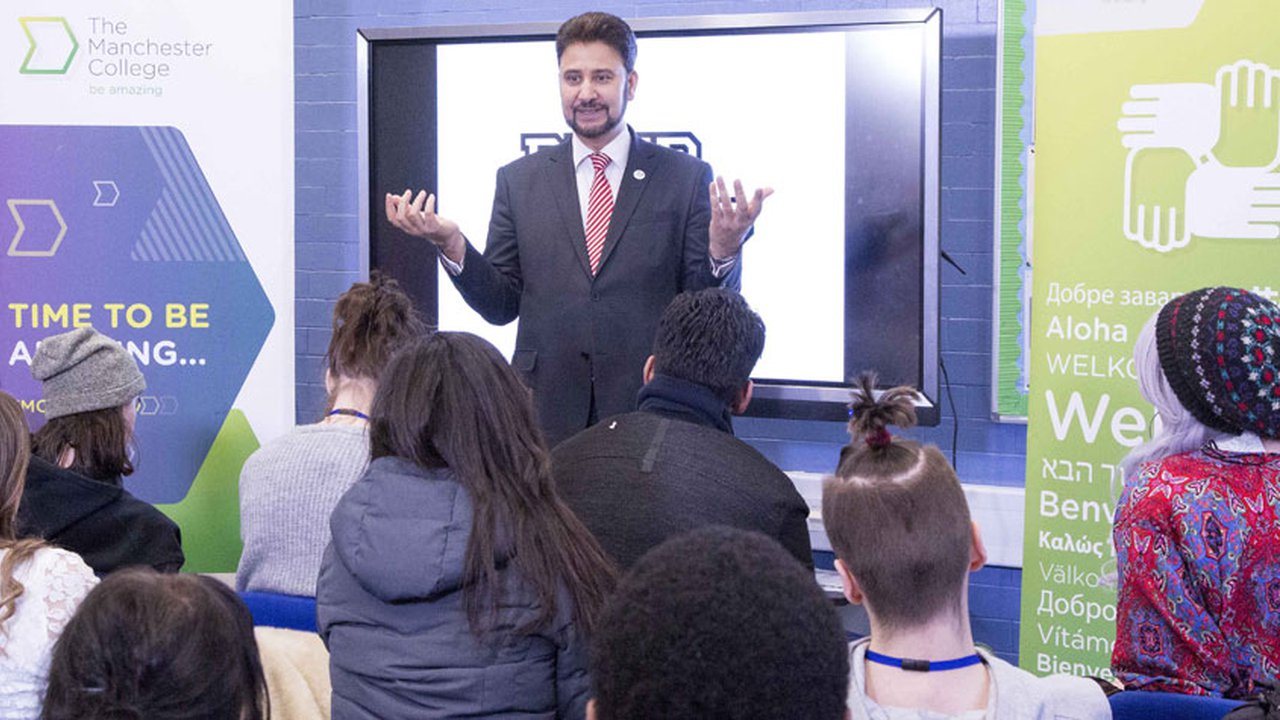 The Manchester College and UCEN Manchester engage students with hate crime awareness campaign
The Manchester College and UCEN Manchester engaged hundreds of their students with a range of hate crime awareness activities as part of their #StudentsStandTogether campaign.
Supported by funding from the Higher Education Funding Council for England (HEFCE) Manchester City Council, the College and UCEN Manchester hosted a range of events and visits across their nine campuses throughout February and March.
'Human library' sessions featured 30 participants representing the six strands of recognised hate crime in Greater Manchester – race, religion, sexual orientation, transgender, disability and alternative subculture. These representatives spoke candidly to students and answered questions about their experiences of hate crime as a victim or bystander, as well as their challenges and diversity.
Lindsey Johnson, Vice Principal of The Manchester College, said: "These human library sessions were an incredibly successful way of getting our students engaged and informed about diversity and inclusivity in a welcoming, informal environment.
"Hate crime is a topic that our partners such as HEFCE, Greater Manchester Police and Manchester City Council are working hard to tackle, and it's crucial for us to educate our students about topical issues relating to it.
"Our Equality and Diversity, and Higher Education Student Engagement team have done an excellent job of taking an important issue and using a positive, interactive and informative campaign to get students engaged and inspired.
"The funding we received from HEFCE and Manchester City Council also played a key part in enabling us to facilitate these activities over a sustained period of time."
Manchester Gorton MP Afzal Khan visited College students in February to deliver a session alongside youth trainer Ray Douglas. The session covered personal identity in relation to being a young black and minority ethnic (BME) person living in Manchester.
As a former student of The Manchester College, the Labour Shadow Immigration Minister spoke to the group about his journey to becoming the first Asian Lord Mayor of Manchester and the first person from a BME background to represent a Manchester constituency in the House of Commons.
Afzal said: "It was a pleasure to be back at The Manchester College speak to a diverse range of students who were enthusiastic and passionate about what they can achieve – both in their individual studies and also by standing together for what they believe in.
"The College is doing some fantastic enrichment work to provide its students with engaging workshops and sessions in which they can learn and challenge each other on important issues."
The launch of Manchester Hate Crime Awareness Week 2018 was hosted at the College and UCEN Manchester's Openshaw campus on 9 February. Guests from local government and stakeholders from across the region attended, while College and UCEN Manchester students delivered a number of performances as part of the event.
The College and UCEN Manchester have been using the #StudentsStandTogether hashtag on social media to engage students and partner organisations throughout the campaign.