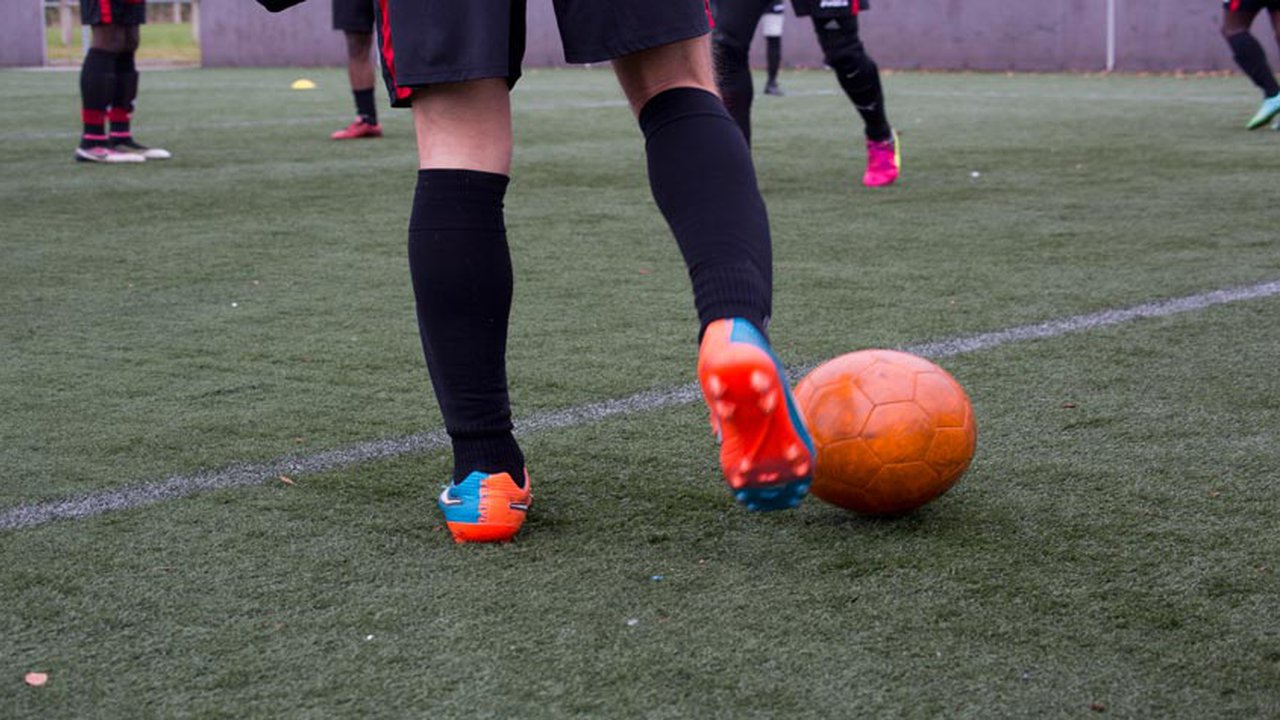 The Manchester College prepares for the ECFA Men's Premier Cup Semi-Final
The Manchester College's men's first team are looking to build on what has already been a fantastic season this Wednesday (18 April) when our students meet The Sheffield College in the Semi-Final of this year's English Colleges Football Association (ECFA) Men's Premier Cup.
The prestigious tournament started last October and will conclude in May, with Milton Keynes College having already secured their place in the final by beating Hartpury College at the end of March.
Our men's first team have beaten Burnley College (3rd Round), TNS North Shropshire College (4th Round), Newcastle Under Lyme College (5th Round) and Tresham College in the Quarter-Final to give themselves a great chance of lifting the trophy.
What has made this achievement all the more remarkable is that all our players are enrolled on academic and vocational courses at our College and play football alongside their chosen studies.
Our men's first team are coached and managed by one of our tutors, Jarrad Ince, who combines teaching with running one of our College's football teams. Jarrad holds his FA Level 3 (UEFA B license) in Coaching Football and also coaches part time at a Premier League football club.
When asked about the upcoming Semi-Final, Jarrad said: "I am so proud of our students, but the hard work doesn't stop here. We play football the right way and I firmly believe we can win the tournament, but we can't look past The Sheffield College who will be full of confidence ahead of our game on Wednesday afternoon.
"The ECFA Men's Premier Cup is the college equivalent of the FA Cup and we have beaten three category one teams to get this far.
"Our men's first team are top of their category two group, having only lost once all season in the league. In addition to reaching the Semi-Final of the ECFA Men's Premier Cup, we're in the Final of the Manchester Colleges Cup and are hoping to secure promotion from our league so that next year we can compete week in, week out, against colleges with dedicated football programmes.
"We're hopeful that our success on the pitch will help attract more students to our College and highlight that we offer prospective learners the chance to study their chosen course and pursue their passion for football.
"We have relationships with a number of professional and semi-professional football clubs, so if our learners knuckle down, train hard and put in the required performances, there is a real chance they could be scouted and play football full-time."
Our College has three football teams competing in ECFA competitions and training takes place on three evenings each week. The sessions are open to all our 17, 18 and 19 year old students, and there is no obligation to play for one of our teams.
Keep an eye on our College Twitter handle (@TheMcrCollege) for live updates from pitch side on Wednesday (18 April).