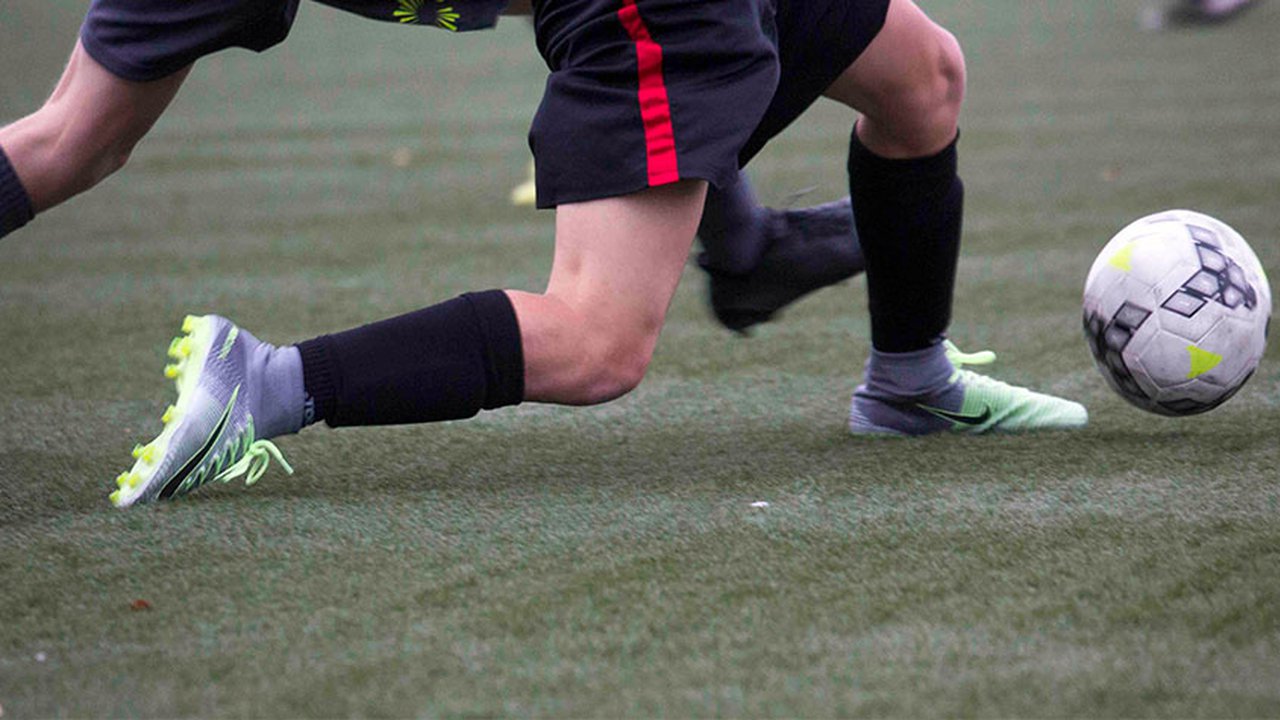 The Manchester College reach the Final of the 2017/18 ECFA Men's Premier Cup
The sun was beaming down on our Nicholls campus on Wednesday 18 April as our men's first team beat The Sheffield College 5 – 1 in the Semi-Final of this seasons English Colleges Football Association (ECFA) Men's Premier Cup.
There was tension in the air ahead of kick-off as both teams knew that they were only 90 minutes away from securing a place in the Final of the tournament and the opportunity to compete for the trophy at the beginning of May against Milton Keynes College.
As big games typically do, the match started at a frantic pace, with both sets of players keen to stamp their authority on the game and take an early lead.
The 30 strong group of spectators in attendance didn't have to wait long for the first goal as The Manchester College struck the opening blow on the 10 minute mark. Our team extended their lead to 3 – 0 after two great passages of play, which were reflective of the quality of football displayed by both colleges.
The Sheffield College reduced the deficit before half-time thanks to a great set piece delivery and towering header at the far post. Ultimately, our students proved too strong and put the tie to bed in the second half thanks to a wonderful solo effort and slick attacking move from the players leading the forward line.
The Manchester College's men's first team is made up of 17, 18 and 19 year old learners currently enrolled on academic and vocational courses at our college. Students play football alongside their studies and our team is coached and managed by one of our tutors, Jarrad Ince, who combines teaching with running one of our college's football teams. Jarrad holds his FA Level 3 (UEFA B license) in Coaching Football and also coaches part time at a Premier League football club.
In his post-match interview Jarrad was full of praise for his players and the students from The Sheffield College. Jarrad said: "What a game! I am thrilled with our students performance and cannot wait to challenge Milton Keynes College in the Final next month. We'll go away and analyse our performance and come back even stronger.
"Our students deserve a massive amount of credit. We're currently a category two team but we've beaten a number of category one teams during this season's ECFA Men's Premier Cup run, including The Sheffield College.
I would like to thank all my colleagues and our students for their hard work, along with the staff and students from The Sheffield College. Today's game was played at a frantic pace but in fantastic spirit. The Sheffield College should be really proud of their performance.
Our college can now look forward to the Final of 2017/18 ECFA Men's Premier Cup which takes place at Walsall Football Club's home ground on the evening of Tuesday 1 May.
Our college's men's first team are also in the Final of the Manchester Colleges Cup and are hoping to secure promotion in the league having only lost one game in the ECFA competition all season.