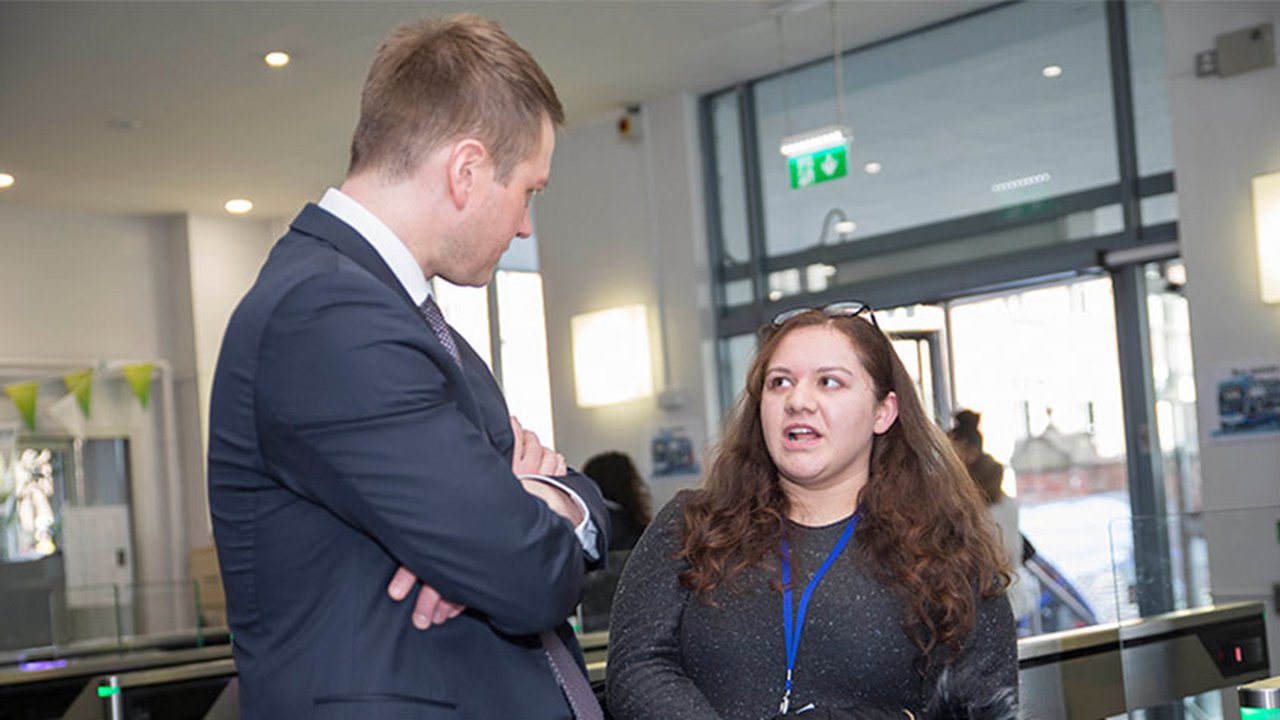 MP James Frith visits The Manchester College for National Careers Week
MP James Frith, a member of the Education Select Committee, paid a visit to The Manchester College's Shena Simon campus today to find out more about the College's activities for National Careers Week and National Apprenticeship Week.
Leading employers and volunteer organisations have hosted stalls, workshops and events across eight of the College campuses this week, offering students the chance to learn more about career paths and sign up to opportunities for work or volunteer experience.
MP James Frith said: "It's been fantastic to see the sort of employer-focused activities and opportunities The Manchester College is providing for its students as part of National Careers Week and National Apprenticeship Week.
"The best guidance for careers stems from a strong partnership between employers, education and young people. The Manchester College is not only delivering this, but it's doing so in a way that widens access to these opportunities for young people from any background in Greater Manchester.
"The students I've spoken to have found this face-time with employers incredibly useful and informative, which demonstrates how valuable both National Careers Week and National Apprenticeship Week are to our young people and their future."
During his visit, the MP took a tour of the careers and apprenticeship stands at our Shena Simon campus, meeting staff from the our Careers team and Total People's Apprentice team. James also spent time participating in a student debate club, followed by a Q&A session with 40 students from British Government and Politics, Law and Sociology courses.
Vice Principal for The Manchester College Lindsey Johnson, who met and welcomed James to the campus, said: "It was great to welcome James to the campus and share what we're doing for National Careers Week, which is an important event in our academic year.
"The Manchester College is one of the largest further education colleges in the UK and, alongside apprenticeship provider Total People, is a key part of LTE group, the UK's largest social enterprise dedicated to skills and training.
"The College is proud to provide career-focused courses that equip students with the skills and exposure to industry professionals they need take the next step on their journey."
You can see a gallery of photos from MP James Frith's visit on The Manchester College Facebook page