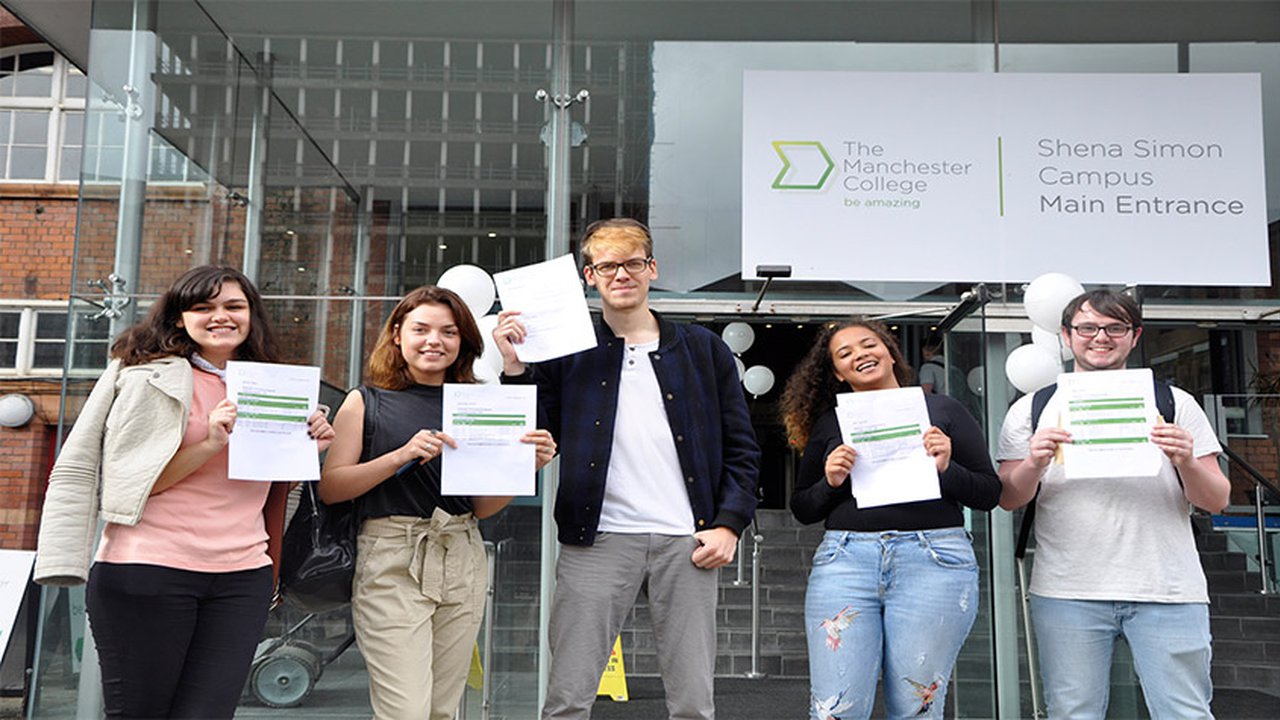 "My journey at The Manchester College has been overwhelming" - our A-Level students reflect on their 2017 results
​The Manchester College Students' Honour Roll 2017.
Ashleigh Allen
Budding solicitor Ashleigh Allen, 19, is on the path to a career in law thanks to her impressive A-Level results.
Ashleigh, who moved into her own home at 16 and completed her A-Levels while holding a part-time job at a solictor's firm, is already looking forward to continuing her studies at the University of Law's Manchester campus.
She got an A* in Sociology, an A in English Language and Literature and a C in Government and Politics.
"When I was growing up, I loved watching Law and Order and CSI, so I've always had a love for critical thinking, debating and problem solving," said Ashleigh.
"At times, living alone and having a job alongside my studies was stressful and challenging, but opening these results has made me realise how much of an achievement all of this was.
I've loved studying at The Manchester College and learning so much. Sociology was an eye-opening subject for me that really changed the way I think about the world and my place in it.
George McKenzie
Teenager George McKenzie has described his learning journey at The Manchester College as "overwhelming" after overcoming adversity earlier in his life to secure a place at university.
The 19-year-old, from Openshaw, feared for his future after leaving school with no GCSEs, but demonstrated remarkable character and determination during his studies at the College.
His B in Chemistry, B in Physics and D in Maths landed George a place at the University of Central Lancashire in Preston, where he will study Physics, with a view to pursuing a career in the industry.
George said: "My journey at The Manchester College has been overwhelming, with the support of my fantastic teachers, who I thank from the bottom of my heart.
"When I left school, I achieved little or nothing in the way of qualifications. I failed Science and Maths, and honestly assumed my academic experience was over at that point. But when I came to the College, they took me on to re-sit my GCSEs, which was a second chance for me to redeem myself.
After putting in the work, with help from the wonderful teachers here, I can say this is probably the best college in the country. I am now off to university to study Physics, which has been my dream subject since I was a child, and all I can say is thank you to all the teachers.
Megan Hyland
From Down Under to the top of the world – Megan Hyland, a student at The Manchester College, has had quite the 24 hours!
Yesterday she returned from a well-earned two-month break in Australia, where her boyfriend Tyler lives. One power nap later, she headed to the College's Shena Simon campus to collect her A level results, and was delighted to learn she had landed a B in Psychology, A in English Literature and A in Creative Writing.
Not only has the 18-year-old, who lives in Northenden, impressed in the classroom – she also writes reviews of comedies, plays and musicals for the Upstaged Manchester websites. Her verdicts have been quoted by the likes of The Royal Exchange Theatre, The Lowry, The Palace and Opera House Theatres.
Now she is looking forward to studying Psychology at the University of Manchester, and hopes to embark on a career in the industry upon completion.
Megan said: "It has been a bit of a rollercoaster because I only got back from Australia yesterday afternoon and went straight to bed to get a bit of sleep. I feel alright now I have opened my results, and the adrenaline has pulled me through!
"I want to go into counselling because I like to help people. I am so happy to have gained the qualifications I needed to take the next step."
Carmen Sacalus
Carmen Sacalus' dream of becoming a counsellor and helping young people has moved a step closer to reality.
The 20-year-old, from Chadderton, got an A* in English Literature and Language, A in Psychology and B in Film Studies at The Manchester College.
"I never expected an A* in English Literature and Language – I thought I might get a good grade, but not that good. I have been nervous all week, and it wasn't easy getting to sleep last night. Now one of the main emotions is relief," said Carmen.
She will now study Psychology, Counselling and Psychotherapy at Manchester Metropolitan University, and is moving from Chadderton to Manchester with her family.
Carmen added: "I want to work with young people and help them through the counselling. I think it could be a very satisfying career and an opportunity to reach out to people who need support."
Guoda Garsvaite
Lithuanian-born Guoda Garsvaite chose The Manchester College to further her career when she moved to England in 2015.
And now the 19-year-old has emerged from her A-Level studies with some stunning grades. She spoke of her shock when she opened her results this morning to find two A*s (Psychology and Sociology) and an A in Government and Politics.
She said: "I'm really excited, I thought my results would be good but not that good! About three years ago I realised that International Relations was for me and now I'm going to go to the University of Birmingham to study it.
I had no experience of English institutions before arriving here, but I have found The Manchester College treats you like an adult and encourages you to be independent. That has been great for me.
Muhammad Ahmad
Muhammad Ahmad always dreamed of studying in a big city and when his family moved from Pakistan to Warrington in 2012, he had his sights set on Manchester.
Five years later, Muhammad has studied Electronics, Physics and Maths at The Manchester College, recording A, B and B in his A-Level results. He is now off to Leeds University to study engineering.
The 18-year-old said: "I am so happy because at one stage it looked like I might not get the grades I needed. I was so nervous on my way to College this morning but now I couldn't be happier."
Ciaran Ward
Ciaran Ward, 18, is over the moon with his A-Level results.
This morning the student from The Manchester College was wondering whether his dreams of studying Literature at University of Manchester were to be or not to be, but an A* in English Literature, an A in Creative Writing and an A in Maths have set him on his way.
Ciaran said: "It's been my dream to study Literature at the University of Manchester for years, so to finally be at this point in my journey is amazing.
"I love the grandeur of the buildings and the campus, and the range of text I've studied at The Manchester College has left me with even more of a passion for literature."
Ciaran, who is the first member of his family to go to university, aims to complete a Master's or PHD following his degree, with a view to becoming a lecturer.