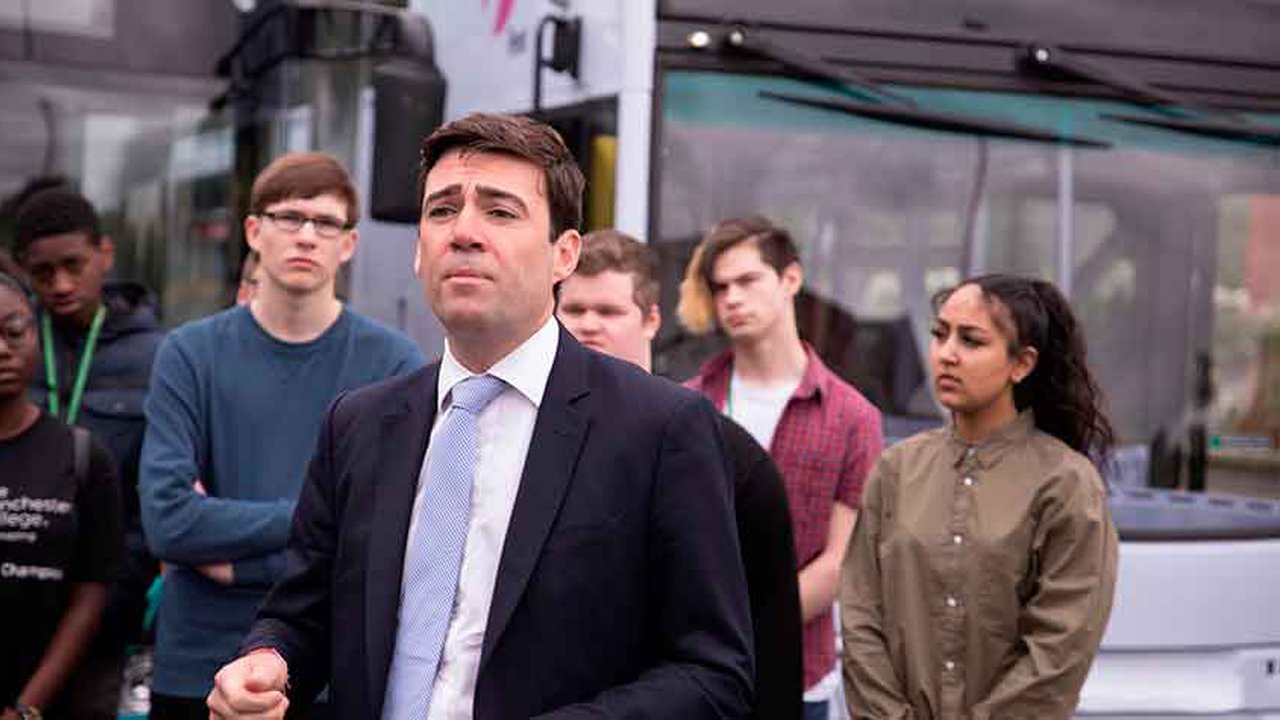 Our students greet Greater Manchester Mayor as he announces half-price day bus tickets for 16-18 year old students
Our students greet Greater Manchester Mayor as he announces half-price day bus tickets for 16-18 year old students.
A new policy to introduce half-price bus tickets for 16-18 year old students in Greater Manchester was announced at The Manchester College today (Friday, June 16).
Andy Burnham, Mayor of Greater Manchester, discussed the new deal with students, College Principal, Lisa O'Loughlin, and representatives of Transport for Greater Manchester (TfGM) and Greater Manchester Combined Authority (GMCA) at the College's Openshaw campus.
TfGM says this could benefit around 100,000 students across Greater Manchester when the deal is introduced in September 2017.
Lisa O'Loughlin, Principal of The Manchester College, said: "The Manchester College is one of the largest FE colleges in the UK. We are currently located at 14 locations in and around the city of Manchester: from Openshaw and Harpurhey in the north to Wythenshawe and West Didsbury in the south, as well as several locations in the city centre.
"We welcome the proposal to make travel cheaper for our thousands of students. Typically, over 85% of our students travel an average of more than three miles to get to our campuses for study, the majority using public transport. 
"Minimising the burden of travel costs to young people can only be good in the long term, to encourage students to access the available opportunities in training and apprenticeships. This will benefit the future of the city, our training providers and the businesses who will be able to grow with a highly skilled and motivated workforce."
Some 25% of Greater Manchester's learning provision is undertaken by The Manchester College, with 23,000 students and 1,700 staff.
Great news for students of The Manchester College
Level 3 Business student Lewis Blackburn has described the prospect of cheaper bus travel to and from The Manchester College as "life-changing".
The 17-year-old, who makes the six-mile journey from Stalybridge four days a week with Stagecoach, currently spends £14.50 a week on his journey. This involves a bus from Stalybridge to Ashton-under-Lyne, and another from Ashton-under-Lyne to Openshaw, before making the reverse journey at the end of the academic day.
Lewis, who is in the second year of his course at the Openshaw campus, said: "I am not eligible for a bus pass, so my bus travel costs £58 a month, which is a lot of money.
"The idea of reducing the cost for young students like myself is a big deal. Speaking personally, it would be life-changing, because the money it currently costs could be put towards something else instead.
"Some of my friends are in the same position, so we would very much welcome a change. We feel positive about students receiving this kind of support.
"It is really encouraging that student issues are being prioritised in the region, and that we will now have three providers from which to choose."
Lewis also feels his studies at the College will benefit from discounted bus travel, as he enters an important phase of the course.
He added: "We are currently in the middle of some vital pieces of work, so anything positive that happens outside of the classroom can only be a good thing for my focus and concentration."
Hajrah Ahmed, a BTEC Business Level 3 student at The Manchester College, believes discounted bus travel for students will make a "huge difference" to her life.
Hajrah (17) uses four buses a day to travel between Cheetham Hill and the College's Openshaw campus, spending £25 a week in the process.
"My journey to and from the College is currently costing me £100 per month, which is obviously an awful lot of money for someone like me, who doesn't have a part-time job.
When I heard about plans to make bus travel cheaper for students who are my age, I was naturally very excited because it will make a huge difference. It's great that people our age are being looked after in this way.
"The involvement of three providers also brings more flexibility, which can only be a good thing."
With more than a year left of her course at the College, Hajrah is even more enthusiastic about the future in light of the plans for cheaper travel.
She added: "It will be such a big help, and I can look ahead to the next year or so without the worry of how much money I am spending on my journey."
Apprentice Liam Kirby, who is Learner Voice Administrator at the College, has welcomed plans for discounted bus travel for students.
The 18-year-old, who is currently studying Business Administration, makes his way from Blackley to the College's Openshaw campus at a cost of £15 a week.
He is delighted that three providers are involved in the plans to make bus journeys cheaper, and said: "Having more providers from which to choose will make life a lot easier. My trip can take up to 90 minutes in rush hour, so having more options and flexibility is a big deal.
"In terms of the cheaper prices, it will make a real difference for me and the other students who will benefit. 
"Having more money in my pocket means I can put it aside and use it further down the line."
Liam, who is seven months into his Apprenticeship and thoroughly enjoying the role, uses four buses a day and is pleased to see students being helped out.
He added: "It feels like a very positive step for young students and it is a real boost."