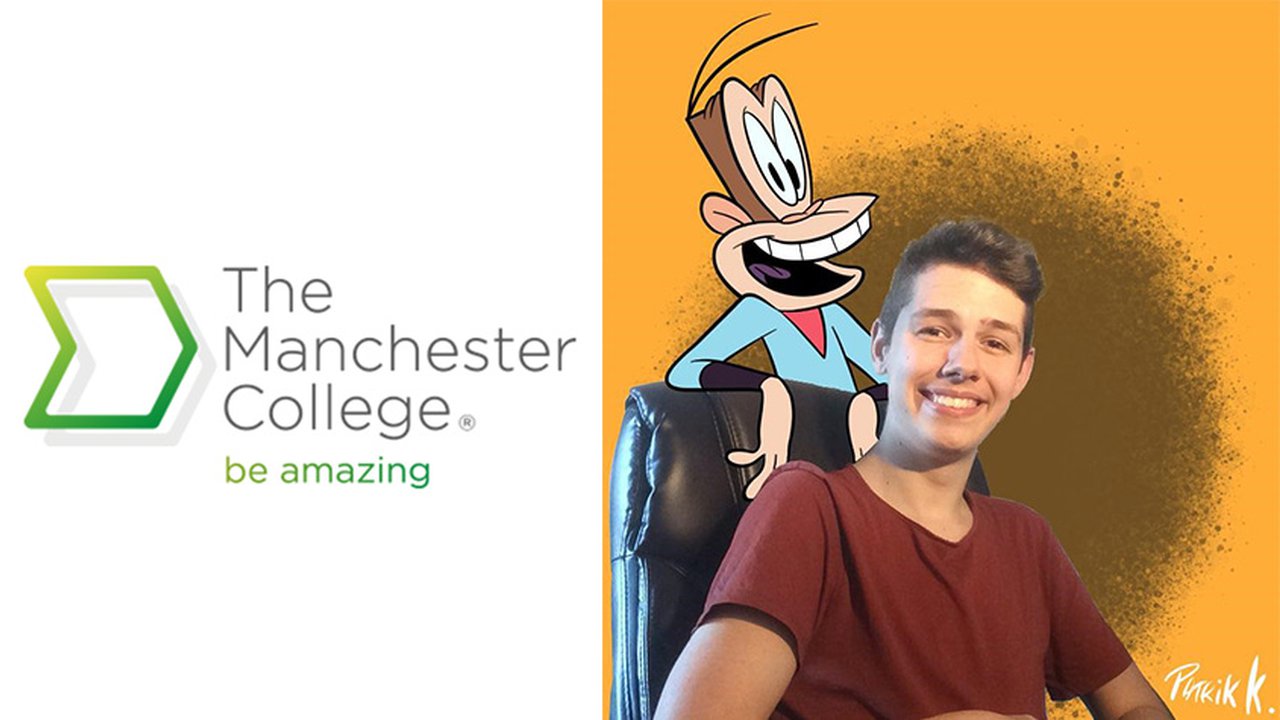 Patrik's industry ready after year-long placement
Creative and Digital Media student Patrik Kancsar has impressed tutors and employers with his animation skills.
Patrik, who is starting the final year of his Level 3 Creative Digital Animation course in partnership with Flow Creative, has already built up an impressive portfolio of work after spending the last year on placement at Kilogramme Animation Studio alongside his studies. 
After starting at The Manchester College on a Level 1 Creative Media Production course, Patrik impressed his tutor, Emma McCarrick so much that he was given a Level 2 project at the end of the course, which allowed him to progress straight onto Level 3. 
At the start of his Level 3 course, Creative Media Tutor Katy Rushton sent an example of Patrik's work to Jon Turner, Director at Kilogramme Animation Studio. 
After being impressed by Patrik's portfolio, Jon agreed to offer him a week-long placement, but by 7.30am on the second day, Jon asked Katy if they could keep Patrik on a long-term basis. So, Katy put him in touch with Christina Hughes from the College's Employability team, who arranged a full industry placement. 
Creative Media Tutor Katy Rushton said: "Animation and character design have been Patrik's passion from day one. He is phenomenally talented and spends hours of his time designing and creating ideas, building his skills. 
The work Patrik creates for his College assignments is always exceptional and he is extremely dedicated. In his personal work he has created multiple concepts and animations for online TV Shows, building up a vast portfolio.
Patrik has been working one and a half days at Kilogramme alongside his studies at the College all year. He has been creating storyboards and animatics for projects that were waiting as other staff didn't have enough time to development them. He has also created animation for client work and live projects such as commercials and animated shorts, making for an impressive showreel.
Jon Turner, Director at Kilogramme, added: "We've loved working with Patrik this year. His work ethic and talent are both exceptional. We've been able to get him involved with several projects and been really pleased with the results. We're taking a keen interest in what he does next."
Patrik holds the ambition of getting a job within the creative media industry upon completion of his course, so gaining valuable in-depth work experience has been a fantastic opportunity. 
Patrik said: "My work placement has been great! They taught me how to use Adobe Animate and they always helped me with things when I got stuck. The tasks they gave me were really good and they always listened to my ideas. I had the chance to storyboard a whole short animation. It was definitely a great kickstart to my animation career."
Find out more our Industry Excellence Academy for Creative & Digital Media.