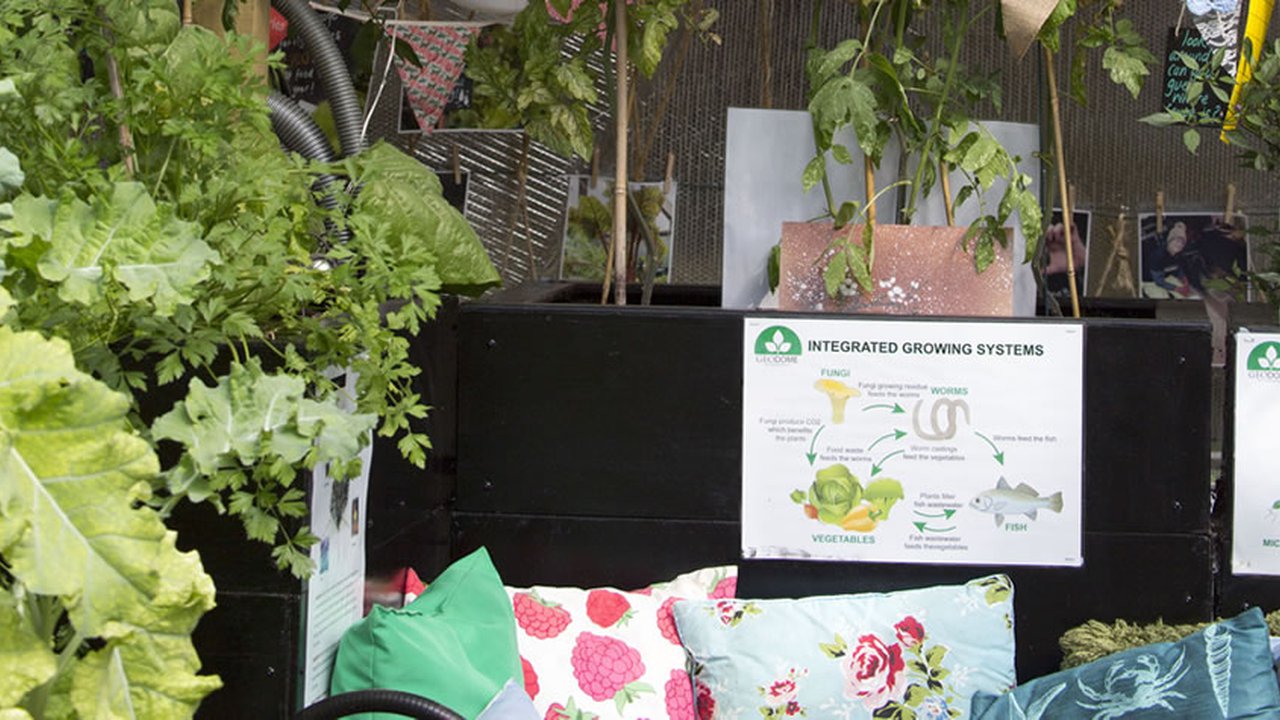 Real Food Wythenshawe Geodome officially launched on College campus
In beautiful Wythenshawe weather, the Geodome 'living classroom' was launched to an audience of students, staff, local leaders and community groups.
The Geodome is a revolutionary indoor growing system, built on The Manchester College's Wythenshawe Campus as part of the Real Food Wythenshawe project. A sizeable number of community groups and local schools have already visited to learn about the sustainable growing technology in and around the domed greenhouse, along with CBeebies' Mr Bloom, who visited the Geodome last summer. Students at the College helped build the Geodome and continue to help maintain and use it as a learning tool.
The launch event was a chance for the College and local communities to come together and celebrate the Geodome and sustainability. Students from a variety of courses on different college campuses submitted incredible creations on sustainability themes for a competition to celebrate the launch. These were on proud display on the launch day; from sculptures and furniture made from waste machine parts, to a reclaimed car with a deer's head snow plough and monster machine wheels.
The Geodome is a unique opportunity for students
Guests enjoyed a morning of music and mouthwatering food made from some of the ingredients grown in the Geodome. They were able to learn about aquaponics and hydroponic farming and meet the residents of 'Bugingham Palace' as they enjoyed the sunshine.
The Geodome was officially opened by Wythenshawe and Sale East MP Mike Kane, Group Chief Executive of WCHG Nigel Wilson and Assistant Principal at The Manchester College Jay Marshall.
The Geodome is a fantastic resource for the people of Wythenshawe
Assistant Principal Jay Marshall said: 'The Geodome offers a unique opportunity for students at The Manchester College to learn about sustainability, to develop invaluable employability skills and gain volunteering experience. The sustainability competition was an outstanding example of how a creative project can develop employability skills and engage students. The groups who entered were all superstars – their enthusiasm was infectious!'
Rachel Harding, Food Education and Skills Coordinator for Real Food Wythenshawe said: 'The Geodome has been open a year and we wanted to celebrate with a big event. This is the culmination of lots of hard work and support from the Wythenshawe Community Housing Group (WCHG).
'The Geodome is a fantastic resource for the people of Wythenshawe and we are delighted to showcase some of the fantastic work going on. Students and Real Food ambassadors are all involved in helping us demonstrate how this technology has minimal environmental impact and can produce good, healthy, nutritious food. We work with local schools to encourage learning outside the classroom, through visits and workshops that hopefully inspire and intrigue pupils for the world around them.'
Sustainability is all we're talking about in Parliament and we're seeing it in action here
Mike Kane MP said: 'Sustainability is all we're talking about in Parliament and we're seeing it in action here.'
He went on to announce the winners of the sustainability competition, with the reclaimed car roaring into second place and first place awarded to a souped-up sound system with LED lights, built by students at the College's Moston Campus.
Mr Kane thanked the College, Real Food Wythenshawe, WCHG and the 600 volunteers who have helped made the Geodome a success story to date.