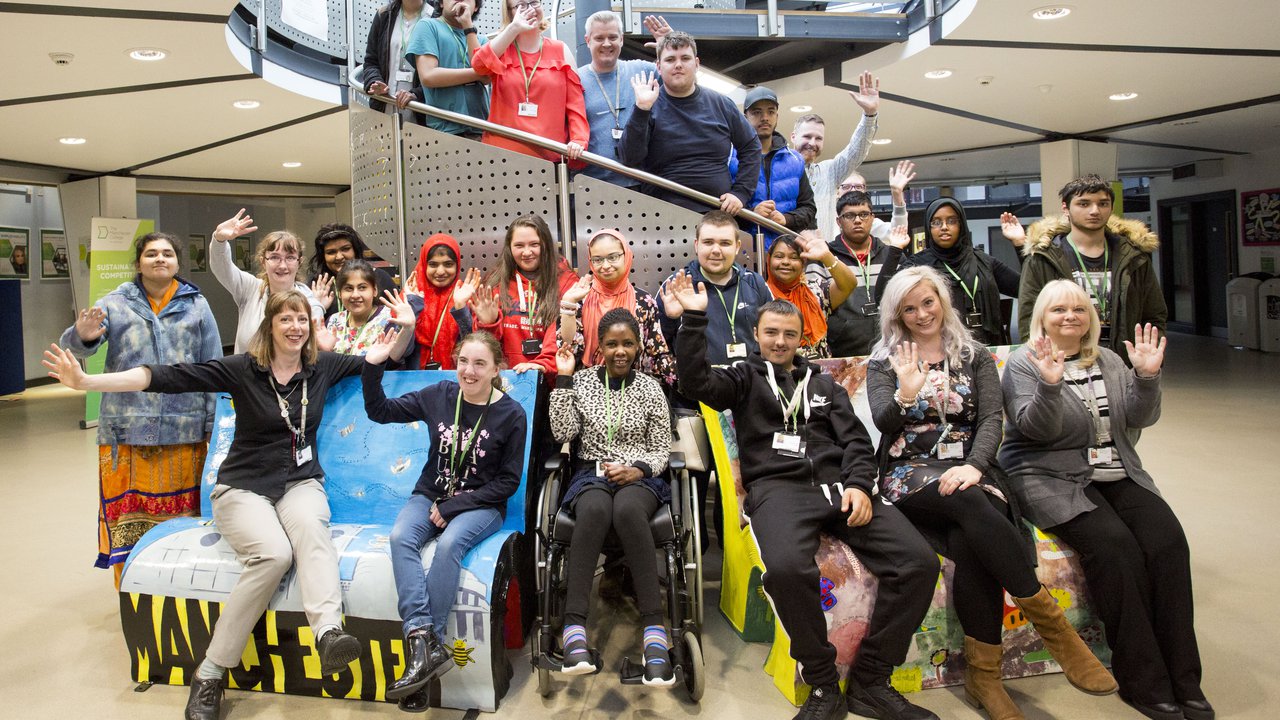 A seat with a story
Book benches designed by Supported Learning students are currently on display in cultural venues across Manchester.
Supported learning students from our Northenden and Openshaw campuses created designs for three of the 58 benches included in the Read Manchester book bench project. They suggested themes for the benches and voted for their favourite ones. The final three designs reflected a variety of themes linked to Manchester:
Manchester's Secret Gardens in the Lowry Outlet at Salford Quays
Inspired by the book 'Secret Garden' written by Manchester born Frances Hodgson, this bench features some of the open spaces and hidden outdoor gems in Greater Manchester.
Manchester Tour Guide at the Velodrome National Cycling Centre
This bench offers a virtual tour guide of Manchester featuring places chosen by our students to celebrate and explore the city's iconic and multicultural attractions.
Manchester Hive in Central Library
The worker bee, the symbol of our city was the inspiration for this bench which celebrates the diverse literary achievements of Mancunians.
The benches will be on display around the city until Monday 4 September, when they will go on display across our campuses.
Image: Supported Learning students involved in the project are:
Top stairs (L to R): Gouhar Khan, Jerome Lancashire, Rachel Smale (Book bench designer), Ricci Collins (Tutor Supported Learning & BSL), Chris Jones, Nathan Swartz, Daniel Kirkham (Curriculum Manager), Jade Bell.
Standing in front of stairs (L to R): Heba Anwar, Selina Louise Merron, Asmah Ashfaq, Asmina Akhtar, Aisha Anwar, Chloe Himworth, Siama Hussain, Robbie Shannon, Riyan Mustafa, Nayeeb Islam Khan, Ubah Tahar, Farhan Khan.
Sitting (L to R): Jennifer Fleming (Book bench project leader), Mary Jarvis, Claire Nabigotto (central), Callum Shaw, Zeta Jamieson (Book bench project leader), Sue Littler (Tutor Supported Learning).