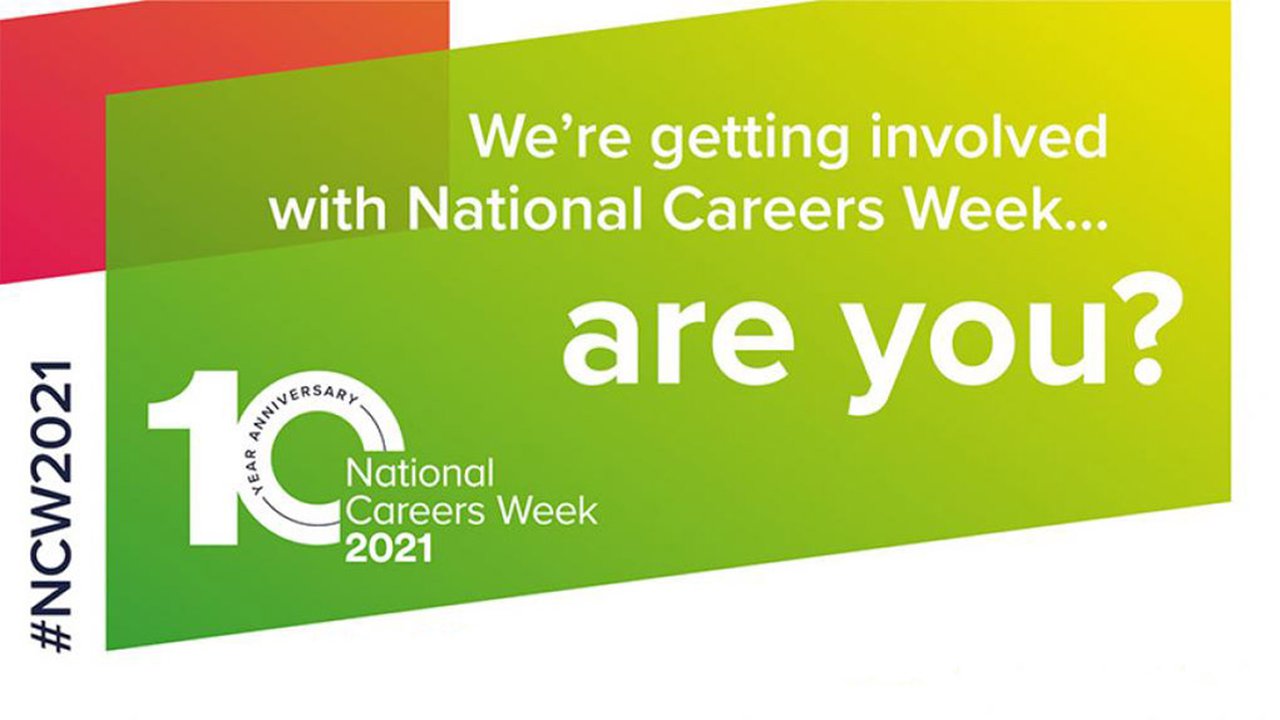 Series of online events planned for National Careers Week
Sign up now for events hosted by the College, as well as external bodies such as the BBC.
National Careers Week (NCW) takes place the week beginning 1st March, with 'progression' the theme for this year.
There is a series of events planned through the week – both internally and externally – and you can find more details below, as well as links to sign up.
NCW Virtual Careers Fair is taking place all week and you can register for free HERE (now closed)
Date

Internal College Events

External Events

1st March

Progression to Apprenticeships

11am – 12pm

In this session you will find out:

What is an apprenticeship?
Explanation of apprenticeship levels
The range of apprenticeship sectors
How subjects link to apprenticeships
The pros and cons of apprenticeships
The end-point assessment
Apprenticeship voices
How to search and apply for apprenticeships
Support available from the Careers and Welfare Team

 

 

Careers in the curriculum: Digital Careers

 

Digital employer insights

 

BBC Young Reporter – Getting into journalism

 

2nd March

Progression to Higher Education

11am – 12pm

In this session you will learn:

What is higher education
Types of courses you can study
How to research your options
Understanding entry requirements and the UCAS tariff point system
Useful resources
How to prepare your personal statement
How Careers & Welfare can support you

 

Careers in the curriculum: Engineering

 

Construction employer insights

 

Careers at Sea webinar:

 

3rd March

Introduction to Manchester Volunteer and Community Centre (MACC)

11am – 12pm

Manchester Volunteer and Community Centre (MACC) Macc is a charity and our purpose is quite simply the city of Manchester.
We encourage, support and develop the voluntary, community and social enterprise (VCSE)
organisations and local people to have a real influence
over the places and communities in which they live.

 

Introduction to City Year- Opportunities to inspire in schools.

1pm – 2pm

At City Year UK, young people give a year to tackle educational
inequality in our schools because they see a chance for change.
Discover how they coach and inspire pupils to succeed
- and gain standout skills, learn to lead and find out
who they want to become.

 

Careers in the curriculum: Humanities

 

Inspiring the Future - 'Pathways into STEM' LIVE career chats:

 

Going Green – Exploring environmental careers

 

NCW: Working in Esports

 

4th March

Progression to Employment

11am – 12pm

In this session you will learn about:

CV & Cover Letters
Mock Interviews & Virtual Interviews
How to look for work including using social media
Making a good impression
Useful resources
Support available from the Careers and Welfare Team

 

 

Culture employer insights

 

5th March

Progression to further study at college

11am – 12pm

In this session you will learn:

What is further education
Types of courses you can study
How to research your options
Understanding entry requirements
Why English and maths is important
Moving from 16-18 to adult provision
Useful resources
How Careers & Welfare can support you

 

 

Careers in the curriculum: Business Studies

 

Medical Professionals Careers Talk: