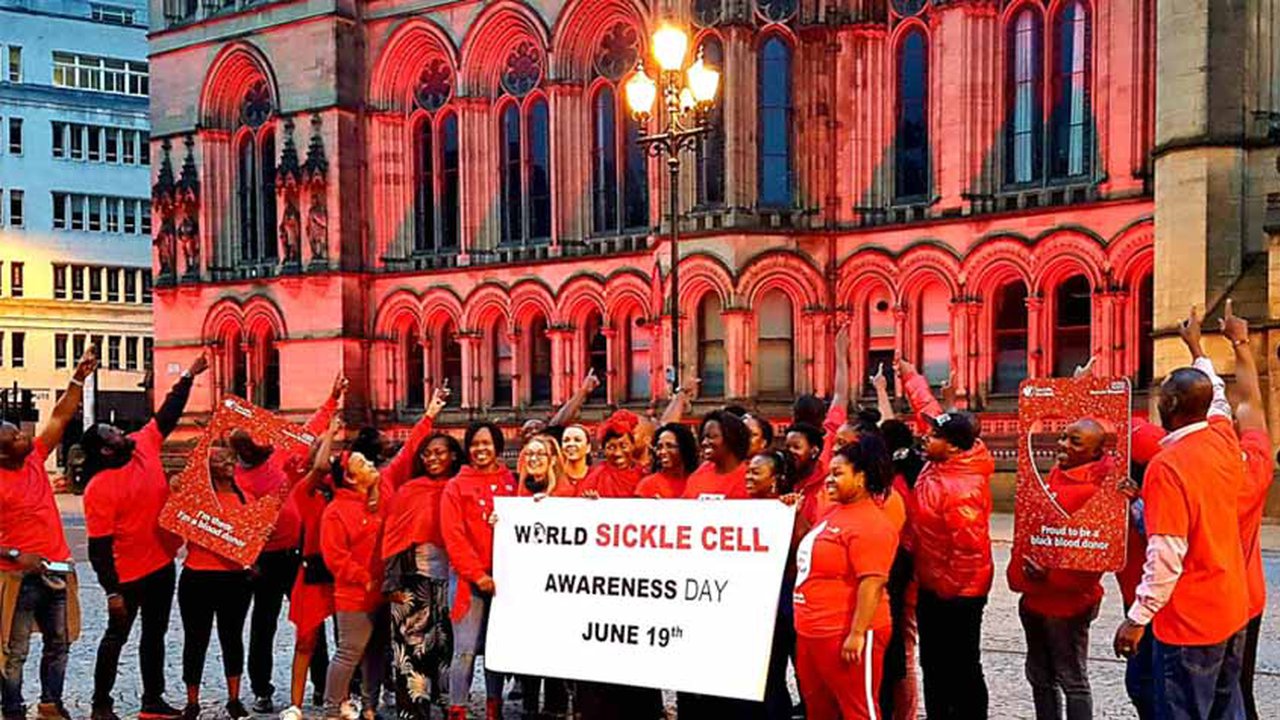 Spotlight on sickle cell disease thanks to Gwyneth's passion
The exterior of iconic building Manchester Town Hall was doused in red light as part of The Manchester College Advanced Practitioner Gwyneth Sharps' fantastic efforts to raise awareness of sickle cell disease.
Gwyneth and a group of fellow fundraisers gathered outside the town hall on 19 June, World Sickle Cell Awareness Day, for the switch-on of the light.
She said: "I'd been interviewed on Legacy Radio and Afrikaans Radio earlier in the week, so we had a large group of people turn up, including Britain's Got Talent finalists B Positive Choir and a team from NHS Blood Donation and Transplant.
"There was a really positive, upbeat atmosphere and a huge cheer when the lights came on. We're trying to bring sickle cell disease into the mainstream and this was a fabulous step."
Back at the College, Gwyneth's ESOL class took charge of charity fundraising, raising £140 for Sickle Cell Care Manchester.
Gwyneth said: "They are pre-entry students who have only been learning English since February, but they took full charge of the planning and preparation from the outset. They were doing everything from folding leaflets to building banners for the stall, and from selling raffle tickets on the stall to actually speaking to visitors about sickle cell disease."
Sickle cell disease is an inherited condition that affects red blood cells and can lead to episodes of severe pain, damage organs and tissues, or lead to other serious medical problems.
The disease mostly affects people of African and African Caribbean origin, but the condition has been known to affect individuals of any ethnicity.