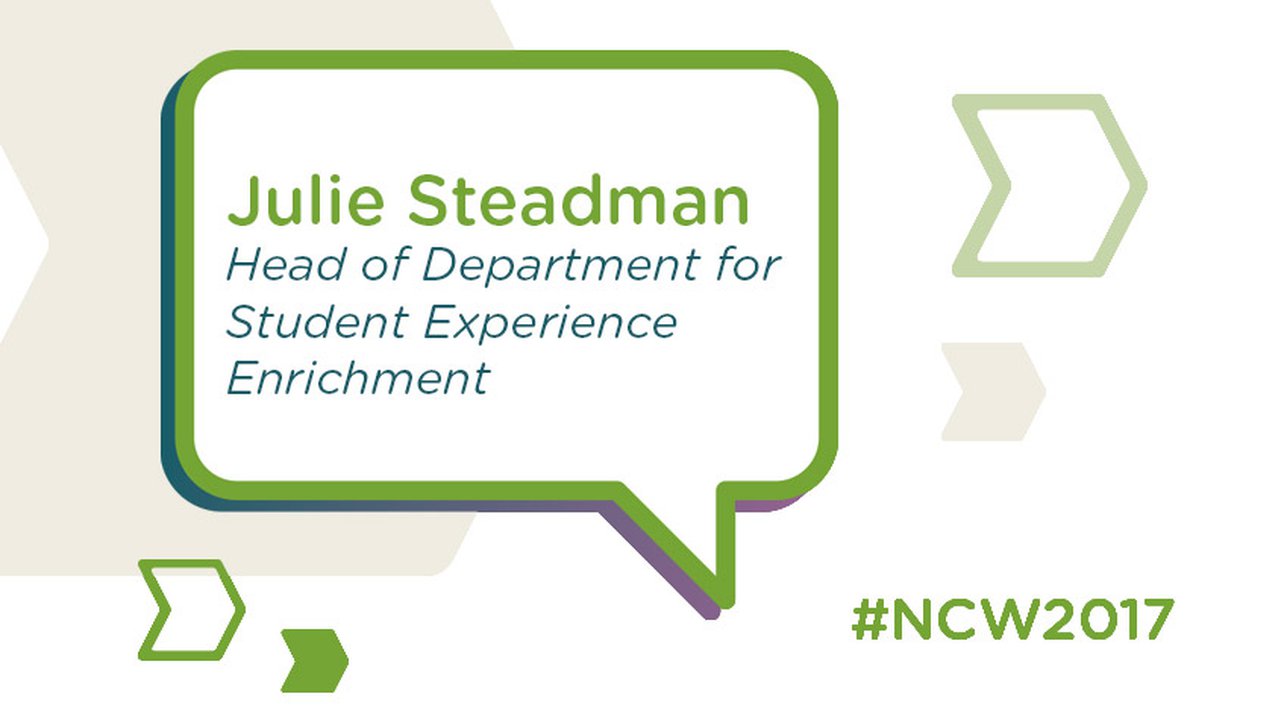 Staff Profile: Julie Steadman
Head of Department for Student Experience Enrichment
Can you summarise your amazing career journey from your first role to your current role?
My first role in industry after leaving university was as an Assistant Designer for a company designing women's outerwear. It was a real baptism of fire with tight deadlines and a tough boss who was quite old school in his approach. I worked for the comapny for three years in total, learning how to work under pressure and the importance of good communication skills.
My second job was as an Assistant Designer and Pattern Cutter for a childrens wear company. I really loved this job and got the opportunity to travel abroad, attending industry exhibitions. I was also fortunate enough to develop an array of technical skills and presentation skills.
When I left the Assistant Designer and Pattern Cutter role I took some time off and went backpacking, which included trips to U.S.A, the Greek islands and Australia. Wow, what a fantastic experience!
When I returned home from my adventures I continued my career in children's wear design and worked for a few companies before deciding to go freelance. Being a freelancer meant I had to be self-motivated and I developed good organisational and problem solving skills, along with the ability to think creatively. It was a challenge but I had loads of fun.
My career then took a different path as I took a part time position teaching fashion and clothing to adult learners at The Manchester College. Before I knew it I was back in education working towards my CERT ED teaching certificate.
Within a few years I had dissolved my freelance business and was teaching full time delivering fashion on the 16-18 BTEC programmes at The Manchester College's Moston, Harpurhey and Openshaw campuses. I eventually became the Programme Team Leader for Visual Arts (Openshaw campus) and had my first experience of managing staff. 
I have always had a keen interest in student support so when a Deputy Campus Manager vacancy came up I decided I would try something different. The Deputy Campus Manager role taught me all about safeguarding and I realised that student support was something I was really passionate about and committed to.
As Head of department for Student Experience I manage a team of experience support staff at one of The Manchester College's busiest campuses, leading on enrichment and overseeing safeguarding and student welfare. It's certainly challenging but very rewarding.
In total, how long have you worked at The Manchester College?
12 years.
What has been the highlight of your career?
Winning the Overall Award as voted for by Governors at The Manchester College's staff awards.
What advice would you give to anyone who wants a career in your industry/role?
Don't be afraid to push yourself out of your comfort zone, challenge yourself and develop those extra skills an employer is looking for through volunteering and further studying. It's never too late to develop your skill set, I am currently working towards a Level 2 in Maths to improve my numeracy skills. To be in a support role you need to be passionate and committed, try to gain experience of working in the community or with young people.
Tell us one interesting fact about yourself?
I have been a Girl Guide Leader for the last ten years.