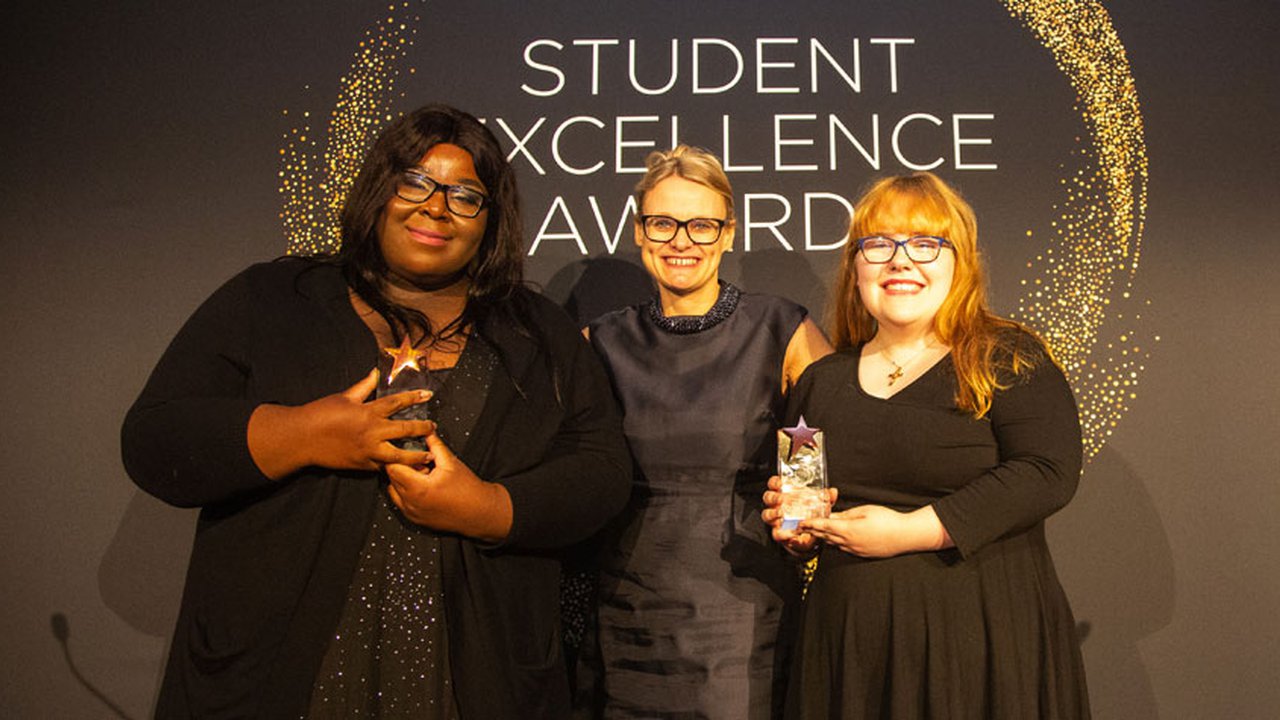 Star students shine brightly at the Student Excellence Awards 2019
A galaxy of star students were celebrated when the Student Excellence Awards 2019 announced a myriad of worthy winners.
Students from The Manchester College joined learners and apprentices from higher education partner UCEN Manchester and apprenticeship provider Total People at The Midland Hotel, where they were recognised for their outstanding achievements. 
Among the 21 category winners, Gulforse Sayied was named Academic Studies Student of the Year and said: "This has been such a tough year for me, so to accept this award means a lot. I'm amazed that I won next to the other nominee's and I know I have my amazing tutors to thank for it, I couldn't have done it without the support of the College.
"I've loved every second of being at College so far and I would 110 per cent recommend it to anyone even thinking about college study."
Shafia Fiaz took home the 16-18 year old Student of the Year award. She said: "I just feel so shocked and so happy! This may not seem like a big deal to a lot of people but it's the most rewarding and motivating experience.
I would 100 per cent recommend the College to my friends and I would just say to people, never give up! Always do your best because it will contribute to your future at the end of the day and it's just so worth the hard work.
The Bright Star Award went to student Ashlea Cook, who said: "I'm so happy to accept this awards and a little overwhelmed. It's come as such a surprise and it's a really great accomplishment. All the hard work has been worth it."
In a surprise twist, Lisa O'Loughlin, Principal of The Manchester College, selected two students – Venus Ubah and Poppy Beswick - to share the honour of being named Student of the Year.
Venus, who had also collected the Business, Computing and Creative Digital Student of the Year award, said: "This is so overwhelming, I'm just going to cry. When Lisa O'Loughlin called my name, I just froze. I really thought it would go to someone else, there are students who have achieved more than me and got higher grades.
"I've been through so much in my life but this award just shows that all the struggle was worth it and that the future holds greatness."
Poppy, who had earlier won the Work Experience Student of the Year award, said: "I'm honestly so, so grateful, it's an amazing achievement for my CV. Thanks so much for my mum and sister for supporting me, even though times have been hard, and thank you so much to my tutor, Louise Loxton, for nominating me."
Speaking on the night, Lisa said: "Our College is the largest in Europe, Ofsted 'Good' and the number one in Greater Manchester for achievement. UCEN Manchester is a first-class technical and professional higher education organisation and Total People is one of the largest providers of apprenticeships and work-based learning in the North West.
"Our finalists tonight are the top 63 selected from thousands – making the people in the room truly the cream of the crop of our amazing students and apprentices.
"All of you should be extremely proud to be here tonight because we have chosen you for the dedication and commitment you have shown to your studies, your work placements and your apprenticeships, and the support you have given to your peers or your community."
Pictured (L-R) Venus Ubah, Lisa O'Loghlin, Principal of The Manchester College, and Poppy Beswick.
For a full list of winners from the Student Excellence Awards 2019, visit the LTE Group website.
Find out more about the wide range of courses available at The Manchester College Open Day, The UCEN Manchester Open Day and the Total People website.