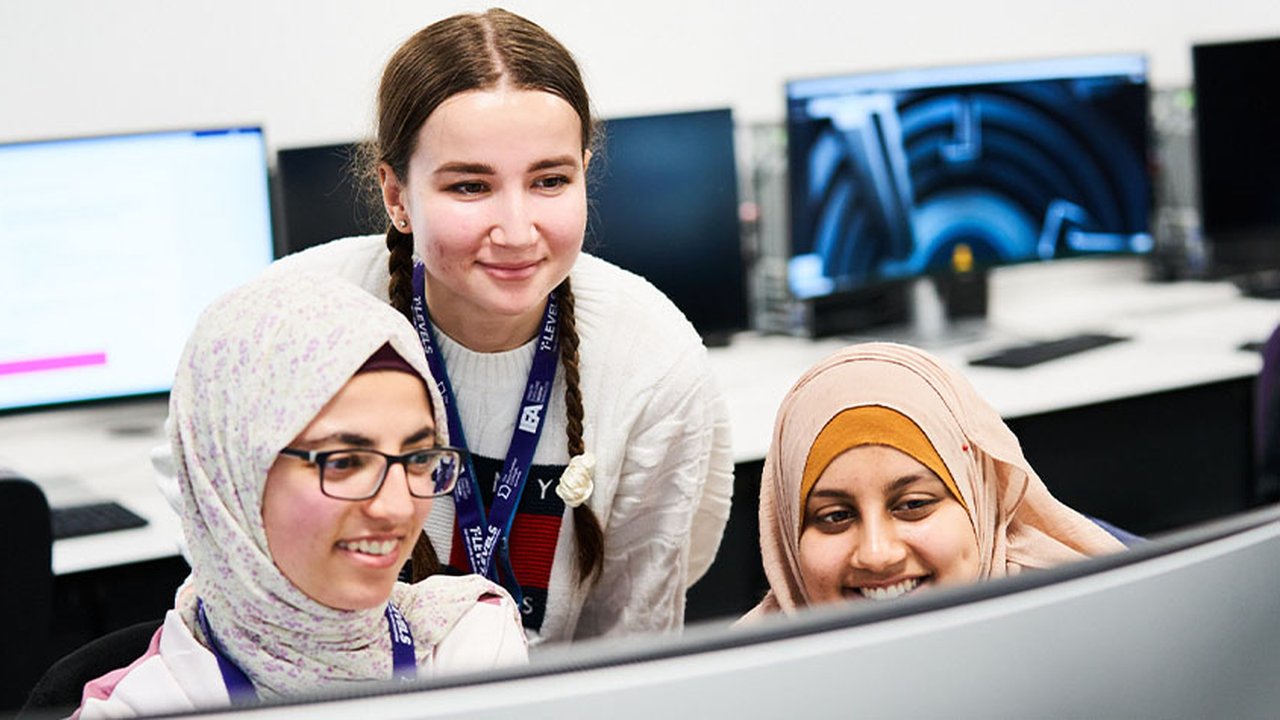 Students achieve technical skills excellence at The Manchester College
T Level and BTEC students secure top grades after demonstrating technical skills excellence.
Students at The Manchester College's Industry Excellence Academies and Centres of Excellence are celebrating this morning after securing top grades in T Levels and other technical and creative qualifications including BTECs.
With an established track record of strong student achievement, 98.39% of T Level students – the College's first cohort to complete the qualification – achieved success in subjects such as Education and Early Years, Health and Healthcare Science, Construction, and Digital, with over 74% achieving a high grade.  This pass rate is over 7% higher than the national rate.
T Levels, which launched at the College in 2021, are a high-level technical qualification in which students complete a 45-day industry placement with an employer as part of their study programme. They're also equivalent to three traditional A Levels.
96.31% of students achieved other technical and creative qualifications, including BTECs, up from 95.57% in 2022, with over 72% achieving a Merit grade or above.
Rachel Curry, Principal of The Manchester College, said: "We are exceptionally proud of the amazing results that our students have achieved which are a testament to their talent, dedication and perseverance. They've worked incredibly hard, with the support of our amazing teachers and support teams, to reach the aspirational goals they set for themselves and develop the technical and creative skills that will make sure they stand out to employers when they start their careers.
"It's especially pleasing to see the success of our T Level students. They took on a brand-new qualification with enthusiasm and tenacity, and now they've got their reward. We are a proud champion of T Levels and I'd like to thank our tutors and employer partners for their commitment to making them a success."
Roddick Mujib, has just finished a T Level in Digital Production, Design and Development at The Manchester College and achieved a Distinction. When reflecting on his 374 hours of placement with Lloyds Banking Group, Roddick highlighted some of the key benefits of T Levels: "I really enjoyed the mini staff interviews I did at the beginning of my placement as I got a chance to learn what the developers do, how they solve problems and most importantly how they collaborate with each other - this is not something I can learn in the classroom, so has been really helpful.
"I have developed a lot more than just my technical skills during this placement – learning how to communicate with colleagues, receiving feedback, implementing improvements based on that feedback and presenting to colleagues has been invaluable for my confidence."
Roddick will now progress to employment and a Higher Level Apprenticeship with Lloyds Banking Group.
Rachel Curry added: "This year's results across the board wouldn't be possible without our incredible industry employer partners, who co-develop and co-deliver our courses to ensure that students leave with the relevant knowledge and skills to make an immediate impact in their dream career. As the next generation of industry excellence, we can't wait to see what our students go on to achieve, whether that's in further study or employment."
The Manchester College delivers a vast array of courses across 24 subject areas. For more information, visit our course finder page and apply today.