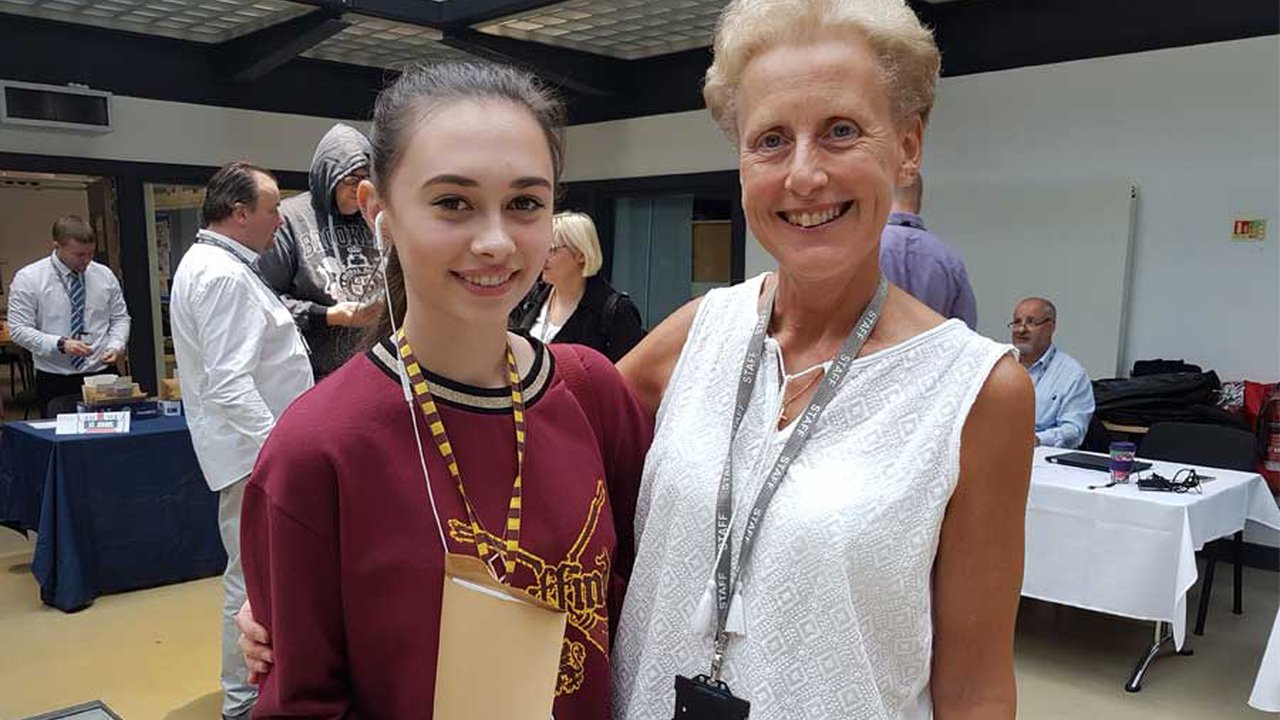 Students celebrate amazing achievements on GCSE results day
GCSE students at The Manchester College are celebrating today after achieving a 99 per cent pass rate in English and 95 per cent in maths, higher than previous years, in what is being perceived nationally as a challenging year for the GCSE grading system.
Some of the College's GCSE students had taken the exams for the first time, with many resitting them to improve their grades.
Siena Gooderham, 17, achieved a grade 4 in her maths GCSE. Siena said: "Last year I had a lot of anxiety but my tutor Jaqueline Chrystie-Lowe has helped me so much, she gave me time to understand the topic and did a lot of revision techniques with me.
"At The Manchester College you get a better understanding of the subject. Students want to do well and people here want to learn."
Lisa O'Loughlin, Principal of The Manchester College, said: "We are so proud of the hard work and dedication of our GCSE students.
"Our students come from different backgrounds and stages in their education, with many facing challenges in their lives and overcoming adversity to enable them to study. For some, this may be the second or third time they have sat the GCSE and we are delighted for our students who have finally achieved this all important qualification.
For many, today's outcome means they can now progress on to further study with us, or enter the world of work with their all-important English and maths qualifications.
Students aged 19+ have done particularly well, with a seven per cent increase in those achieving grades 9 to 4 in English, the equivalent of A* to C.
Konstantinos Pavlakoudis, 28, from Crete, is one of only an estimated two per cent in the country to achieve a 9 in English, which is his second language. Konstantinos, who also achieved a 7 in maths, has lived in Manchester since 2011 and says that "just studying hard" has been the secret to his success. "I was hoping to get an 8 in English, so to get a 9 has left me feeling very happy. I enjoyed studying both courses and they have been much more interesting than I thought.
"I was feeling OK before I picked the results up, because I knew whatever would happen, would happen, but now I've got them it's a relief and I'm really happy. I'm now going to study Level 3 English Writing and Media with The Manchester College, which I'm really looking forward to.
"The College is great and I've really enjoyed studying here. It's not just the teaching staff who are great and supportive, it's everyone who works here."
Lisa O'Loughlin added: "GCSE results day can be daunting for many people, but 'success' comes in many forms, so please don't panic if you didn't quite get the grades you were expecting. Vocational and technical learning is as important as academic in today's world and there are lots of options available to you."
At The Manchester College, there are many routes to success, regardless of your background, age, experience and ability. To learn more and view our hundreds of courses, click through to our course finder. Visit UCEN Manchester for higher education, ucenmanchester.ac.uk/; or Total People, the College's apprenticeship partner, for apprenticeships and work-based learning courses: totalpeople.co.uk