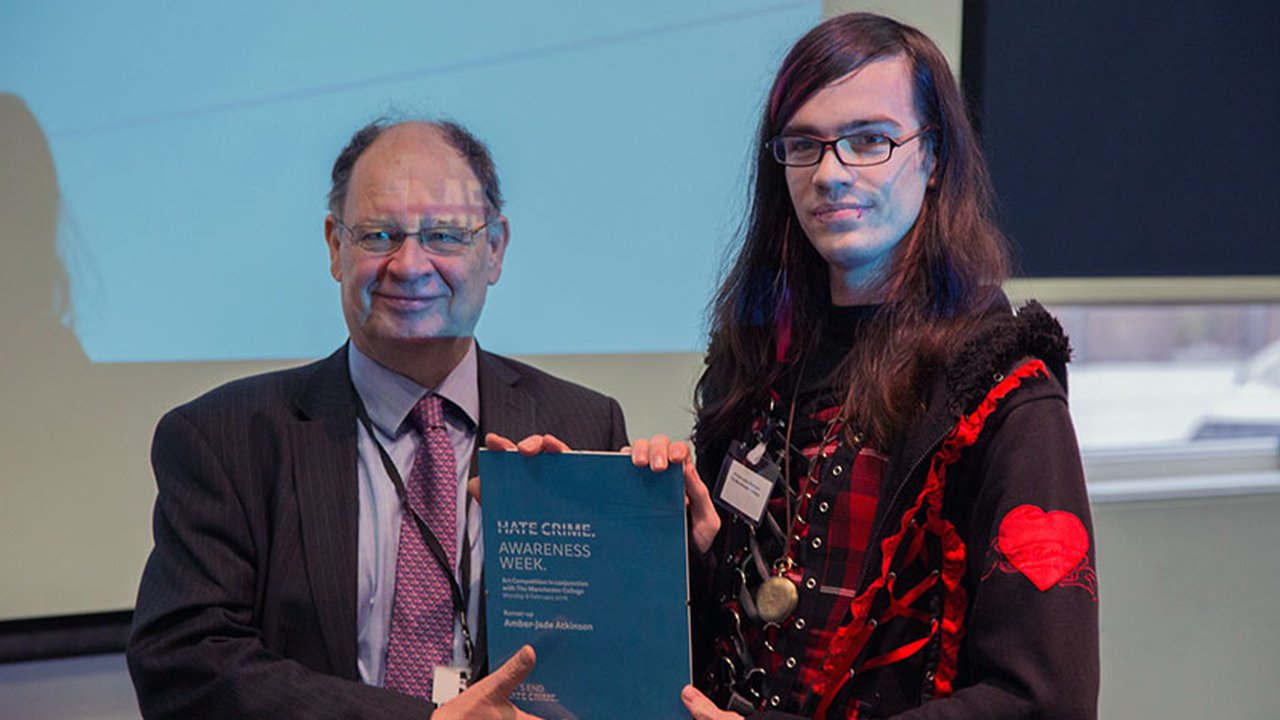 Students moved by hate crime awareness events
A poster calling for an end to hate crime, designed by a student at The Manchester College, has won a competition run by the Greater Manchester Police (GMP) community safety team. The poster was used to promote the anti-hate crime message across Manchester during Hate Crime Awareness Week. During the week, students heard moving talks from activists against hate crime.
Natalie Kaciubskyj, who designed the winning poster, and second prize winner, Amber Jade Atkinson, also a student at The Manchester College, were presented with certificates at a prize-giving at Manchester Art Gallery, part of an event to launch this year's Hate Crime Awareness Week.
Natalie's winning design features the slogan 'Let's end hate crime', an abstract flower containing flags of several nations and the words 'Disability', 'Religion', 'Race', 'Alternative Subculture', 'Sexual Orientation' and 'Trans*'; the 'protected characteristics' recognised by Greater Manchester Police as coming under threat of hate crime. Artwork by students from the College was displayed as part of a week of activities across Manchester and the region.
Natalie, who is studying event management, said: 'I entered the competition because I love art and was looking for a way to demonstrate how I felt about hate crime and help make a difference. No matter who you are, where you come from or what you believe in, we are all the same on the inside.'
We are all the same on the inside
During Hate Crime Week, students from several campuses made their way to Shena Simon Campus in the city centre to hear talks from the Sophie Lancaster Foundation and Jenny-Anne Bishop OBE.
Sophie Lancaster was murdered in 2007 and her attackers were sentenced under hate crime legislation. The Sophie Lancaster Foundation has successfully campaigned to have attacks on people of alternative subcultures recognised as hate crime in several areas including Greater Manchester. The students were moved to hear a talk from Sophie's brother, Adam, about Sophie's death and her legacy.
Jenny-Anne Bishop OBE followed with an equally moving talk about transphobic hate crime and the variety of trans identities. She described some of the problems faced by trans people, appropriate questions to ask trans people and the gender spectrum. She also spent time with the College's LGBT student group, talking informally about her own life as a trans woman and answering their questions.
You could hear a pin drop in both presentations
Clare Bromley, Team Leader for Student Experience at The Manchester College, said: 'The students were really touched by both presentations and they were really keen to do more around challenging hate crime in the future. It made them think about their actions and beliefs. One student said that "it was really inspiring" and another said it "opened their eyes to a much larger issue [they] didn't know occurred as much as it does".
'You could hear a pin drop in both presentations. I am hoping that what they heard stays with them through life and they remember how diverse the world really is.'