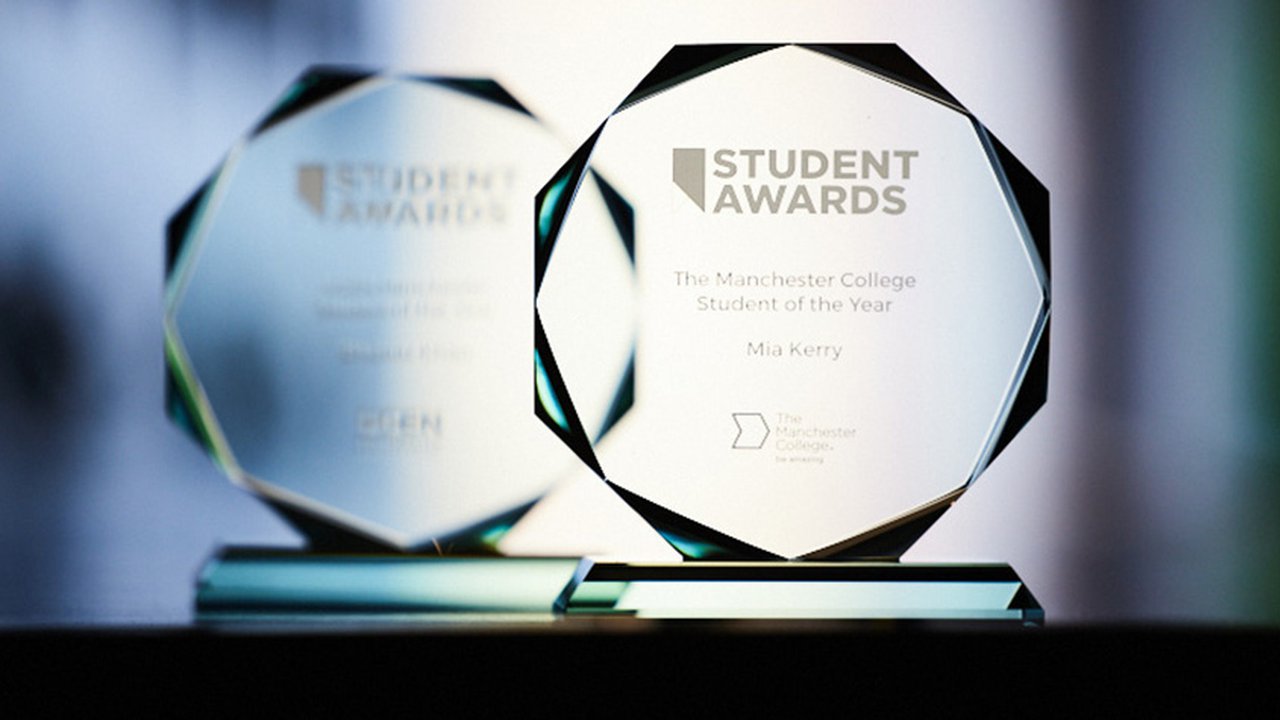 The Manchester College's Student Awards 2022 celebration
This year's ceremony showcased students' remarkable achievements during the 2021/22 academic year.
A group of colleagues and students at The Manchester College came together on Wednesday 8 June at the Imperial War Museum in Manchester to find out who had won this year's Student Awards.
The annual event, which was organised alongside the College's higher education partner, UCEN Manchester, was hosted by former BBC Radio Manchester presenter Chelsea Norris.  Guests were treated to a delicious street food inspired buffet and incredible entertainment from The Manchester College's Performing Arts students.
Throughout the evening, attendees heard about the finalists' remarkable achievements over the last 12 months and found out why they were nominated by colleagues and their peers.
The night ended with the prestigious Student of the Year Award, which was presented by Lisa O'Loughlin, Principal of The Manchester College, and Cllr John Hacking, Chair of UCEN Manchester's Board.  The award was given to two thoroughly deserving winners; Mia Kerry from the College and UCEN Manchester's Shabaaz Khan.
Speaking at the awards, Lisa said: "For me, our Student Awards are by far and away the best event of the year and something that I really look forward to, which is why it's fantastic to present our students with their awards in person for the first time since 2019.
"I'm incredibly proud of all our students and everything that they've achieved this year.  They've faced huge obstacles and challenges over the last few years, and our Student Awards are a great way to recognise their accomplishments.
"The standard of this year's nominations was outstanding and all our finalists have worked remarkably hard to become the next generation of industry excellence and achieve academic success.  This event is the culmination of all their efforts and I'm so delighted to be a part of it."
Tutor Katy Rushton was at the event to support the students she nominated, including Mia Kerry, and explained the importance of the event: "This year, more than any other, I wanted to nominate our amazing students because they've missed out on so much over the last few years.  Their educational experiences have been completely different and I've been inspired by their perseverance.
"When it comes to writing nominations, I've always got so much to talk about because all our students work to a really high level and support our employer partners with live briefs, which is something I'm keen to celebrate.
"It's great to see some of the students I nominated at the event and recognised in this way."
Speaking shortly after collecting the Student of the Year Award, Mia Kerry added: "I've had a great time tonight and I can't believe how everything has turned out.
"It was amazing to be nominated so to win was incredible, I'm so proud and happy.
"My Dad and I were talking about the Student of the Year Award before the winner was announced and how they must be pretty amazing so, when Lisa read my name out, I was in complete shock, I was not expecting it at all."
The winners
Open to all The Manchester College and UCEN Manchester students:
Greatest Achiever
Jermaine Cartwright
Open to all The Manchester College students:
Most Inspiring
Adrian Samuels
---
Automotive, Construction and Engineering Student of the Year
Shabbar Trunkwala
---
Business, Computing and Digital Industries Student of the Year
Alwiya Sadiq
---
Creative Arts Student of the Year
Mia Kerry
---
ESOL Student of the Year
Najib Abdul
---
Supported Learning Student of the Year
Joseph Mendy
Service Retail Industries Student of the Year
Abdulqadri Akim
---
Sports, Public Services, Care Professions and Science Student of the Year
Hermon Kebede
---
T Level Award
Thomas Stonehewer
---
Transition Award
Julia Marco