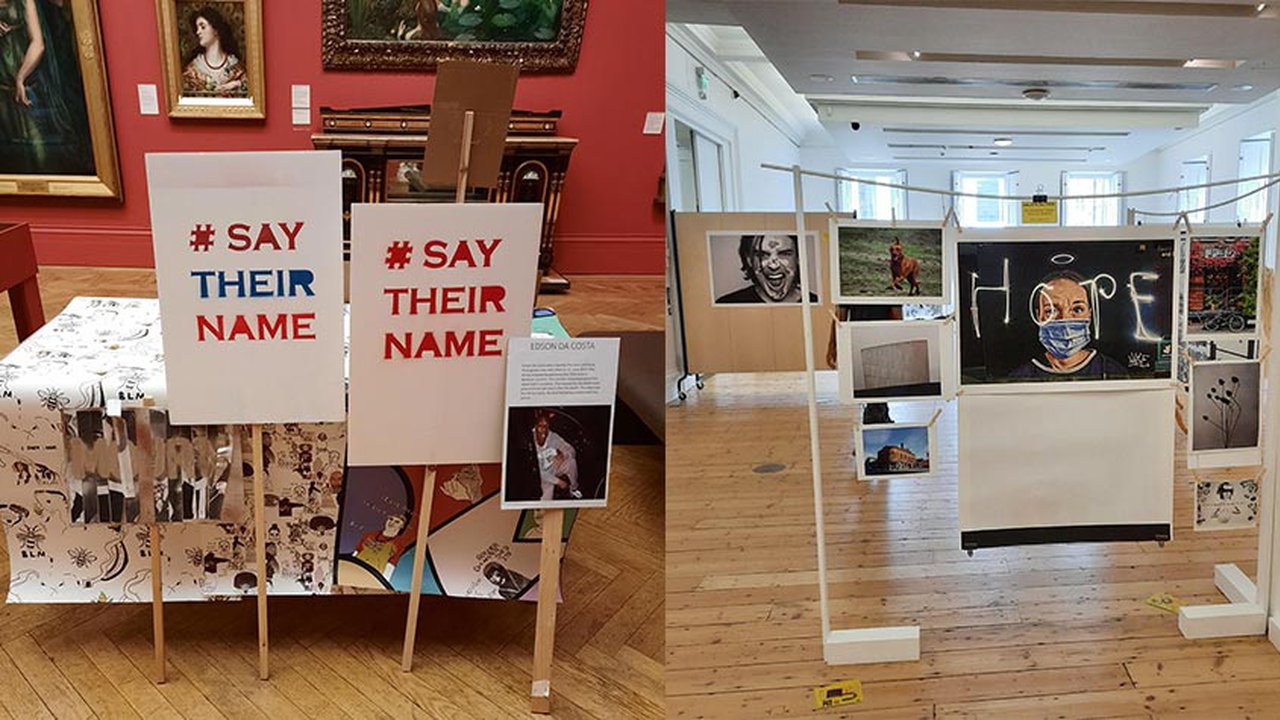 Visual Arts students showcase stunning work at Manchester Art Gallery
There was a wonderful atmosphere as the students celebrated everything they've achieved over the past year.
Love, laughter and creativity filled the air at Manchester Art Gallery as students from The Manchester College's Centre of Excellence for Design & Visual Arts showcased the remarkable work they've produced over the past year.
The 'Unlock the Love' exhibition featured work from Level 1, 2 , 3 and HE students, created for their Future Creatives and Black Lives Matter projects. The day started off with students and tutors marching from the College's Shena Simon campus to the gallery, displaying placards and boards they'd made in support of the Black Lives Matter movement.
Level 3 Art & Design student Shawayne Sangster responded to the BLM brief from Ideas Foundation, where students were asked to explore the political and social movement, with the challenging subject addressed in a creative, visual outcome which helps to pose questions and help educate.
She said: "This project was so important because at the time, there were protests and a big movement was taking place. Being able to respond to that through art was really important to me. I had to approach the brief in isolation at first, but we designed and sent postcards to one another and through this, I felt less alone.
"I started by researching the victims of police brutality, looking at newspaper articles and how they chose to report what was going on. This led to a final collage of the interactions between protestors and police, with a little display showing the victims.
I think it's really powerful to see all of our work in once place, it's really moving.
"This one experience is going to lead to a lot more and I'm going to be more confident in accepting opportunities."
Drawings, paintings, photographs, fashion design, sculpture and film were just some of the creative devices students used to respond to the briefs they were given. A group of Dance students also joined the occasion, performing two moving dance pieces in the Gallery's main reception area.
Maria Foran, Head of Department for Visual Arts, said: "This exhibition is an archive of how Visual Arts students of The Manchester College found, developed and retained resilience despite experiencing the impact of Covid-19 during two years of their formative education.
"When classes were halved, our campuses and studios may have appeared empty but it is ideas and curiosity that fill spaces to capacity. In this respect, we have been, 'standing room only'."
For the students, seeing their work displayed in such a prestigious arts space was a rewarding end to an unprecedented year, with some marking their last official day as a student at The Manchester College.
Laura Hemmings worked on the Future Creatives 2021 project in partnership with Manchester Art Gallery, which explored the theme of 'Protopia'. Students were asked to consider and share what kind of world they want to live in and use creative processes to call for change.
"Seeing my work here at Manchester Art Gallery is kind of surreal," Laura said. "I've been coming here since I was a little kid and that sparked my love for art.
It is something people work their whole lives for, so having the opportunity to do it at such a young age is a springboard for the rest of our career.
"We can always say we did this; it's something really special!"
"We got to work with the artist Jeremy Deller, which has been really exciting. When we first met him it was kind of crazy because we had been watching his films and looking at his performance pieces. He's one of those artists where you can tell he really cares about what he does and he cares about his projects. I've really enjoyed it."
First year student Milanas Brizinskas added: "The tutors have been brilliant and really helpful. What I really like about my tutors is that they use almost this quiet force to lead you in a direction that will benefit you. They really understand what makes you tick as a person and the feedback would be very personalised. It's great and helps you to access that unreached potential."
The staff at Manchester Art Gallery were delighted to see the Gallery busy and full of life again. Curator Kate Jesson said: "I've come in especially today.
I've been very excited that finally, after such a long wait, we can use the art gallery, throw its doors open and allow the students to celebrate and show off all their incredibly hard work.
"I'm also here to support The Manchester College because it's been a particularly difficult year and I think the College, in the spirit of Manchester with art and creativity coursing through our blood, has really risen to the challenge, going above and beyond in terms of what has been offered to students.
"The atmosphere is incredible. Art galleries aren't just places for visiting art, they're sites where art is made. To have the music, movement and dance, to be able to see the work, to be able to see the performances, it's quite incredible. It's a day we've waited a long time for and it's not let us down. It's been fantastic."
If you'd like to get involved with the next Future Creatives project, you can find out more about our Centre of Excellence for Visual Arts and apply today.