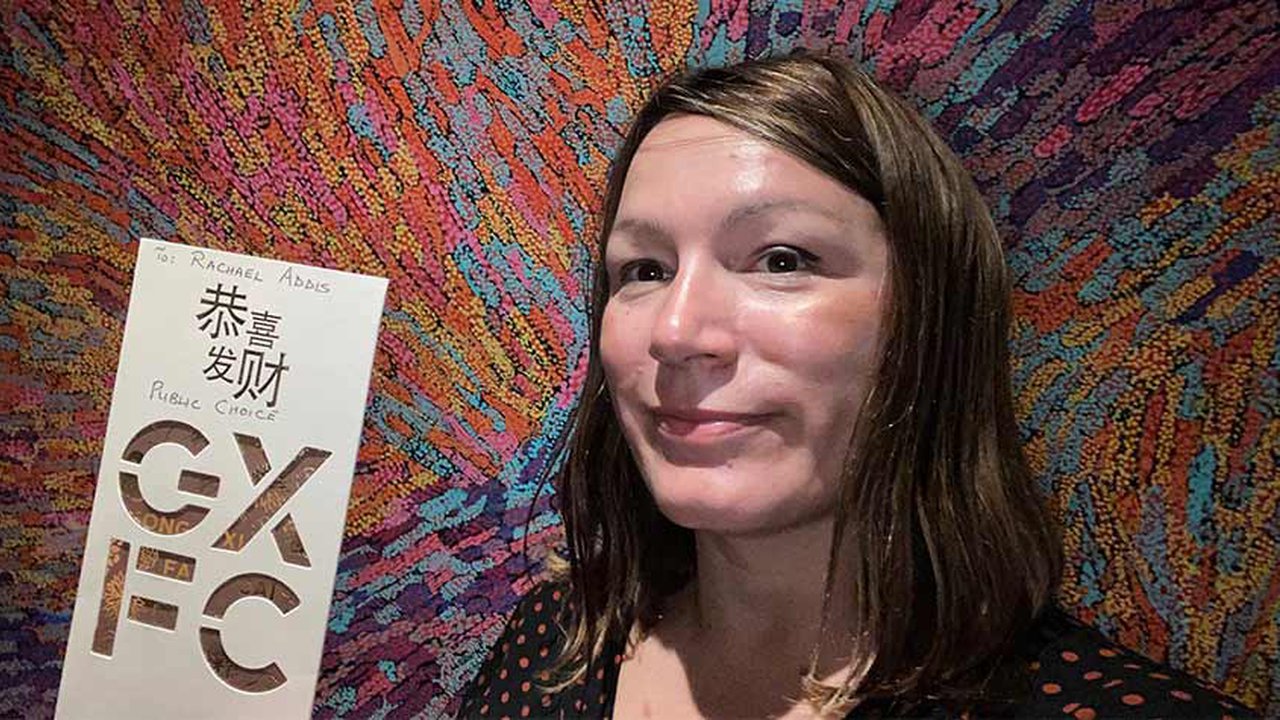 Visual Arts tutor Rachael celebrates competition successes
Her achievements have led to two prestigious art exhibitions. 
Visual Arts tutor Rachel Addis celebrating after two fantastic recent successes.
Rachael, who teaches at both The Manchester College and UCEN Manchester, was selected for the People's Choice award at the internationally-renowned 2021 Art Gemini prize, thanks to her stunning, Aboriginal-inspired painting, 'Cooee'. At a prestigious ceremony at London's Exhibitionist Hotel, Rachael was announced the winner from 896 entries, with her work going on display as part of a month-long exhibition at the hotel.
Following on from this prestigious accolade, Rachael reached the grand final of the 'Manc of the Year' competition, run by Manchester-based organisation Cotton On. After a public vote held on Instagram, Rachael was crowned the winner, earning her a solo exhibition at Halle St Peters on Saturday 20 November.
Speaking about her consecutive successes, Rachael said: "These achievements mean a great deal to me. Alongside my teaching, I've worked incredibly hard over the last two years to develop my creative practice and it has been amazing to see this begin to blossom. 
I would like to say a huge thanks to all of my colleagues and students at The Manchester College and UCEN Manchester, who have shown tremendous support by voting for me in both competitions.
Michael Walsh, Dean of UCEN Manchester, added: "Both The Manchester College and UCEN Manchester are very proud of the fact that we have close links with industry and tutors who are experts in their fields. As such we are all incredibly proud of Rachael and would like to congratulate her on her success. These are fantastic achievements and well-earned recognition of Rachael's stunning work."
You can view Rachael's art via her website and Instagram page.
You can also find out more about courses at The Manchester College's Centre of Excellence for Visual Arts and apply today.