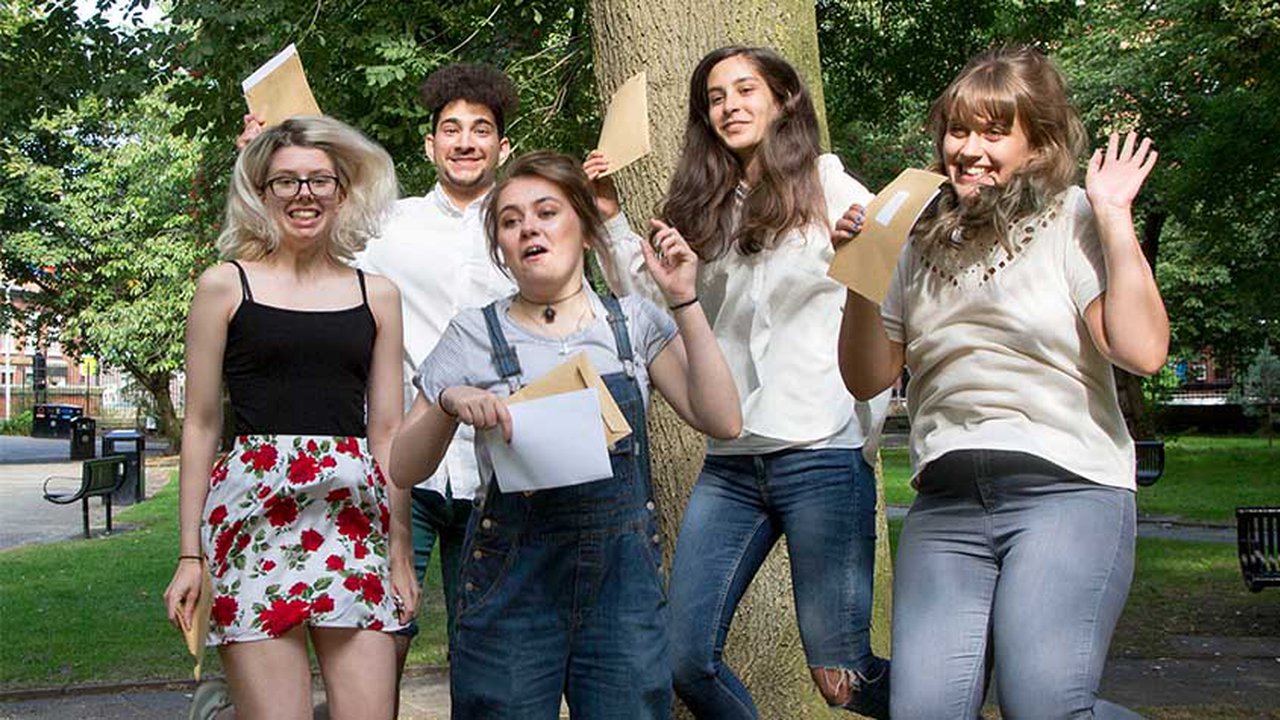 Well done to our Class of 2016!
A level students at The Manchester College are celebrating today after receiving their results.
A red carpet welcomed the nervous students as they arrived at the college's Shena Simon campus where they were greeted by their tutors who were on hand to offer their support and congratulations.
One of the first students to receive her results was Jess Earnshaw who was delighted to get the grades she needed to go to her first choice university, Leeds Beckett, to study Media, Culture and Communications. Jess got English Language B, Media C, Film C. "I've got the results I need to go to Leeds and do the course I want to do so I'm really pleased," said Jess.
Hooman Hamzavizarghani is celebrating his amazing results – A* Maths, A* Further Maths and A in Accounting. He will be going on to Durham University to study Maths.
Our students are amazing and their achievements are testament to all their hard work
Hooman is originally from Iran and his attendance at school there was poor. "I wasn't enjoying school and l started to play basketball. I really enjoyed it and started to spend about six hours a day playing basketball. I soon became really good at it. This made me realise that if I put time into something I can become good at it. I decided to start studying again, and joined The Manchester College. This soon became my work ethic, I invest a lot of time in studying, if I put in enough time and visualise my future I believe I will get where I want to be." And the future certainly looks bright for Hooman, whose dream job would be to work with NASA – and with results like these we're sure his dream could come true!
Another maths student who was celebrating was Nathalie Lovgren. Originally from Sweden, Nathalie moved to Manchester three years ago with her family. Today she received top marks in her A levels with A* in Maths, A in Further Maths and B in Physics. She will be going on to Manchester University to study Maths & Physics.
help them achieve their goals and aspirations
Liam Bates is heading to Edge Hill University after getting the results he needed to study English and Film Studies. Liam got a C in Media, C in English Language & Literature and a D in Film Studies. After a nervous start to the day Liam was "delighted and relieved" to have achieved his A levels and be heading to his chosen university.
Lisa O'Loughlin, Principal at The Manchester College, said: "I'm delighted to see the vast majority of our students receive the grades they need to progress onto their chosen career path. Our students are amazing and their achievements are testament to all their hard work and the dedication of our teaching staff. This is the start of a journey that will launch their careers and we are proud to play a part in their future, to help them achieve their goals and aspirations."
The Manchester College offers a wide range of courses; A levels, vocational courses, apprenticeships, work-based learning, foundation learning, adult education, higher education, and corporate training.