Automotive Maintenance
Course Details
---
Qualification

Diploma

Subject Area

Automotive

Level

1

Age Group

19+
Locations

Openshaw Campus
(Part Time Non Released - 1 year)

Leaflet Code

L8493
Course Gallery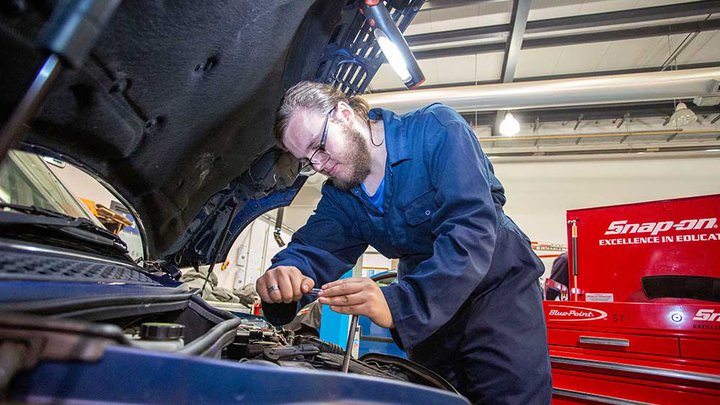 This Level 1 Automotive Maintenance qualification is for you if you have a keen interest in the automotive sector and want to learn about maintenance associated with vehicles and machinery including:
• Light and heavy vehicle
• Motorcycle
• Land-based engineering including agricultural machinery, construction and plant-based machinery
• Leisure craft
You'll study modules on a range of systems and components within vehicles including enginees, exhausts, steering, braking, ignition and suspension as well as wheel and tyre construction and maintenance and electrical circuits and compontents.
This one-year qualification is the perfect place to start your journey to industry excellence in the automotive industry.

You'll require a keen interest in cars and a willingness to learn. A minimum grade C or above in GCSE English and maths is desirable but isn't mandatory.
You'll be assessed through online tests (multiple choice) and practical tasks with 70% of your time spent in the workshop and 30% of your time spent in the classroom
Upon successful completion of this qualification, you'll have the opportunity to progress onto one of our Level 2 Certificates or Diplomas and then onto further study, an apprenticeship or employment.
Careers page
There is no cost for this course for 16-18 year olds.
If you need help with affording college, there are a number of different finance and funding options available to you. You might be eligible for special bursary support or extra help from the government. Have a look at our fees, finance & funding page to find out all the information you need.

Fees, finance and funding page
Do you have a burning question about this course, or would you like to know more about the qualification you'll receive and how it will help your career?
Our course enquiries team is on hand to help you understand any details and answer any questions – whether it's about applying for the course or finding out about finance. Just get in touch here!

Make an enquiry
Get Started...
Use our online form to complete your application.
Remember: you can start now, and save it for completing later.
Level 2 IMI Accreditation Resistance Spot Welding (BS1140) MAG Welding (BS4872) AOM009
Level Not Applicable
View course
Automotive
If you love tinkering with cars and are never happier than when you're wearing overalls and figuring out how things work, a career in the automotive industry could be just around the corner.