Computing & Digital Technologies
Certificate
Computing & Digital
Course Details
---
Qualification

Certificate

Subject Area

Computing & Digital

Level

Entry Level

Age Group

16 - 18
Locations

Harpurhey Campus
(Full Time - 1 year)

Wythenshawe Campus
(Full Time - 1 year)

Leaflet Code

L8361
Course Gallery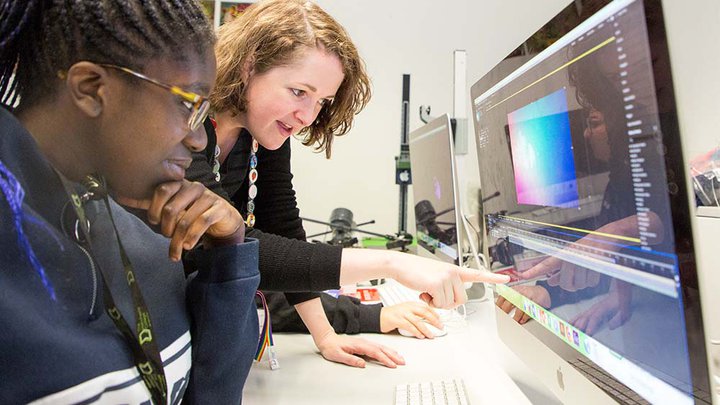 If you are looking for a career in creative media, IT or business and need a taster of which path to follow and haven't quite received the GCSE grades expected, then look no further, this is the course for you.
This course will give you the skills you'll need to succeed. The skills covered on this course have been chosen to reflect the demands of higher-level courses, such as level 1. We have put the course together in order to wrap it around Media, IT and business skills in which you will need to progress onto a level 1 course. At the heart of this course is a unit that allows you to go on a visit for the day, this could lead to the shops or even something as exciting as the zoo for a fun day out.
This course offers opportunities to allow you to have a steppingstone into a level 1 course, even if your grades were not what you expected. Just remember this college has successful courses available to suit any learner.
It offers a taster of 3 different vocational studies and provides skills to assist you in a successful progression route onto higher levels.

The entry requirements are any GCSE grades from F below.
The course is assessed through written reports, sketchbooks, group work, and presentations and one to one feedback.
There are no formal examinations connected to this course. Students overall grade will come from all 8 units assessed by tutors and moderated by the exam board at the end of the year.

On completion of Entry 3, students can advance onto a level 1 programme within their chosen area:
• Level 1 – Media
• Level 1 – IT
• Level 1 – Business
If you want a complete change you can always look at alternate level 1 courses available.

Careers page
This course is free to enrol on if you're 16-18 years old, however if you are older and have an Educational health care plan (EHCP) then you are able to enrol onto our courses up to the age of 25 years of age.
The course will lead you onto higher level courses such as level 1, 2 and 3 dependent on your age, if you are 19+ and don't hold an EHCP you might have to pay a tuition fee for the qualification.
If you need help with affording college, there are a number of different finance and funding options available to you. You might be eligible for special bursary support or extra help from the government. Have a look at our fees, finance & funding page to find out all the information you need.
Fees, finance and funding page
Do you have a burning question about this course, or would you like to know more about the qualification you'll receive and how it will help your career?
Our course enquiries team is on hand to help you understand any details and answer any questions – whether it's about applying for the course or finding out about finance. Just get in touch here!
Make an enquiry

In one of The Manchester College's 19 Centres of Excellence you'll develop the skills and gain the qualifications that you need to take the next steps towards your dream career.
Learn more

In our unique Industry Excellence Academy you'll benefit from a programme of study that has been co-developed, and is co-delivered, with one of our industry partners.
Learn more
Get Started...
Use our online form to complete your application.
Remember: you can start now, and save it for completing later.
Computing & Digital
In 2022, there's expected to by 22,000 jobs in Computing & IT in Greater Manchester. Do you want to be leading the way?