Prince's Trust 'Team Programme'
Certificate
Youth, Community, Work and Skills
Course Details
---
Qualification

Certificate

Subject Area

Youth, Community, Work and Skills

Level

1

Age Group

16 - 18
Locations

External Buildings
(Short Full Time - 12 weeks)

Leaflet Code

L16645
Course Gallery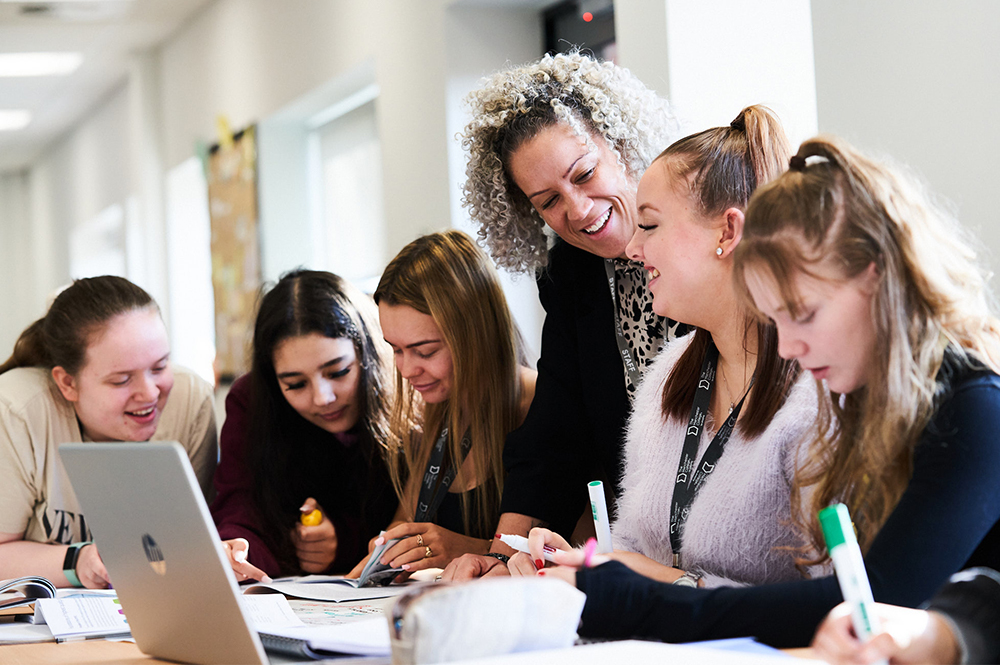 If you're aged between 16 and 25 and you're not in education or employment then our 12 week Prince's Trust Team programme is for you.
The programme aims to boost your confidence, help you meet new friends and gain new skills which will help you progress onto further study or straight into an exciting career of your choice.
Delivered face-to-face in the classroom, online and out in the local community, you'll have the chance to:
• Take on your own group community project, making a positive difference to the place where you live
• Take part in an action packed residential trip (subject to Covid-19 restrictions)
• Get two weeks' work experience in something you're interested in
• Develop your English and Maths skills
• As part of the course, we also spend some time developing your interview and CV skills to ensure your confidence is sky-high for when taking the next step.
Applicants for this course must be aged 16 to 24 and must not be in employment or training. They must possess a willingness to learn and get involved.

Assessment for this qualification is based on the development of a portfolio throughout the course.
Here's an idea of what you'll get up to during the Team programme:
Day 1: Meet new people
• Don't worry about turning up on your own – there'll be about 12 people joining and everyone will be in the same situation. It'll be informal and there are plenty of activities so you'll soon feel part of the group.
Week 1: Take action
• Over this week, you'll start planning for the weeks ahead – setting out what you want to achieve and finding out how to get your qualifications.
Week 2: New experiences
• Subject to Covid-19 restrictions, you may spend this week away – trying new things and learning how to work with others. This gives you a chance to break away from your current situation – trying canoeing, climbing, raft-building and much more.
Weeks 3-6: Something to talk about
• As a Team, you'll decide on a project to benefit your local community and carry it out. This gives you great experience to talk about at interviews.
Weeks 7-8: Work placements
• This is the time to see how the skills you've developed so far can help you in the workplace. It's also a great chance to try out a type of work, or company, to see whether you like it.
Week 9: Plan for the future
• You'll get help to write a fantastic CV, practice your interview skills and write applications.
Weeks 10-11: Meet the challenge
• You and your Team will take on a challenge to help others in the community. This is when you get to test out all the skills you've developed.
Week 12: Have your say
• In your final week, you'll deliver a presentation – giving you the chance to show off the talents you've discovered! This may sound scary now, but after 12 weeks you'll be surprised at how far you've come.
Delivered in partnership with Greater Manchester Fire and Rescue Service, the Team programme takes place at a number of locations with start dates available throughout the year.
Upon successful completion of this qualification, you'll be able to access many other Level 1 or 2 qualifications at The Manchester College in a diverse range of areas including construction, hospitality and childcare.
Alternatively many students use this qualification to access employment, especially with the links made in the local community.

Careers page
Do you have a burning question about this course, or would you like to know more about the qualification you'll receive and how it will help your career?
Our course enquiries team is on hand to help you understand any details and answer any questions – whether it's about applying for the course or finding out about finance. Just get in touch here!

Make an enquiry
Get Started...
Use our online form to complete your application.
Remember: you can start now, and save it for completing later.
Youth, Community, Work and Skills
Whatever your background or ability, at The Manchester College we have an incredible range of support and dedicated courses available to help you get back into learning, develop the skills you'll need for employment and find a job that's right for you.