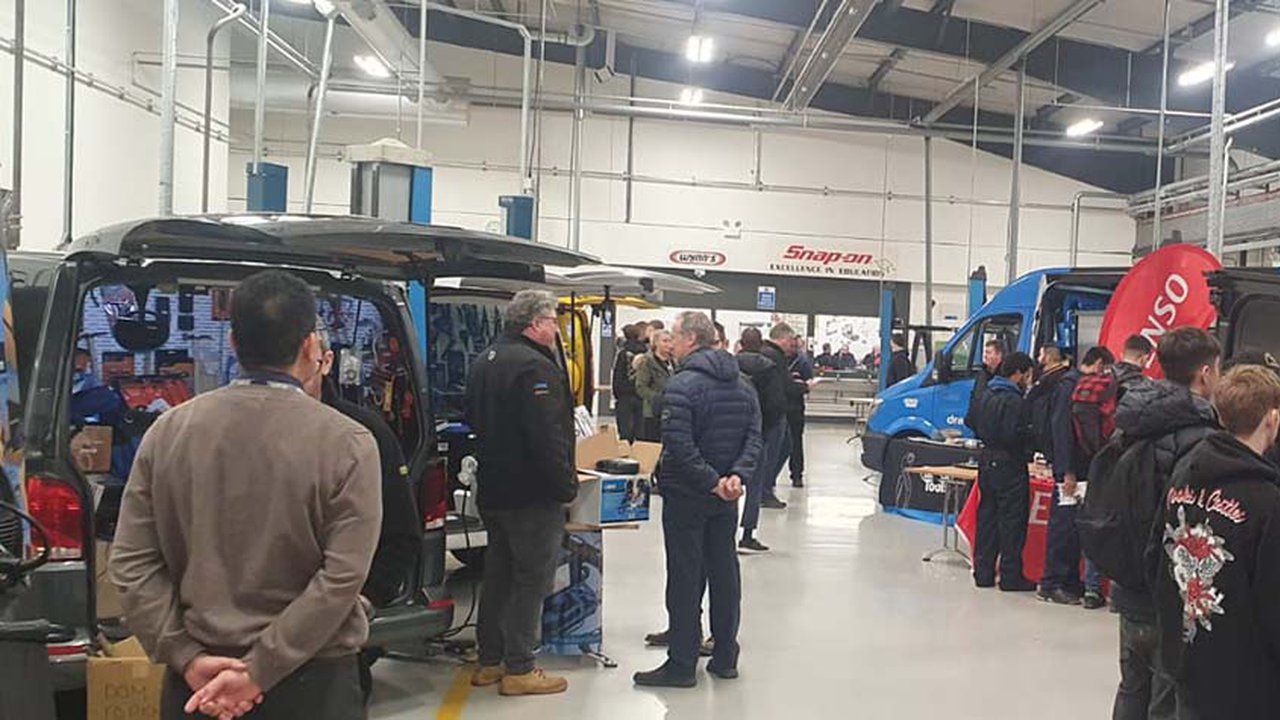 Automotive sector descends on The Manchester College's Openshaw Campus for the Independent Garages Network's inaugural event
The Independent Garages Network (IGN) was formed by Assistant Principal for Automotive, Construction, Engineering and Logistics, Ayub Moosa, to strengthen the College's ties with local, national and international employers.  While ensuring Automotive and Engineering students benefit from a curriculum that meets the evolving needs of industry.
 
The network's first event, which was hosted in the industry-standard automotive and engineering facilities at the College's Openshaw Campus, was deemed a resounding success.
In the morning, the College's staff and students took part in a series of masterclasses delivered in an exhibition format by organisations including, the AA, DENSO, Draper and Halfords.  
Following lunch, local businesses were invited to drop in, explore the facilities and network with staff, students and the industry experts that took part in the exhibition.
Ayub said: "We're delighted with the support that the network's first event received, and we're excited for what 2023 may hold.
The network brings together likeminded businesses from across the sector to provide staff and students with access to the latest technological advances in the industry.  Our College's pool of talented Automotive and Engineering students get the chance to learn new skills and forge relationships with employers, which will hopefully lead to more work placement opportunities and long, successful careers in the sector.
Ayub was keen to point out that there is a huge focus on sustainability at the moment and said: "From tools and parts all the way through to machinery and vehicles, there is a growing emphasis on sustainability across the sector.  One of the ways we can play our part is by providing our students with the knowledge and skills they need to work on the products that are currently being sold in show rooms."
One of the organisations involved in the event was DENSO, a global Fortune 500 company famous for inventing the QR code.
Sales Executive for DENSO AUTOMOTIVE UK LTD, Ronnie Cross, said: "A lot of people might not know this, but DENSO parts can be found in nine out of 10 cars on the road in the world today.
"It's a remarkable statistic and when you think about this, it's easy to understand why it's so important that students have a good understanding of DENSO products by the time they finish their studies.  It's also worth noting that DENSO has over 200,000 employees globally, which makes us a huge employer in the automotive and engineering sectors.
Ronnie concluded: "The event was great and provided the opportunity to talk to students about technology DENSO is currently developing and discuss with Ayub and his team how we can build on our existing relationship with The Manchester College."
If you're interested in finding out more about the IGN or The Manchester College's Automotive and Engineering courses, please contact Ayub directly via AMoosa@tmc.ac.uk.