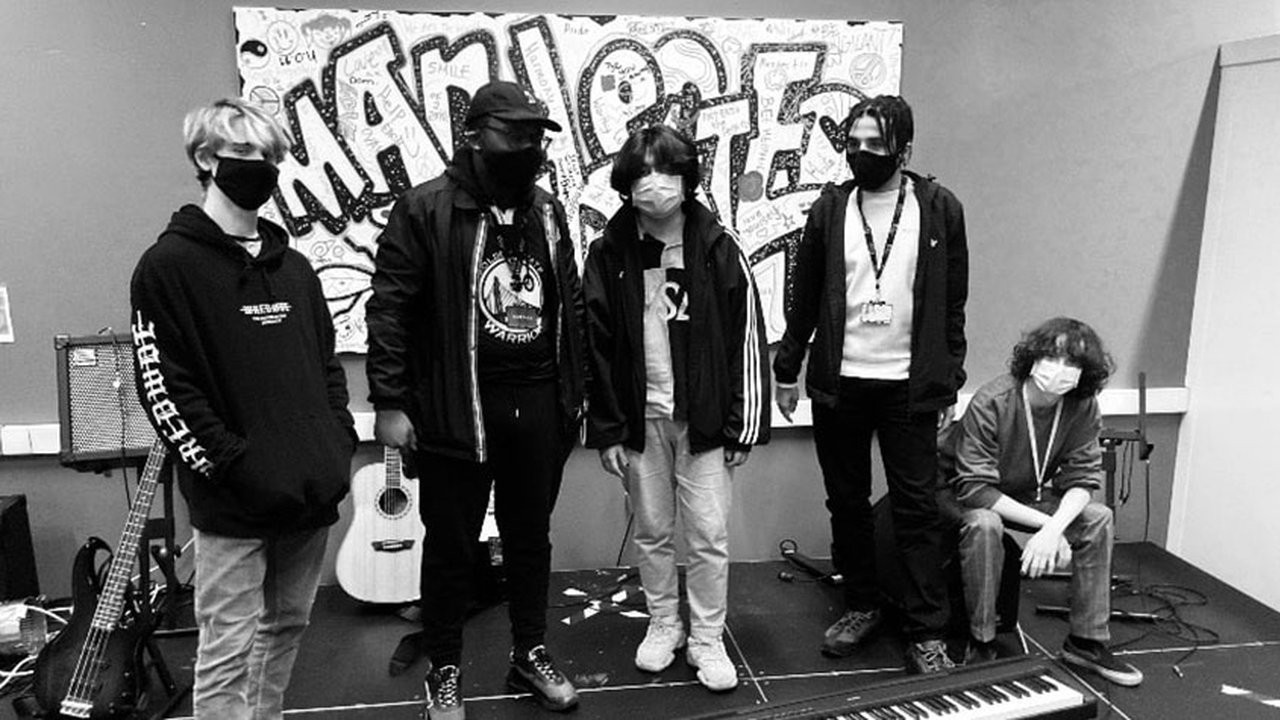 Band formed at The Manchester College release debut album
Everything & You marked the release with a performance at Band on the Wall.
The latest up and coming band in Manchester's music scene have launched their debut album after meeting and forming at The Manchester College.
The six members of Everything & You are all studying Level 3 Music Production at the College's Industry Excellence Academy for Music. They originally formed the band in September 2020 as part of a project but have remained together ever since.
On Friday 14 May, the band released their debut album 'Passion After Midnight', a remarkable achievement given that it was recorded entirely during lockdown.
Instrumentalist and vocalist, Luca Testa, said: "We are very proud to have released our album, especially during lockdown. Recording during the COVID-19 pandemic was a much more difficult process than usual and was very challenging.
"We had difficulties using the studios, so many of us had to complete song mixes at home. However, we worked around this by using the equipment available to us, communicating with one another, and offering feedback on each other's mixes and masters of songs.
We have learnt from this process that no matter what hardships come along the way, teamwork and determination will get us through the difficult times.
"As a result, the overall sound of the album is crisp and very clean, covering many different themes from hardship to romance."
During recording, band members curated a Spotify playlist of their inspirations for the songs, with influences ranging from The Beatles to Kevin Abstract.
To mark the release of the album, Everything & You performed all eight tracks during a livestreamed performance from the iconic Manchester venue Band on the Wall, one of the College's industry partners. They're now looking forward to performing their new songs in front of a live audience.
"The College's partnership with Band on the Wall has been extremely useful for us as it has given us many opportunities, such as the live album launch, as well being able to have our own page in the event section of Band on the Wall's website," Luca added.
We all chose to study at The Manchester College because of the amazing facilities available to students.
"Especially in the music department, the range of equipment available allows students to be able to work to their highest potential and we're very lucky to have this.
"During our studies, our tutors have presented us with different opportunities to us, such as the album live launch. Furthermore, during the album creation and recording process, they showed us different techniques of how to record things as well as how to achieve a clearer sound while mixing a song."
The six members of Everything and You are; Remario Caines-Israel (Producer), Rumi Cordova AKA Ken (Vocalist), Kay Gorman AKA Kaos (Vocalist), Jake Owens (Producer), James Worgan (Instrumentalist) and Luca Testa (Instrumentalist and Vocalist).
With a major milestone in their music careers already under their belts, the band members are all aiming to become successful producers, composers, or artists.
You can support Everything & You by streaming 'Passion After Midnight' on all platforms and watching their live performance at Band on the Wall.
Find out more about The Manchester College's Industry Excellence Academy for Music and apply today.