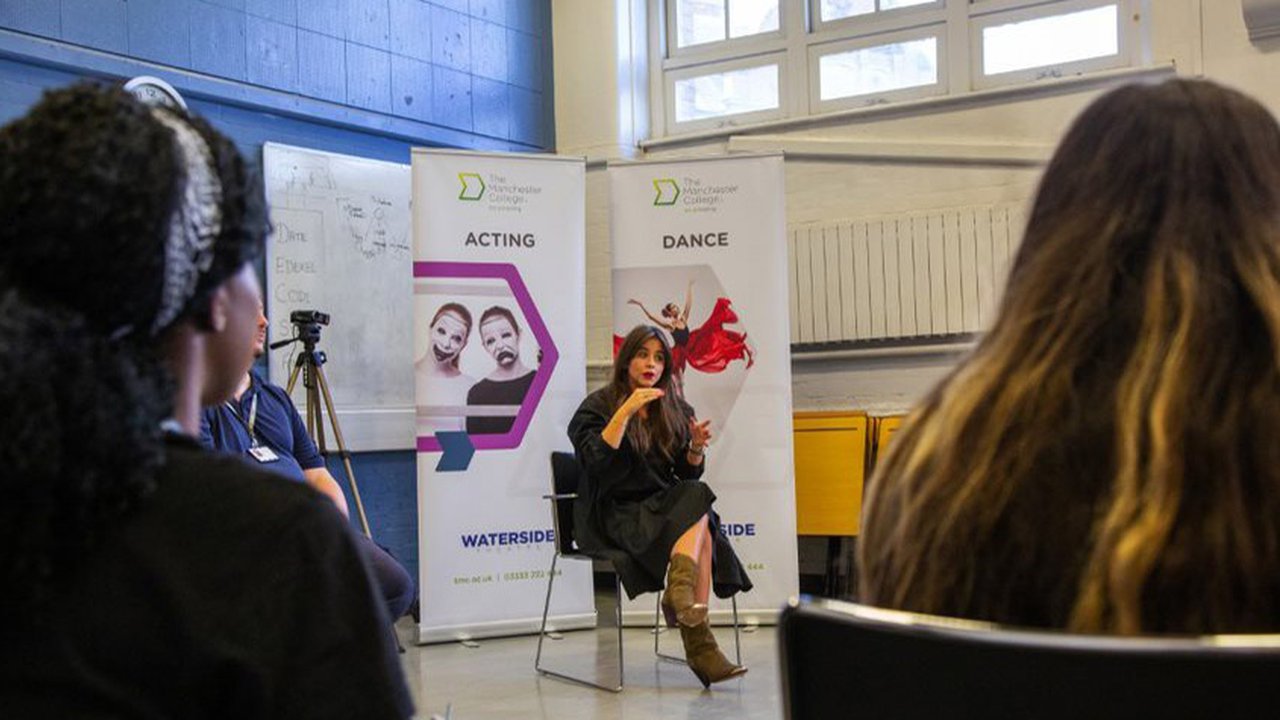 Brooke is back!
The Manchester College welcomed back a familiar face for #didyouknow Performing Arts week. Brooke Vincent, who plays Sophie Webster in long running soap 'Coronation Street', is also a former College student who studied at our Shena Simon campus. We spoke to Brooke about her experiences in the industry and her expert advice to current students.
How important has gaining your Performing Arts qualification been to your career?
I have a National BTEC Diploma from The Manchester College, and I was studying while filming on 'Coronation Street'. It's important to gain a qualification but to also get life skills from going to college.  
What did you love about The Manchester College?
What I really loved was how inclusive it was and how many different types of people you would meet and interact with, especially in this theatre we are sat in now.
What was your first ever acting role?
It was actually playing a young girl in a beauty pageant for the TV show 'A League of Gentlemen'. I was seven and I still look and sound the same as I did then - I was just a lot smaller!
What are your career aims?
They change a lot. For me, my personal life has always been a force for change in what I want for my career. I'd love to do more TV but I'd also love to do more theatre as you get a different kind of buzz from that.
How important is it for a student to gain industry contacts and experience?
It's so important to gain industry contacts and to build a portfolio. My advice is always be nice to everyone on the way up because you'll need them on the way down!
How have you found being in the industry as a female northern actress?
Being a female northern actress is empowering at the minute! I love being from Manchester and I love the city. I think there's a real thing for accents at the minute, and that's definitely benefited me being in a Northern based soap like 'Coronation Street'.
How did it feel to be an aspiring student back then? And how do you think being a Performing Arts student differs now to when you were at College?
It isn't until later on in life that you realise how much you do learn at College. This is your safe place and it counts for a lot when you go out into the world. This is the place to get it wrong and learn from your mistakes, discover what works for you and find out who you are.
Being a Performing Arts student now is a lot different. There's a lot more competition now and social media can get in the way. You worry more about how you will be perceived having to figure yourself out while growing up on such a public platform.
What is your advice to students thinking about a career in Performing Arts?
Firstly, whether you're confident or just pretending to be confident, it doesn't matter because no one will be able to tell the difference. Secondly, there will always be someone you think is working harder or achieving more, but you need to run your own race and invest in yourself and just keep going.
You can find out more about our Performing Arts courses online or keep an eye out for one of our open day events.