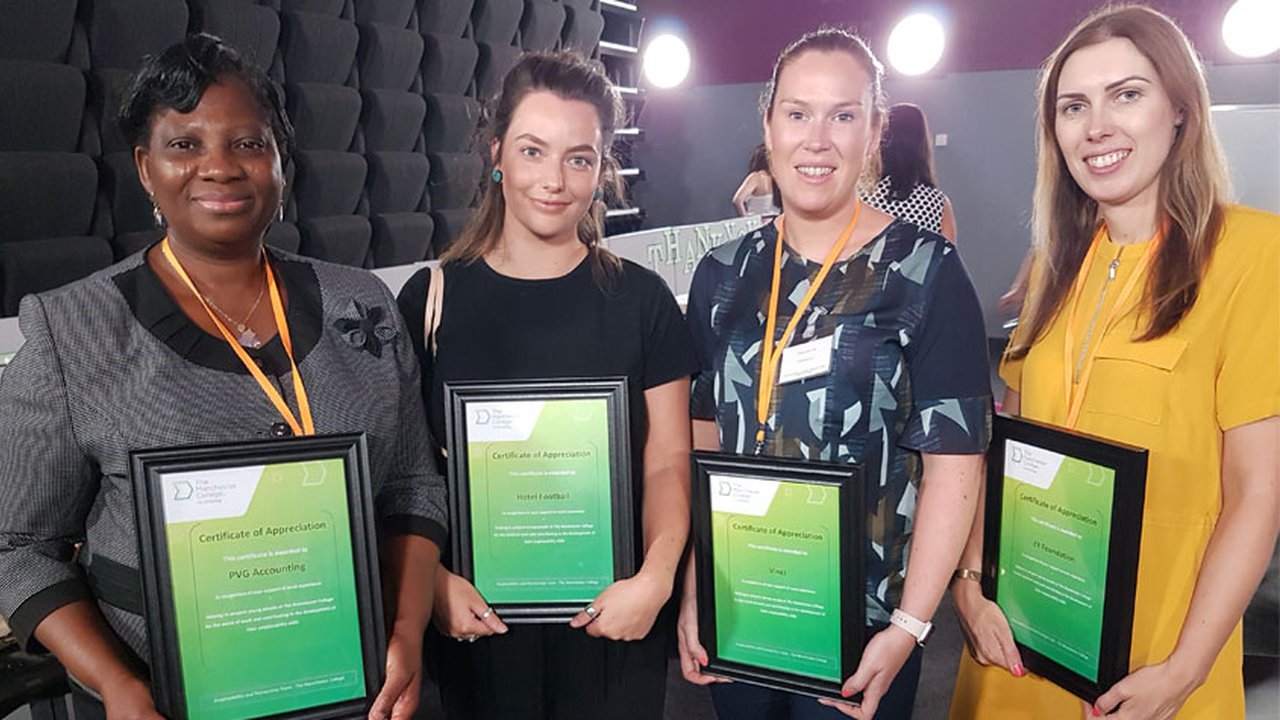 Businesses celebrated at Employer Thank You ceremony
Industry leaders working with The Manchester College were given a heartfelt thank you during a special celebration event at the Openshaw Campus.
Over 40 companies who offer work experience and work related activity to The Manchester College students were invited to attend an Employers Thank You ceremony in the Openshaw Lecture Theatre and collect a framed Certificate of Appreciation.
The companies, from industry sectors including hospitality, construction and transport, have all arranged relevant high-quality work experience placements for 16 to 18-year-old students, a key Government requirement to boost employability.
The Employability and Partnership Team hosted the event as a way of giving back to organisations who have been instrumental in providing quality work experience.
Hilary Orr, Employability and Partnership Coordinator, said: "This was a great opportunity for The Manchester College to say a big thank you to employers who have worked with us over the last 12 months, helping us to build and further enhance our employer relationships moving into the next academic year."
Christine Kenyon, Vice Principal FE Curriculum, said: "The days of education being separate from industry went many years ago, but we will never build bridges without the support of businesses.
"Employers don't know how much we appreciate them, so events like this are a great way of thanking them."
Jodie McNally, Northern Hub Leader at EY Foundation, runs the Smart Futures programme for Year 12 students from The Manchester College. She spoke about her experiences of working with the College.
"We wanted to work specifically with The Manchester College and are really pleased to have had that opportunity to run our first term time programme in partnership with them.
"The staff are brilliant, very efficient and organised, and made a complicated programme run really smoothly.
"The students were totally committed and took every opportunity given to them.
"We hope that our joint working continues."
Other businesses echoed the message, including Charlotte Richmond, executive assistant at Hotel Football.
She said: "We've just started working with The Manchester College and our work placement student was a match made in heaven.
"She worked in our café kitchen with head chef Andy Howard and she was a breath of fresh air. She loved the experience and we loved having her.
"Getting students to Hotel Football on placements not only shows them all the many roles you can have in the hospitality trade, but also, we definitely found something we didn't know we needed."
Danielle Doherty, CSR manager for VINCI Construction, helped eight students gain work experience with the company and has created another four placements for a project at One Central Park.
She said: "We've had some really great students who worked with our quantity surveyors were very interested and worked very well.
"Taking students for placement helps bring diverse people into the workforce."
Dorcas Olowoyo, director of Moston-based PVG Accounting Services and Consultancy Ltd, took three students on placement at her practice.
She said: "When I started my accountancy firm, I knew that if there were ever an opportunity for students to progress, I would help out.
"The three students from The Manchester College were very professional and cooperated with me fully.
"I would tell other companies – give it a try, you have nothing to lose."
Picture shows (L-R) Dorcas Olowoyo, Charlotte Richmond, Danielle Doherty and Jodie McNally with their Certificate of Appreciation.